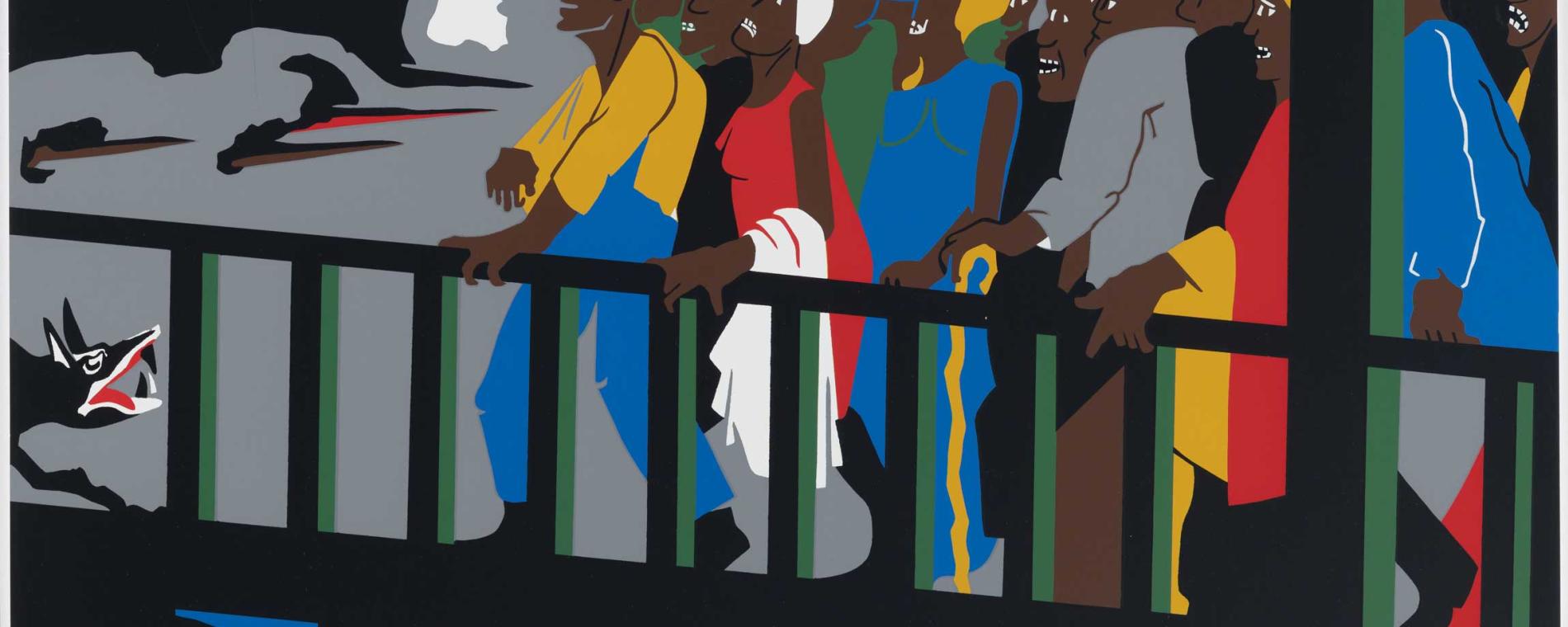 Back to Previous
I, Too, Sing America - African American Art from the WAM Collection
Regular Museum Hours, June 23, 2021 | Wichita Art Museum
"I, Too, Sing America: African American Art from the Wichita Art Museum Collection" pairs with African American Art in the 20th Century to celebrate African American art and culture. The exhibition features extraordinary works on paper spanning the 1930s through the 1990s, including artworks by Benny Andrews, Romare Bearden, Elizabeth Catlett, Jacob Lawrence, Charles White, and others.
The works - prints, watercolors, ink washes, and collages from WAM's permanent collection - range from naturalistic to abstract, from the socially and the politically engaged to the poetic and lyrical.
Museum Hours
Tuesdays-Saturdays: 10am-5pm
Sundays: Noon-5pm
Mondays: Closed

Image: Jacob Lawrence, "The 1920s…The Migrants Cast Their Ballots," about 1975. Serigraph, 32 x 24 ¼ inches. Wichita Art Museum, Gift of Lorillard, Division of Loews Theatres.
Admission:

GA $5-$10; free on Saturdays

Recurrence:

Recurring weekly on Sunday, Tuesday, Wednesday, Thursday, Friday, Saturday

Days:

March 13, 2021 - August 1, 2021

2021-06-23 2021-08-01 I, Too, Sing America - African American Art from the WAM Collection <p>"I, Too, Sing America: African American Art from the Wichita Art Museum Collection" pairs with African American Art in the 20th Century to celebrate African American art and culture. The exhibition features extraordinary works on paper spanning the 1930s through the 1990s, including artworks by Benny Andrews, Romare Bearden, Elizabeth Catlett, Jacob Lawrence, Charles White, and others.</p> <p>The works - prints, watercolors, ink washes, and collages from WAM's permanent collection - range from naturalistic to abstract, from the socially and the politically engaged to the poetic and lyrical.</p> <p><span style="text-decoration: underline;">Museum Hours</span><br />Tuesdays-Saturdays: 10am-5pm<br />Sundays: Noon-5pm<br />Mondays: Closed<br /><br /><em>Image: Jacob Lawrence, "The 1920s…The Migrants Cast Their Ballots," about 1975. Serigraph, 32 x 24 ¼ inches. Wichita Art Museum, Gift of Lorillard, Division of Loews Theatres.</em></p> 1400 W. Museum Blvd. Wichita, KS America/Chicago
Back To Previous