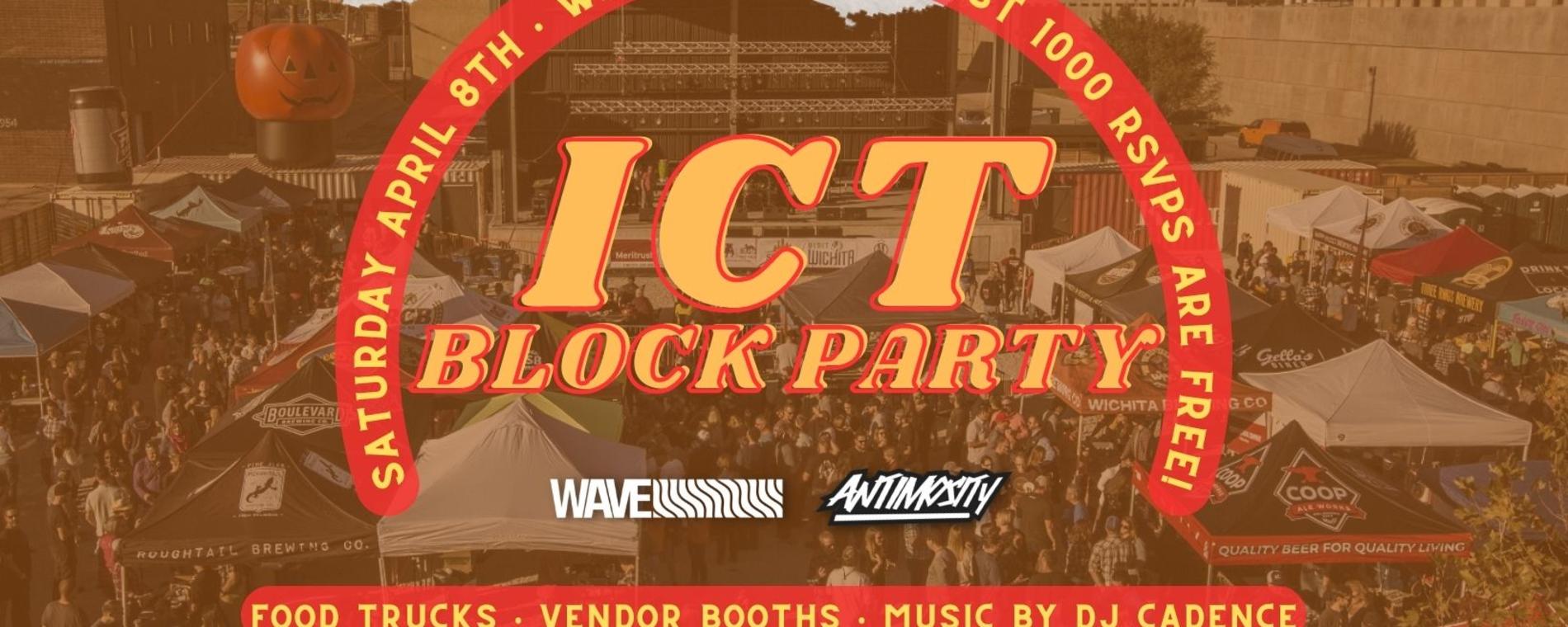 Back to Previous
ICT Block Party
Starting: 3:00 PM, April 8, 2023 | WAVE
We will be presenting great food from:
Adios Nachoria
 Brazita Bites
 Bongo Fruit Smoothies
 Franceska's Homemade Foods & Grill
 Countryboy Taste LLC
 AP's Smokehouse
 & More
We will also have a Merch market featuring:
Sultry Bead Works by Kashea Lané
 Eclectic Pineapple, Brooklyn Tees,
 Unity of Wichita
 YBG Studios
 Belle & Buddies Kitchen
 Creations by Korinna
 Ydora's Own
 The Bead Lady
 Kandle Ko
We will also be presenting the PBS kids zone by KPTS Channel 8 with face painting by The Enchanted Mermaid!
Bring the whole family out, even the dog.
Bar provided by Wave
Music by Dj Cadence
Car show by Superior Custom Wheel and Tire and AutoZone. 
Admission:

Free

Days:

April 8, 2023

>

2023-04-08 2023-04-08 15:00:00 ICT Block Party <div class="x11i5rnm xat24cr x1mh8g0r x1vvkbs xtlvy1s">We will be presenting great food from:</div> <ul> <li class="x11i5rnm xat24cr x1mh8g0r x1vvkbs xtlvy1s">Adios Nachoria</li> <li class="x11i5rnm xat24cr x1mh8g0r x1vvkbs xtlvy1s"> Brazita Bites</li> <li class="x11i5rnm xat24cr x1mh8g0r x1vvkbs xtlvy1s"> Bongo Fruit Smoothies</li> <li class="x11i5rnm xat24cr x1mh8g0r x1vvkbs xtlvy1s"> Franceska's Homemade Foods &amp; Grill</li> <li class="x11i5rnm xat24cr x1mh8g0r x1vvkbs xtlvy1s"> Countryboy Taste LLC</li> <li class="x11i5rnm xat24cr x1mh8g0r x1vvkbs xtlvy1s"> AP's Smokehouse</li> <li class="x11i5rnm xat24cr x1mh8g0r x1vvkbs xtlvy1s"> &amp; More</li> </ul> <div class="x11i5rnm xat24cr x1mh8g0r x1vvkbs xtlvy1s">We will also have a Merch market featuring:</div> <ul> <li class="x11i5rnm xat24cr x1mh8g0r x1vvkbs xtlvy1s">Sultry Bead Works by Kashea Lané</li> <li class="x11i5rnm xat24cr x1mh8g0r x1vvkbs xtlvy1s"> Eclectic Pineapple, Brooklyn Tees,</li> <li class="x11i5rnm xat24cr x1mh8g0r x1vvkbs xtlvy1s"> Unity of Wichita</li> <li class="x11i5rnm xat24cr x1mh8g0r x1vvkbs xtlvy1s"> YBG Studios</li> <li class="x11i5rnm xat24cr x1mh8g0r x1vvkbs xtlvy1s"> Belle &amp; Buddies Kitchen</li> <li class="x11i5rnm xat24cr x1mh8g0r x1vvkbs xtlvy1s"> Creations by Korinna</li> <li class="x11i5rnm xat24cr x1mh8g0r x1vvkbs xtlvy1s"> Ydora's Own</li> <li class="x11i5rnm xat24cr x1mh8g0r x1vvkbs xtlvy1s"> The Bead Lady</li> <li class="x11i5rnm xat24cr x1mh8g0r x1vvkbs xtlvy1s"> Kandle Ko</li> </ul> <div class="x11i5rnm xat24cr x1mh8g0r x1vvkbs xtlvy1s">We will also be presenting the PBS kids zone by KPTS Channel 8 with face painting by The Enchanted Mermaid!</div> <div class="x11i5rnm xat24cr x1mh8g0r x1vvkbs xtlvy1s"> </div> <div class="x11i5rnm xat24cr x1mh8g0r x1vvkbs xtlvy1s">Bring the whole family out, even the dog.</div> <div class="x11i5rnm xat24cr x1mh8g0r x1vvkbs xtlvy1s"> </div> <div class="x11i5rnm xat24cr x1mh8g0r x1vvkbs xtlvy1s">Bar provided by Wave</div> <div class="x11i5rnm xat24cr x1mh8g0r x1vvkbs xtlvy1s"> </div> <div class="x11i5rnm xat24cr x1mh8g0r x1vvkbs xtlvy1s">Music by Dj Cadence</div> <div class="x11i5rnm xat24cr x1mh8g0r x1vvkbs xtlvy1s"> </div> <div class="x11i5rnm xat24cr x1mh8g0r x1vvkbs xtlvy1s">Car show by Superior Custom Wheel and Tire and AutoZone. </div> 650 E. 2nd St. N. Wichita, KS America/Chicago
Back To Previous