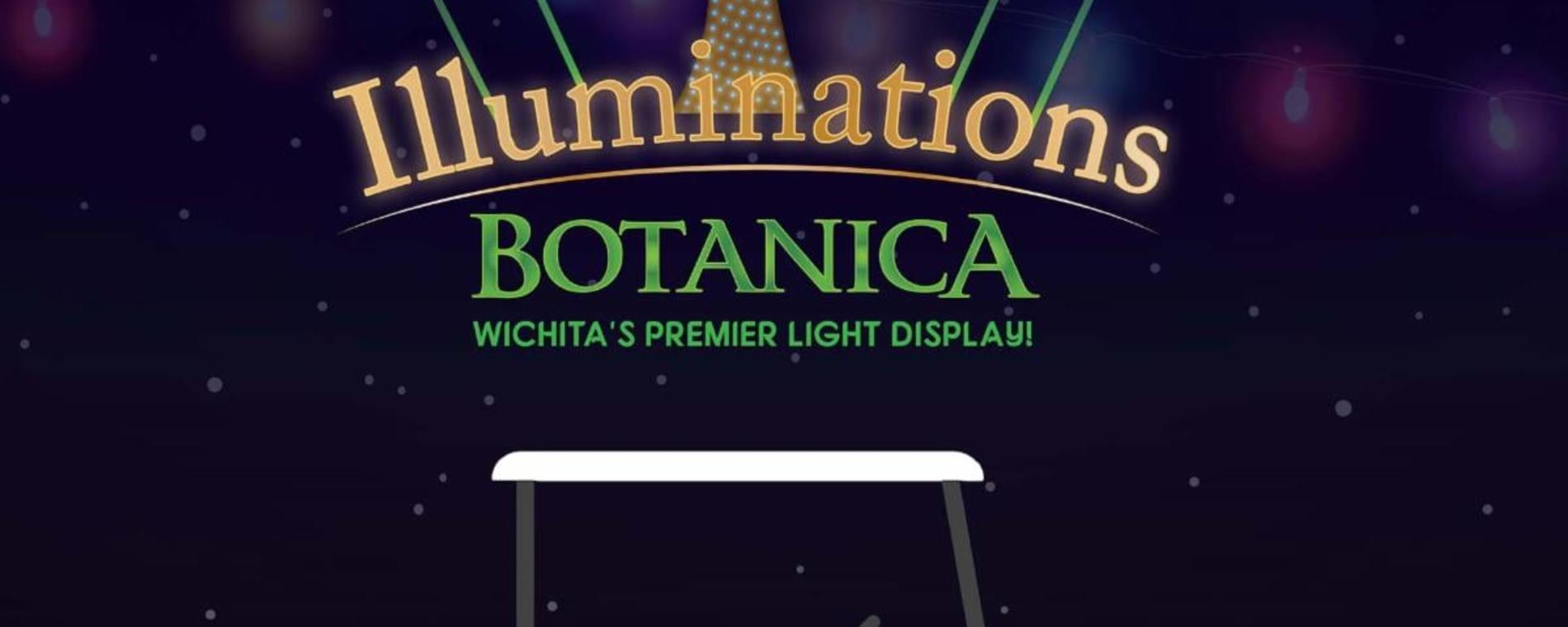 Back to Previous
Illuminations Golf Cart Tours
From: 04:15 PM to 05:15 PM, November 26, 2022 | Botanica Wichita
Book your personalized "GOLF CART" tour now!
See Illuminations, Wichita's premier light display, in style while you and four of your family or friends ride in a golf cart for a personalized tour of the lights.  Available beginning November 18 on a limited basis.  Tours begin at 4:15 p.m. and 5:15 p.m. and are about 45 minutes in length, (includes admission).  Tour includes a refreshing beverage and tasty treat!  Check in at lobby/admissions.
Cost:  $125 for up to 5 guests; $100 minimum per golf cart.  Larger parties may be accommodated with a second golf cart. Each person over the age of 3 years old will be included in tour price.
Advance registration required.  Limited number of tours available.  Select dates/times available.  For more information & to book a tour, contact Janet Lyda:  316-264-0448, ext. 109
jlyda@botanica.org
Parking:  Guests will be able to park in the main lot.  They will be sent a parking permit to place in their car window(s).  
Inclement weather:  In the case of inclement weather, guests will be notified tour may be cancelled.  Also, if tour is cancelled, guest who booked tour can check with Janet regarding rescheduling or garden guest passes.  No refunds.
Admission:

$125 for up to 5 guests; $100 minimum per golf cart.

Recurrence:

Recurring daily

Days:

November 18, 2022 - December 31, 2022

>

2022-11-26 2022-12-31 17:15:00 Illuminations Golf Cart Tours <p><strong>Book your personalized "GOLF CART" tour now!</strong><br>See Illuminations, Wichita's premier light display, in style while you and four of your family or friends ride in a golf cart for a personalized tour of the lights.  Available beginning November 18 on a limited basis.  Tours begin at 4:15 p.m. and 5:15 p.m. and are about 45 minutes in length, (includes admission).  Tour includes a refreshing beverage and tasty treat!  Check in at lobby/admissions.</p> <p><strong>Cost:</strong>  $125 for up to 5 guests; $100 minimum per golf cart.  Larger parties may be accommodated with a second golf cart. Each person over the age of 3 years old will be included in tour price.</p> <p><strong>Advance registration required.</strong>  Limited number of tours available.  Select dates/times available.  For more information &amp; to book a tour, contact Janet Lyda:  316-264-0448, ext. 109<br><a href="mailto:jlyda@botanica.org">jlyda@botanica.org</a></p> <p><strong>Parking:</strong>  Guests will be able to park in the main lot.  They will be sent a parking permit to place in their car window(s).  </p> <p><strong>Inclement weather:</strong>  In the case of inclement weather, guests will be notified tour may be cancelled.  <em>Also, if tour is cancelled, guest who booked tour can check with Janet regarding rescheduling or garden guest passes.  No refunds.</em></p> 701 N. Amidon Wichita, KS America/Chicago
Back To Previous