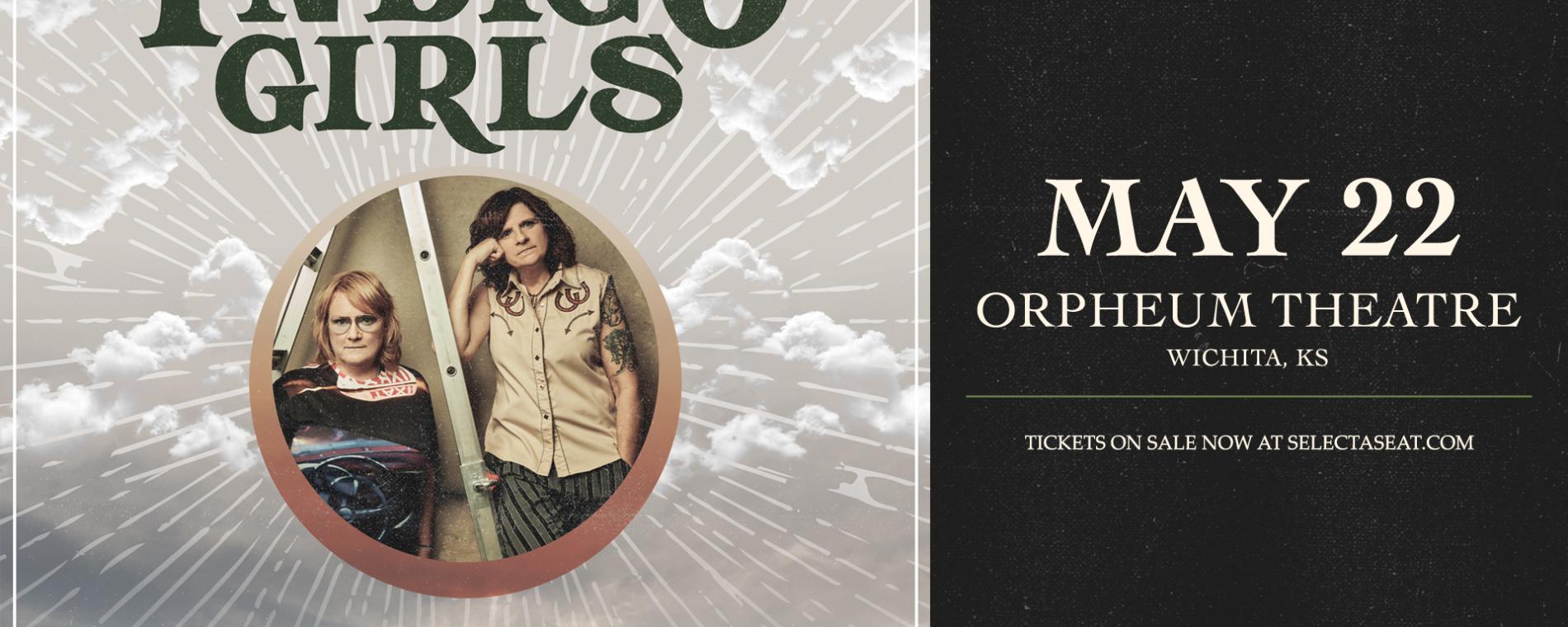 Back to Previous
Indigo Girls
From: 07:00 PM to 09:00 PM, November 16, 2022 | Orpheum Theatre
The Indigo Girls show previously scheduled for Sunday, May 22, 2022 is rescheduled to Wednesday, November 16, 2022.
All tickets for the original performance will be honored, so patrons should hold on to their tickets. Refunds are available if requested by Friday, July 1. For ticket and refund inquiries, please contact Select-A-Seat by phone at 316-755-7328, by email info@selectaseat.com or by filling out the contact form on their website. Please allow up to 72 hours to receive a response.
On their 16th studio album, Indigo Girls tell their origin story. They have reunited with their strongest backing band to date to create Look Long—a stirring and eclectic collection of songs that finds the duo of Amy Ray and Emily Saliers chronicling their personal upbringings with more specificity and focus than they have on any previous song-cycle. These eleven songs have a tender, revealing motion to them, as if they're feeding into a Super 8 film projector, illuminating a darkened living room: Saliers Ray are tackling the mechanisms of perspective. "We're fallible creatures shaped by the physics of life," says Saliers. "We're shaped by our past; what makes us who we are? And why?" In this moment of delirious upheaval, Look Long considers the tremendous potential of ordinary life and suggests the possibility that an honest survey of one's past and present, unburdened by judgement, can give shape to something new—the promise of a way forward. With the energy of an expanding, loyal audience beneath their feet, a weather eye toward refinement, and an openness to redefinition, Indigo Girls exemplify that promise.
Admission:

$39.50 - $59.50

Buy Tickets
Days:

November 16, 2022

>

2022-11-16 2022-11-16 21:00:00 Indigo Girls <p><em><span>The Indigo Girls show previously scheduled for Sunday, May 22, 2022 is rescheduled to Wednesday, November 16, 2022.</span></em></p> <p><em><span>All tickets for the original performance will be honored, so patrons should hold on to their tickets. Refunds are available if requested by Friday, July 1. For ticket and refund inquiries, please contact Select-A-Seat by phone at 316-755-7328, by email <a href="mailto:info@selectaseat.com">info@selectaseat.com</a> or by filling out the <a class="external-link" href="https://selectaseat.com/contact" target="_blank">contact form</a> on their website. Please allow up to 72 hours to receive a response.</span></em></p> <p>On their 16th studio album, Indigo Girls tell their origin story. They have reunited with their strongest backing band to date to create Look Long—a stirring and eclectic collection of songs that finds the duo of Amy Ray and Emily Saliers chronicling their personal upbringings with more specificity and focus than they have on any previous song-cycle. These eleven songs have a tender, revealing motion to them, as if they're feeding into a Super 8 film projector, illuminating a darkened living room: Saliers Ray are tackling the mechanisms of perspective. "We're fallible creatures shaped by the physics of life," says Saliers. "We're shaped by our past; what makes us who we are? And why?" In this moment of delirious upheaval, Look Long considers the tremendous potential of ordinary life and suggests the possibility that an honest survey of one's past and present, unburdened by judgement, can give shape to something new—the promise of a way forward. With the energy of an expanding, loyal audience beneath their feet, a weather eye toward refinement, and an openness to redefinition, Indigo Girls exemplify that promise.</p> <div> </div> <div class="row mobile-padding-1"> </div> 200 N. Broadway St. Wichita, KS America/Chicago
Back To Previous