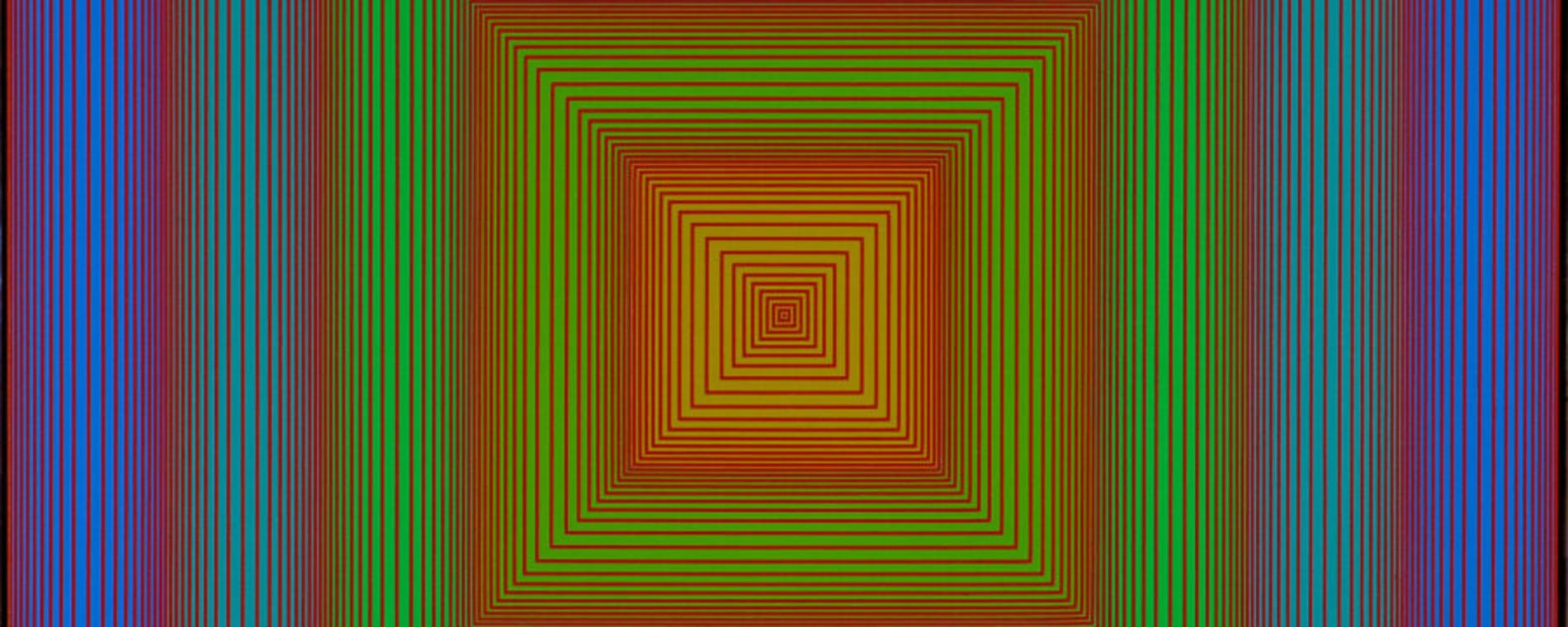 Back to Previous
Kaleidoscope
Tues-Sat: 10:00 AM - 5:00 PM | Sun: 12:00 PM - 5:00 PM , November 26, 2022 | Wichita Art Museum
Flat, pure color. Geometric forms. Hard edges and right angles. Kaleidoscope features a range of works from the Wichita Art Museum's collection that showcase 20th-century art's experimentation with line, color, and optical effects.
At midcentury, abstraction—which rejected the realistic depiction of people, places, and things in art—reigned supreme. Line and color, which had previously been used to realistically depict the world, took center stage as subjects in their own right. Some artists avoided any suggestion of depth or recession in space, preferring flat planes of a single color to reinforce the flatness of the painted surface. Other artists did the opposite. They deliberately manipulated color and line to create the illusion of movement and depth, sometimes subtle and sometimes dizzying.
For all the artists in the exhibition, however, it is perception—how the eye experiences color and line—that fascinates. Visit the exhibition and step into a kaleidoscope.
Admission:

$10 (Adults), $5 (Seniors 65+), $3 (Students with ID and Youth 5-17), Free (Children under 5)

Recurrence:

Recurring daily

Days:

September 7, 2022 - March 5, 2023

>

2022-11-26 2023-03-05 Kaleidoscope <p>Flat, pure color. Geometric forms. Hard edges and right angles. <em>Kaleidoscope </em>features a range of works from the Wichita Art Museum's collection that showcase 20th-century art's experimentation with line, color, and optical effects.</p> <p>At midcentury, abstraction—which rejected the realistic depiction of people, places, and things in art—reigned supreme. Line and color, which had previously been used to realistically depict the world, took center stage as subjects in their own right. Some artists avoided any suggestion of depth or recession in space, preferring flat planes of a single color to reinforce the flatness of the painted surface. Other artists did the opposite. They deliberately manipulated color and line to create the illusion of movement and depth, sometimes subtle and sometimes dizzying.</p> <p>For all the artists in the exhibition, however, it is perception—how the eye experiences color and line—that fascinates. Visit the exhibition and step into a kaleidoscope.</p> <p> </p> 1400 W. Museum Blvd. Wichita, KS America/Chicago
Back To Previous