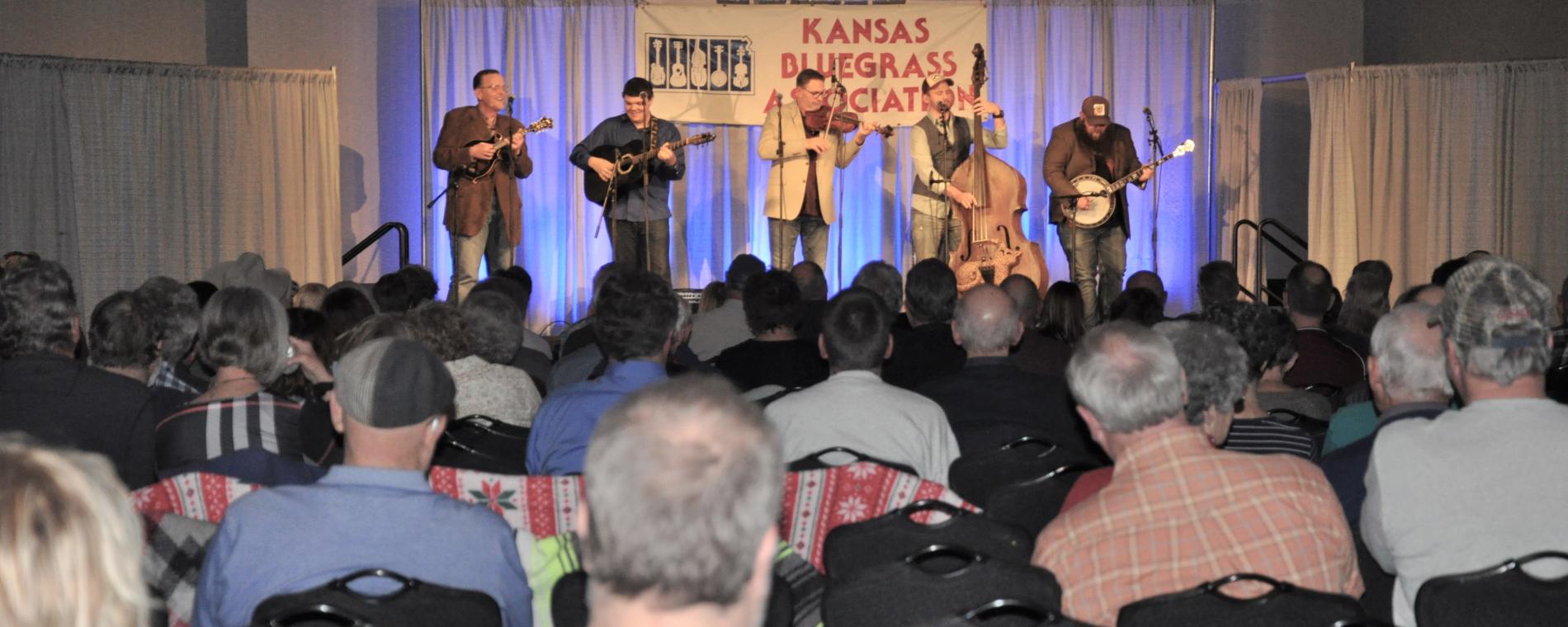 Back to Previous
Kansas Bluegrass Association 33rd Annual Winter Bluegrass Festival
02:00 PM, February 17, 2023 | Wichita Marriott Hotel
Join us for the Kansas Bluegrass Association's 33rd Annual Winterfest Bluegrass Festival, February 17 and 18, 2023, at the lovely Marriott in Wichita, Kansas.
A structured slow jam officially kicks off the festival at 2pm on Friday, but many folks are already jamming in rooms and event area by then. Shows start at 6pm on Friday, and performances include:
Seth Mulder & Midnight Run, Red Mountain Boys, The Hunt Brothers, Matchsellers, Kansas Heart, Pheasant Pluckers and Jenny Lou and the Buckaroos. Saturday music workshops include mandolin, banjo, fiddle, guitar, bass, and more! Workshop details will be released closer to the festival. Saturday activities also include a kid-friendly workshop, a structured kid's jam for all ages and a youth showcase, which is free for showcase participants.
Nearly around-the-clock bluegrass and old time jamming at all skill levels is also included with your ticket price, so if you are a player- bring an instrument and join us!
Advance tickets can be purchased at www.kansasbluegrass.org. Just $65 for a full weekend advance pass. $75 at the door. Daily prices available at the door as well.
Be sure to reserve your hotel room. Go to our website to easily book your room online. The reduced "bluegrass rate" is $125 with two breakfast buffet vouchers (available 2/16-2/18). Or call the Marriott directly at 316-651-0333. Be sure to request the special bluegrass rate when booking. (The KBA receives rewards for the number of rooms booked!).
Admission:

Advance full weekend pass $65, kids under 16 free, daily passes available at the door

Buy Tickets
Recurrence:

Recurring every 2 days

Days:

February 17, 2023 - February 17, 2023

>

2023-02-17 2023-02-17 00:00:00 Kansas Bluegrass Association 33rd Annual Winter Bluegrass Festival <p>Join us for the Kansas Bluegrass Association's 33rd Annual Winterfest Bluegrass Festival, February 17 and 18, 2023, at the lovely Marriott in Wichita, Kansas.</p> <p>A structured slow jam officially kicks off the festival at 2pm on Friday, but many folks are already jamming in rooms and event area by then. Shows start at 6pm on Friday, and performances include:</p> <p>Seth Mulder &amp; Midnight Run, Red Mountain Boys, The Hunt Brothers, Matchsellers, Kansas Heart, Pheasant Pluckers and Jenny Lou and the Buckaroos. Saturday music workshops include mandolin, banjo, fiddle, guitar, bass, and more! Workshop details will be released closer to the festival. Saturday activities also include a kid-friendly workshop, a structured kid's jam for all ages and a youth showcase, which is free for showcase participants.</p> <p>Nearly around-the-clock bluegrass and old time jamming at all skill levels is also included with your ticket price, so if you are a player- bring an instrument and join us!</p> <p>Advance tickets can be purchased at www.kansasbluegrass.org. Just $65 for a full weekend advance pass. $75 at the door. Daily prices available at the door as well.</p> <p>Be sure to reserve your hotel room. Go to our website to easily book your room online. The reduced "bluegrass rate" is $125 with two breakfast buffet vouchers (available 2/16-2/18). Or call the Marriott directly at 316-651-0333. Be sure to request the special bluegrass rate when booking. (The KBA receives rewards for the number of rooms booked!).</p> 9100 Corporate Hills Dr. Wichita, KS America/Chicago
Back To Previous