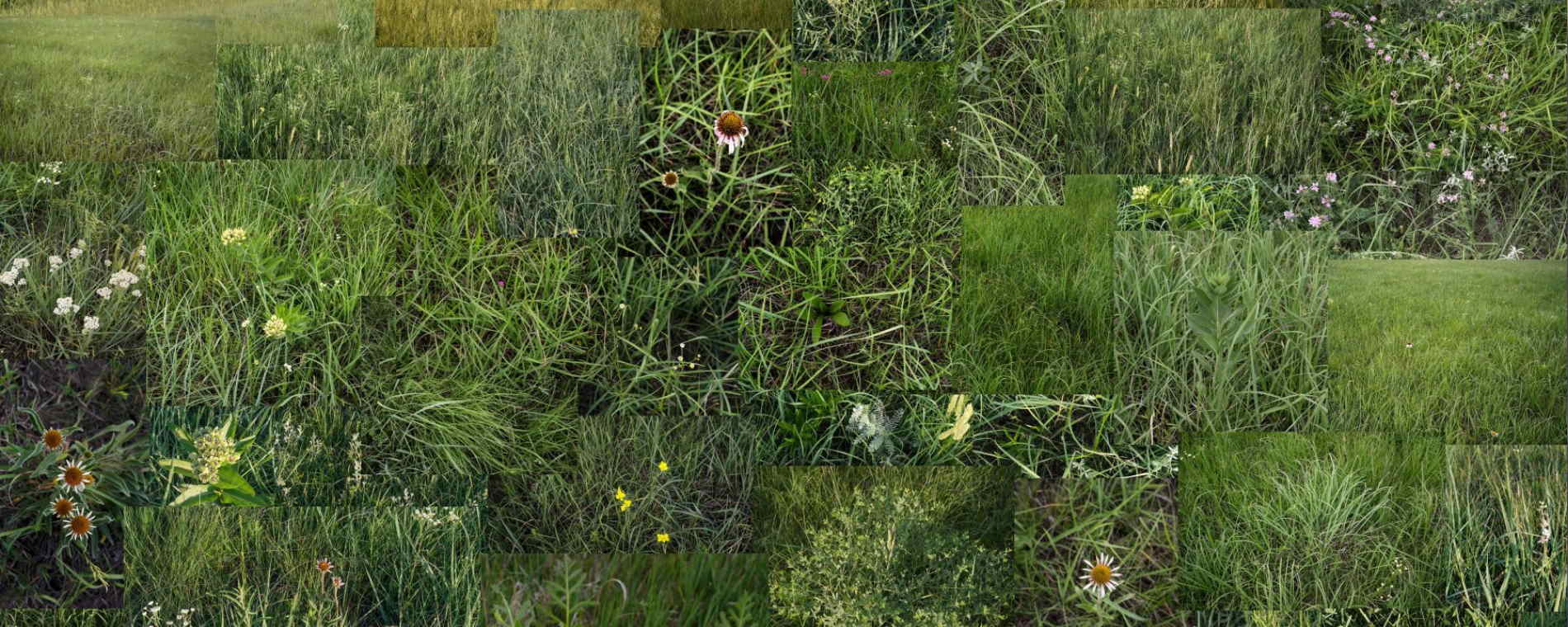 Back to Previous
Love in the Time of the Anthropocene
Regular Museum Hours, October 23, 2021 | Ulrich Museum of Art-Wichita State University
The Anthropocene is a term for a proposed new geological epoch that has been used in the last twenty years to indicate that humans are now the single most powerful force shaping living conditions on Earth. How might individual humans feel less powerless in the face of this idea's ominous implications?
This exhibition brings together three artists—photographers Terry Evans and Philip Heying and painter A. Mary Kay—who share a deep concern for the environment. They respond to the challenge of the Anthropocene by paying close, loving attention to the natural world and imparting that skill to others through their work. All three artists have deep connections to Kansas, and all three turn their gazes on the prairie environments emblematic of the Great Plains. Although they work in diverse and divergent ways, all three artists expose the beauty of this ecosystem, the wide array of human and non-human creatures that share it, and the complexity of the ties that connect us. The works in this exhibition form an expansive and profound tribute to their subjects and remind us of the emotional rewards of a close connection to the land at hand.
Museum Hours
Mondays-Saturdays: 11am-5pm
Sundays, University & Major Holidays: Closed
Image: Detail of Terry Evans, Fent's Prairie, Salina, Kansas, May 2018, 2018. Image courtesy Terry Evans.
Admission:

Free

Recurrence:

Recurring weekly on Monday, Tuesday, Wednesday, Thursday, Friday, Saturday

Days:

August 19, 2021 - December 4, 2021

2021-10-23 2021-12-04 17:00:00 Love in the Time of the Anthropocene <p>The Anthropocene is a term for a proposed new geological epoch that has been used in the last twenty years to indicate that humans are now the single most powerful force shaping living conditions on Earth. How might individual humans feel less powerless in the face of this idea's ominous implications?</p> <p>This exhibition brings together three artists—photographers Terry Evans and Philip Heying and painter A. Mary Kay—who share a deep concern for the environment. They respond to the challenge of the Anthropocene by paying close, loving attention to the natural world and imparting that skill to others through their work. All three artists have deep connections to Kansas, and all three turn their gazes on the prairie environments emblematic of the Great Plains. Although they work in diverse and divergent ways, all three artists expose the beauty of this ecosystem, the wide array of human and non-human creatures that share it, and the complexity of the ties that connect us. The works in this exhibition form an expansive and profound tribute to their subjects and remind us of the emotional rewards of a close connection to the land at hand.</p> <p><span style="text-decoration: underline;">Museum Hours</span><br />Mondays-Saturdays: 11am-5pm<br />Sundays, University &amp; Major Holidays: Closed</p> <p><em>Image: Detail of Terry Evans, Fent's Prairie, Salina, Kansas, May 2018, 2018. Image courtesy Terry Evans.</em></p> 1845 N. Fairmount Wichita, KS America/Chicago
Back To Previous