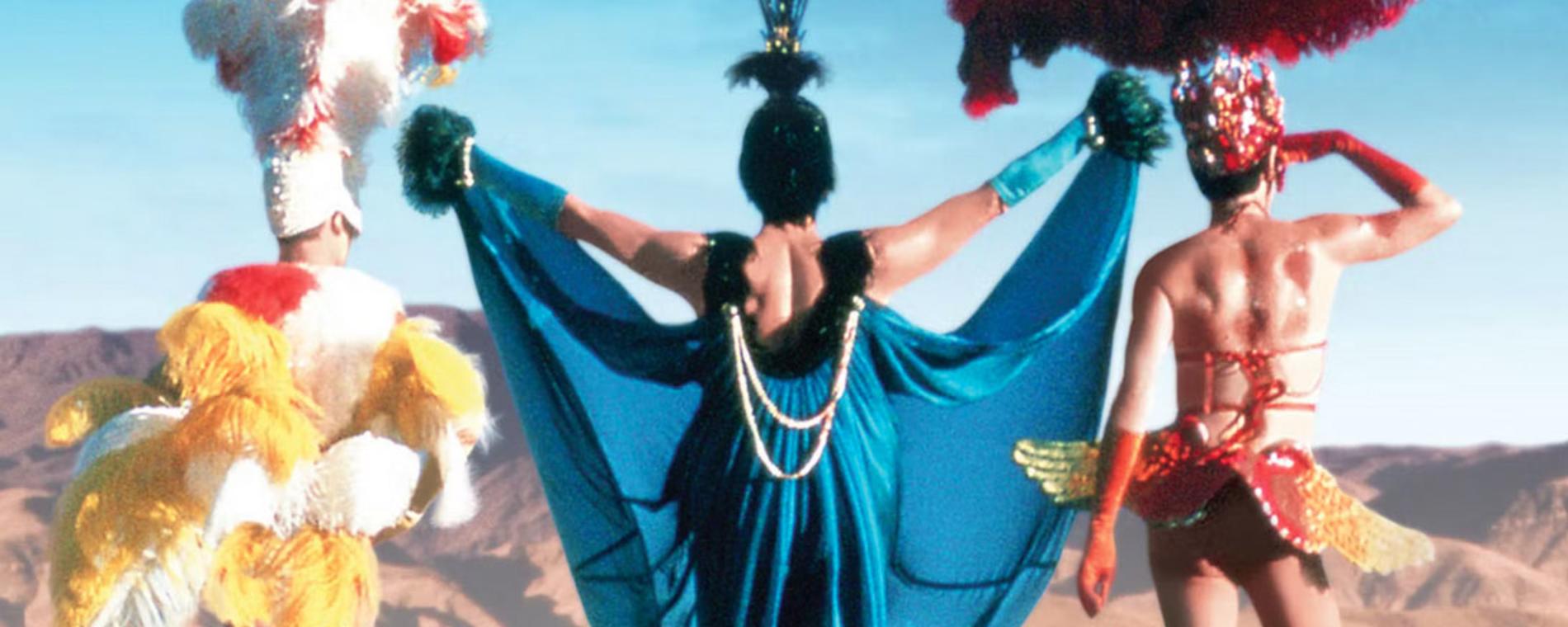 Back to Previous
mama.film Series: The Adventures of Priscilla, Queen of the Desert
06:30 PM, March 24, 2023 | Wichita Art Museum
Whether subtle or extravagant, a film's costume design conveys its social fabric – the essential storytelling elements of time, place, personality and more. In conjunction with Isabelle De Borchgrave's exquisite exhibition, WAM and mama.film have curated a series of films that span the decades, to celebrate the art of costume design on screen. These films feature iconic costumes that are unforgettable and often scene stealing. Joining us are local experts and aficionados who will contextualize the costumes as they relate to each story.

The Adventures of Priscilla, Queen of the Desert, Directed by Stephan Elliot, 1994

When drag queen Anthony (Hugo Weaving) agrees to take his act on the road, he invites fellow cross-dresser Adam (Guy Pearce) and transsexual Bernadette (Terence Stamp) to come along. In their colorful bus, named Priscilla, the three performers travel across the Australian desert performing for enthusiastic crowds and homophobic locals. But when the other two performers learn the truth about why Anthony took the job, it threatens their act and their friendship. (Winner, Best Costume Design 1995 Academy Awards).
Admission:

$10; free for WAM members

Buy Tickets
Days:

March 24, 2023

>

2023-03-24 2023-03-24 18:30:00 mama.film Series: The Adventures of Priscilla, Queen of the Desert <p>Whether subtle or extravagant, a film's costume design conveys its social fabric &#8211; the essential storytelling elements of time, place, personality and more. In conjunction with Isabelle De Borchgrave's exquisite exhibition, WAM and mama.film have curated a series of films that span the decades, to celebrate the art of costume design on screen. These films feature iconic costumes that are unforgettable and often scene stealing. Joining us are local experts and aficionados who will contextualize the costumes as they relate to each story.<br><br>The Adventures of Priscilla, Queen of the Desert, Directed by Stephan Elliot, 1994<br><br>When drag queen Anthony (Hugo Weaving) agrees to take his act on the road, he invites fellow cross-dresser Adam (Guy Pearce) and transsexual Bernadette (Terence Stamp) to come along. In their colorful bus, named Priscilla, the three performers travel across the Australian desert performing for enthusiastic crowds and homophobic locals. But when the other two performers learn the truth about why Anthony took the job, it threatens their act and their friendship. (Winner, Best Costume Design 1995 Academy Awards).</p> 1400 W. Museum Blvd. Wichita, KS America/Chicago
Back To Previous