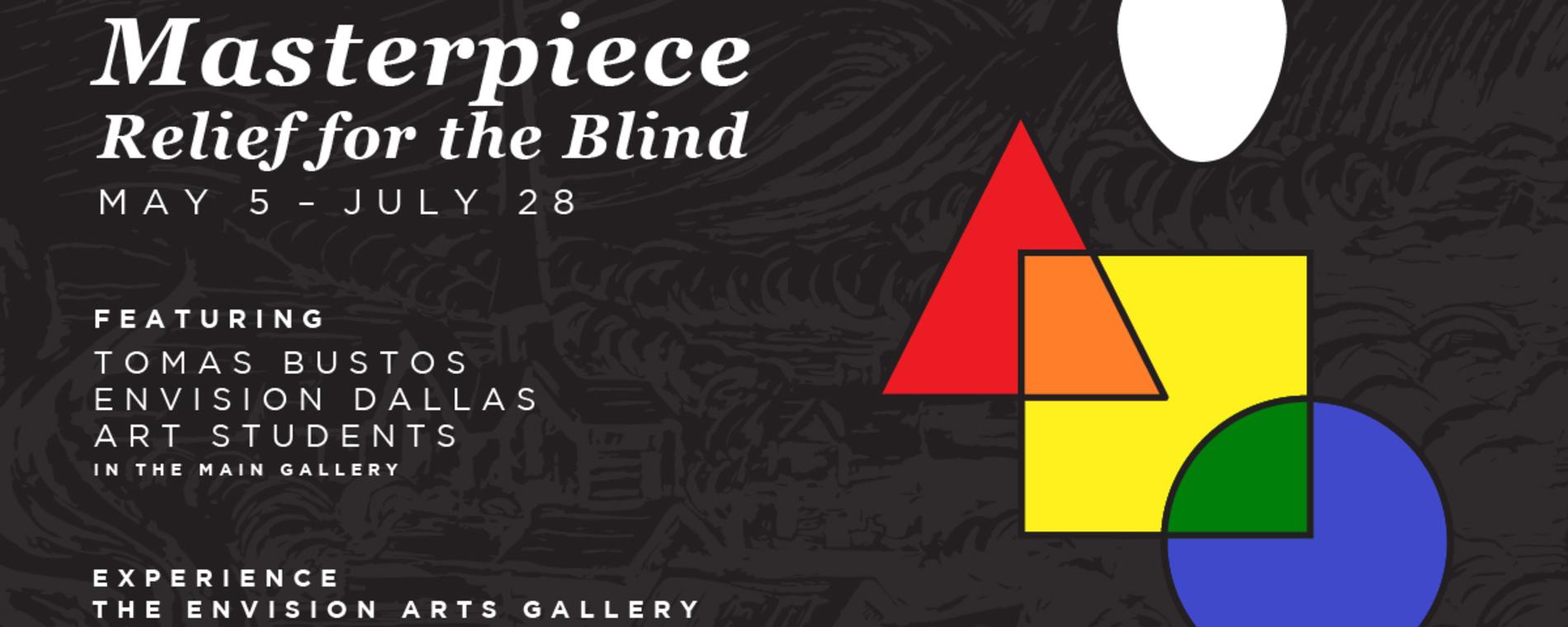 Back to Previous
Masterpiece Relief for the Blind | First Friday at the Envision Arts Gallery
05:00 PM, June 5, 2023 | Envision Arts Gallery and Engagement Center
The Envision Arts Gallery is proud to welcome Texas-based sculptor, Tomas Bustos, in an exhibition titled Masterpiece Relief for the Blind.

Masterpiece Relief for the Blind is the name of a nonprofit arts education program based in Texas, whose mission is to promote and create opportunities for the education, discovery, and celebration of art history through the sense of touch for individuals with vision loss. The exhibition of Masterpiece Relief for the Blind will be highlighting ceramic sculptures and pottery made in the Envision Dallas art program by students who are blind or visually impaired, as well as original works by Tomas Bustos.

Tomas Bustos' bas-relief, cast bronze works are a testament to his passion for recreating iconic masterpieces through a unique and tactile approach. This exhibition at the Envision Arts Gallery will showcase his talents as an artist and his reverence for some of the most famous works in art history. They will take the viewer on a journey from graphite renderings, clay, and plaster reliefs to the final rendition in bronze. From his reinterpretation of the "Mona Lisa" to his recreation of "Starry Night," viewers will be transported to the world of classic art, brought to life through the artist's distinctive techniques.

Tomas Bustos is a native of Dallas, Texas. Mr. Bustos served a seven-year apprenticeship with the well-known sculptor and artisan Octavio Medellin whose work is included in many museum collections including the Dallas Museum of Art. Under the guidance of Mr. Medellin, Tomas Bustos mastered the art of woodcarving, stone carving, bronze casting, welding, drawing, and oil painting. Mr. Bustos also learned the art of mechanical animation as an apprentice and employee with the Bill Reed Decorations Co. of Dallas. After 25 years working as a master woodcarver for prominent companies such as Orion's Antiques and Manheim's Furniture Co. of Dallas, Mr. Bustos founded his own company in 1995. His studio quickly gained a reputation for quality and reliability that has allowed him to produce work in places as far as South Africa and Canada. His great passion for the arts and thirty years of experience makes Tomas Bustos one of the most well-rounded artists in the region.

Join us for First Friday at the Envision Arts Gallery on May 5 from 5:00 - 9:00 p.m. to celebrate the opening of this exhibition.
Throughout the evening you can meet the artists, experience their artwork, and participate in art activities inspired by the exhibition.

On display May 5 - July 28 in the Main Gallery.
Admission:

Free

Days:

6/5/2023, 6/6/2023, 6/7/2023, 6/8/2023, 6/9/2023, 6/10/2023, 6/12/2023, 6/13/2023, 6/14/2023, 6/15/2023, 6/16/2023, 6/19/2023, 6/20/2023, 6/21/2023, 6/22/2023, 6/23/2023, 6/26/2023, 6/27/2023, 6/28/2023, 6/29/2023, 7/3/2023, 7/4/2023, 7/5/2023, 7/6/2023, 7/7/2023, 7/8/2023, 7/10/2023, 7/11/2023, 7/12/2023, 7/13/2023, 7/14/2023, 7/17/2023, 7/18/2023, 7/19/2023, 7/20/2023, 7/21/2023, 7/24/2023, 7/25/2023, 7/26/2023, 7/27/2023, 7/28/2023

>

2023-06-05 2023-07-28 21:00:00 Masterpiece Relief for the Blind | First Friday at the Envision Arts Gallery <p>The Envision Arts Gallery is proud to welcome Texas-based sculptor, Tomas Bustos, in an exhibition titled Masterpiece Relief for the Blind.<br><br>Masterpiece Relief for the Blind is the name of a nonprofit arts education program based in Texas, whose mission is to promote and create opportunities for the education, discovery, and celebration of art history through the sense of touch for individuals with vision loss. The exhibition of Masterpiece Relief for the Blind will be highlighting ceramic sculptures and pottery made in the Envision Dallas art program by students who are blind or visually impaired, as well as original works by Tomas Bustos.<br><br>Tomas Bustos' bas-relief, cast bronze works are a testament to his passion for recreating iconic masterpieces through a unique and tactile approach. This exhibition at the Envision Arts Gallery will showcase his talents as an artist and his reverence for some of the most famous works in art history. They will take the viewer on a journey from graphite renderings, clay, and plaster reliefs to the final rendition in bronze. From his reinterpretation of the "Mona Lisa" to his recreation of "Starry Night," viewers will be transported to the world of classic art, brought to life through the artist's distinctive techniques.<br><br>Tomas Bustos is a native of Dallas, Texas. Mr. Bustos served a seven-year apprenticeship with the well-known sculptor and artisan Octavio Medellin whose work is included in many museum collections including the Dallas Museum of Art. Under the guidance of Mr. Medellin, Tomas Bustos mastered the art of woodcarving, stone carving, bronze casting, welding, drawing, and oil painting. Mr. Bustos also learned the art of mechanical animation as an apprentice and employee with the Bill Reed Decorations Co. of Dallas. After 25 years working as a master woodcarver for prominent companies such as Orion's Antiques and Manheim's Furniture Co. of Dallas, Mr. Bustos founded his own company in 1995. His studio quickly gained a reputation for quality and reliability that has allowed him to produce work in places as far as South Africa and Canada. His great passion for the arts and thirty years of experience makes Tomas Bustos one of the most well-rounded artists in the region.<br><br>Join us for First Friday at the Envision Arts Gallery on May 5 from 5:00 - 9:00 p.m. to celebrate the opening of this exhibition.<br>Throughout the evening you can meet the artists, experience their artwork, and participate in art activities inspired by the exhibition.<br><br>On display May 5 - July 28 in the Main Gallery.</p> 801 East Douglas Wichita, KS America/Chicago
Back To Previous