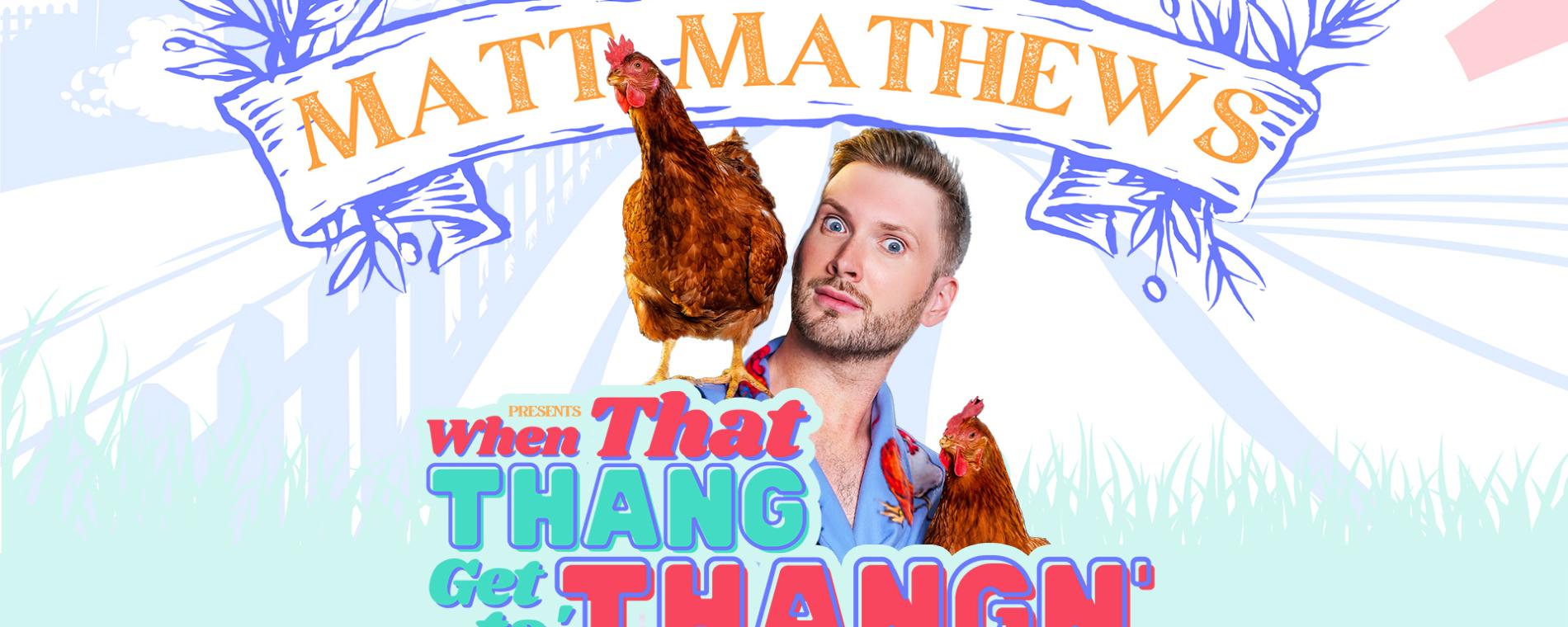 Back to Previous
Matt Mathews
From: 08:00 PM to 10:00 PM, November 4, 2023 | Orpheum Theatre
TikTok's most fabulous farmer Matt Mathews brings the "When That Thang Get Ta Thang'n" comedy tour to Wichita!
Celebrated online for his relatability and situational humor, Mathews has amassed over 3 million followers on TikTok and over 1 million followers on Instagram. A key component to Mathews' internet fame is his ability to create consistently engaging content, such as his viral Instagram series Confessions with Matt, where he responds to messages from followers who reveal their deepest, darkest secrets – as well as his sidesplitting farm chores videos that show Mathews reluctantly performing daily tasks around his farm and playfully scorning his animals whenever they misbehave.
His comedy show also features audience interaction via a segment called "Live Confessions," where audience members scan a QR code and anonymously submit their confessions, which he responds to impromptu on stage.
Admission:

$29.50 - $79.50, $75 VIP Meet & Greet Add-On

Buy Tickets
Days:

November 4, 2023

>

2023-11-04 2023-11-04 22:00:00 Matt Mathews <p>TikTok's most fabulous farmer Matt Mathews brings the "When That Thang Get Ta Thang'n" comedy tour to Wichita!</p> <p>Celebrated online for his relatability and situational humor, Mathews has amassed over 3 million followers on TikTok and over 1 million followers on Instagram. A key component to Mathews' internet fame is his ability to create consistently engaging content, such as his viral Instagram series Confessions with Matt, where he responds to messages from followers who reveal their deepest, darkest secrets &#8211; as well as his sidesplitting farm chores videos that show Mathews reluctantly performing daily tasks around his farm and playfully scorning his animals whenever they misbehave.</p> <p>His comedy show also features audience interaction via a segment called "Live Confessions," where audience members scan a QR code and anonymously submit their confessions, which he responds to impromptu on stage.</p> 200 N. Broadway Ave. Wichita, KS America/Chicago
Back To Previous