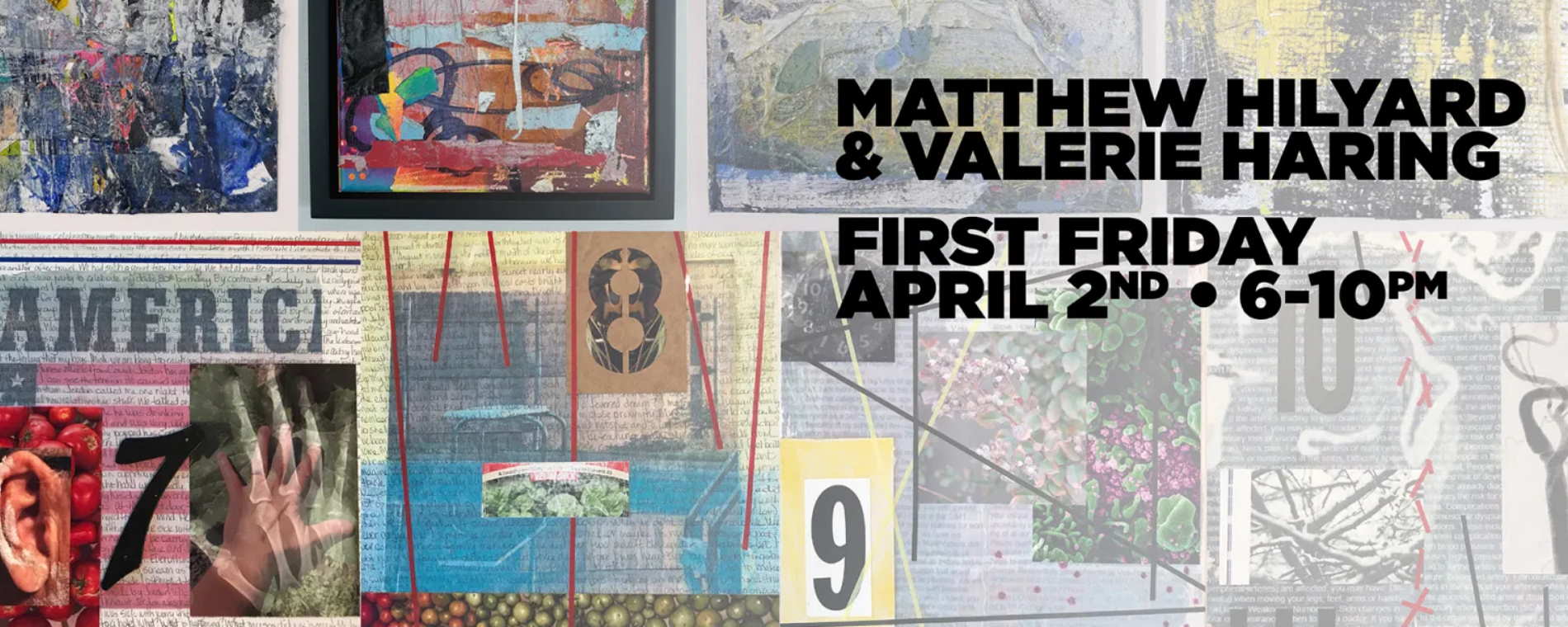 Back to Previous
Matthew Hilyard and Valerie Haring Opening Reception - First Friday
6-10pm, April 2, 2021 | Art House 310
MATTHEW HILYARD is a painter, photographer, art instructor & curator well known in the Wichita art community. He has painted a Keeper of the Plains at the Urban Pop-up Park. His work is included in the publication New American Paintings West Coast Edition no.120. His students have received numerous awards in local juried art competitions. He maintains his home and studio in Andover, KS. He teaches abstract painting at Mark Arts in Wichita, KS.
VALERIE HARING is a life-long Kansan. She started my educational career at Butler Community College then spent one year at Bethany before she earned a BSE from Emporia State University in Art Education and an MA from Wichita State University. Valerie is the Chair of the Art Department at Butler Community College where she has had the pleasure of teaching young artists for nearly 30 years. Valerie has two adult sons, Jordon and Jaxon. Her life partner, John Oehm, is a fellow artist; they speak the same language. She calls herself a painter, although throughout her career she has also made assemblages, sculpture, photography and digital prints. When Valerie reflects on her history as an artist, it can be traced to her childhood. Her father is a collector of things; mostly cars. She loved to "find" objects and assembled odds-and-ends into artistic creations. Valerie's mother kept her sister and herself busy with craft projects involving sewing and homemade clay. Valerie joyously roamed the wooded area close to their country home, excited to discover a unique rock or odd animal bone. Valerie's adulthood has been filled with intellectual, personal and artistic discovery. In 2005, she designed the construct of the striped composition in her art making. Valerie established some rules for herself which she tries to break without destroying the visual integrity of the piece. These experiences have become manifest in the artwork that she makes.
Show hangs through April 25th, 2021. See this exhibition by making an appointment or visit during our posted weekly open hours which are posted weekly on the Art House 310 Facebook page.
Admission:

Free

Days:

April 2, 2021

2021-04-02 2021-04-02 22:00:00 Matthew Hilyard and Valerie Haring Opening Reception - First Friday <p>MATTHEW HILYARD is a painter, photographer, art instructor &amp; curator well known in the Wichita art community. He has painted a Keeper of the Plains at the Urban Pop-up Park. His work is included in the publication New American Paintings West Coast Edition no.120. His students have received numerous awards in local juried art competitions. He maintains his home and studio in Andover, KS. He teaches abstract painting at Mark Arts in Wichita, KS.</p> <p>VALERIE HARING is a life-long Kansan. She started my educational career at Butler Community College then spent one year at Bethany before she earned a BSE from Emporia State University in Art Education and an MA from Wichita State University. Valerie is the Chair of the Art Department at Butler Community College where she has had the pleasure of teaching young artists for nearly 30 years. Valerie has two adult sons, Jordon and Jaxon. Her life partner, John Oehm, is a fellow artist; they speak the same language. She calls herself a painter, although throughout her career she has also made assemblages, sculpture, photography and digital prints. When Valerie reflects on her history as an artist, it can be traced to her childhood. Her father is a collector of things; mostly cars. She loved to "find" objects and assembled odds-and-ends into artistic creations. Valerie's mother kept her sister and herself busy with craft projects involving sewing and homemade clay. Valerie joyously roamed the wooded area close to their country home, excited to discover a unique rock or odd animal bone. Valerie's adulthood has been filled with intellectual, personal and artistic discovery. In 2005, she designed the construct of the striped composition in her art making. Valerie established some rules for herself which she tries to break without destroying the visual integrity of the piece. These experiences have become manifest in the artwork that she makes.</p> <p>Show hangs through April 25th, 2021. See this exhibition by making an appointment or visit during our posted weekly open hours which are posted weekly on the Art House 310 Facebook page.</p> 310 S. Laura Wichita, KS America/Chicago
Back To Previous