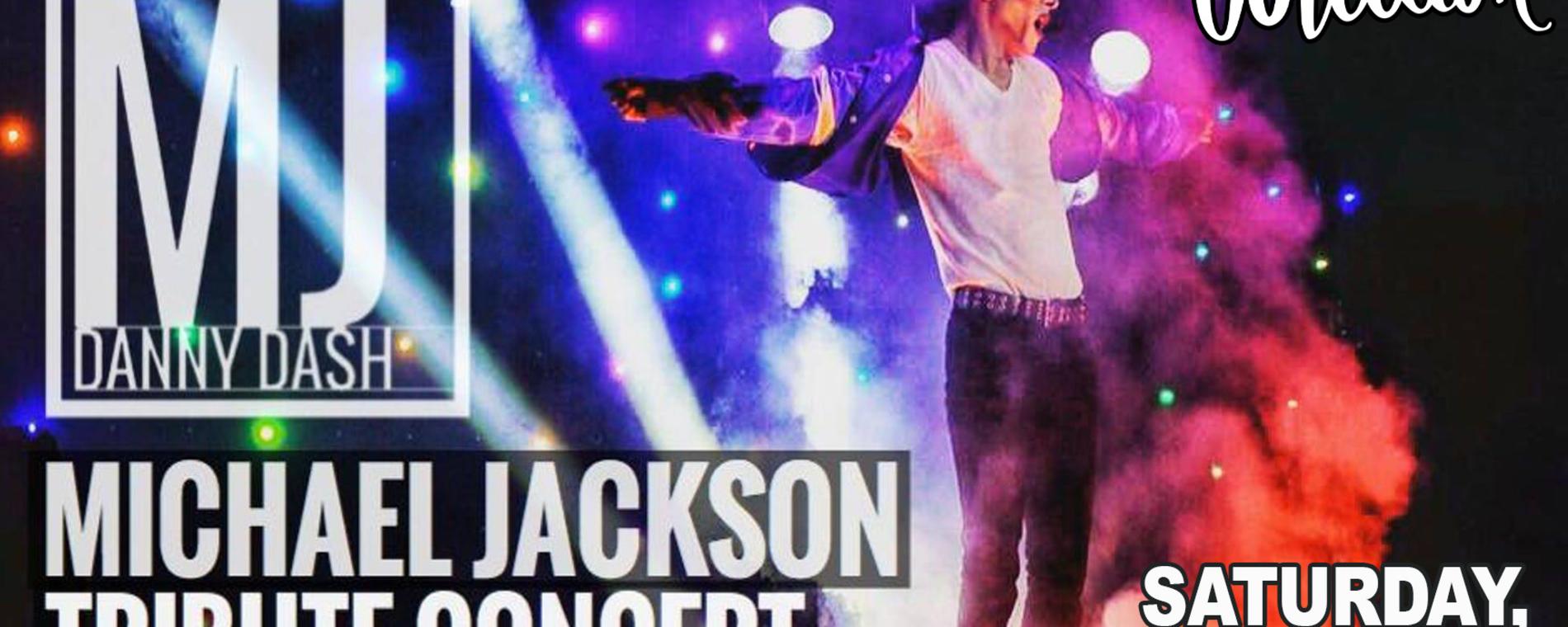 Back to Previous
Michael Jackson Tribute Concert at The Cotillion
From: 08:00 PM to 11:00 PM, October 28, 2023 | The Cotillion
MICHAEL JACKSON TRIBUTE CONCERT
starring America's #1 Michael Jackson impersonator Danny Dash Andrews

TEXT POP to 49798 for concert updates
Concessions and full bars open! Also featuring local favorites Nancy's A-Maize-N Sandwich Booth.
All Ages
Support acts subject to change.
Michael Jackson Tribute Concert starring America's #1 Michael Jackson impersonator Danny Dash Andrews. Be a part of this incredible concert experience that pays tribute to the life and legacy of The King of Pop. A show for all ages, this two hour non stop high energy show will take you on a breathtaking magical musical journey that spans Jackson's four decade career. Our extraordinary production features state of the art concert lighting and sound that truly captures the essence of Michael Jackson's worldwide concerts.

"Michael Jackson impersonator, Danny Dash Andrews, is one of the world's most in-demand tribute artists. Since the tragic death of Michael Jackson, Andrews has resurrected the spirit of the legend, traveling throughout the world performing live as the King of Pop. Andrews has made numerous film and television appearances, including performing on America's Got Talent, performing live with Lady Gaga, and appearing with Latoya Jackson. He has gained enormous respect captivating audiences and capturing hearts with his high-energy tribute performances. His incredible talent, matched with his effortless moves mirroring those of the King of Pop, result in jaw-dropping shows that are unforgettable."
Get up close and personal with the King of Pop. – VIP Tickets Include:
– Early Entry at 6:30 p.m.
– Priority VIP meet & greet after the show.
– (1) One Autograph 8×10 poster.
– Includes a photo with Michael Jackson from your personal device.

Wear your Cotillion merch and jump to the front of the GA line.
A limited number of table reservations are available by calling 316-722-4201 or in person at The Cotillion. Coat check is open during events to check your coats, hats, merch and more. Coat check is located next to merch by the front doors. All sales are final. No exchanges or refunds unless a show is cancelled or postponed.v
Admission:

GA $20 Advance, $25 Day of Show

Buy Tickets
Days:

October 28, 2023

>

2023-10-28 2023-10-28 23:00:00 Michael Jackson Tribute Concert at The Cotillion <p><strong>MICHAEL JACKSON TRIBUTE CONCERT</strong><br>starring America's #1 Michael Jackson impersonator Danny Dash Andrews<br><br>TEXT POP to 49798 for concert updates<br>Concessions and full bars open! Also featuring local favorites Nancy's A-Maize-N Sandwich Booth.<br>All Ages<br>Support acts subject to change.</p> <p>Michael Jackson Tribute Concert starring America's #1 Michael Jackson impersonator Danny Dash Andrews. Be a part of this incredible concert experience that pays tribute to the life and legacy of The King of Pop. A show for all ages, this two hour non stop high energy show will take you on a breathtaking magical musical journey that spans Jackson's four decade career. Our extraordinary production features state of the art concert lighting and sound that truly captures the essence of Michael Jackson's worldwide concerts.<br><br>"Michael Jackson impersonator, Danny Dash Andrews, is one of the world's most in-demand tribute artists. Since the tragic death of Michael Jackson, Andrews has resurrected the spirit of the legend, traveling throughout the world performing live as the King of Pop. Andrews has made numerous film and television appearances, including performing on America's Got Talent, performing live with Lady Gaga, and appearing with Latoya Jackson. He has gained enormous respect captivating audiences and capturing hearts with his high-energy tribute performances. His incredible talent, matched with his effortless moves mirroring those of the King of Pop, result in jaw-dropping shows that are unforgettable."</p> <p>Get up close and personal with the King of Pop. &#8211; VIP Tickets Include:<br>&#8211; Early Entry at 6:30 p.m.<br>&#8211; Priority VIP meet &amp; greet after the show.<br>&#8211; (1) One Autograph 8×10 poster.<br>&#8211; Includes a photo with Michael Jackson from your personal device.</p> <p><br>Wear your Cotillion merch and jump to the front of the GA line.</p> <p><em>A limited number of table reservations are available by calling 316-722-4201 or in person at The Cotillion. Coat check is open during events to check your coats, hats, merch and more. Coat check is located next to merch by the front doors. </em><em>All sales are final. No exchanges or refunds unless a show is cancelled or postponed.v</em></p> 11120 W. Kellogg Dr. Wichita, KS America/Chicago
Back To Previous