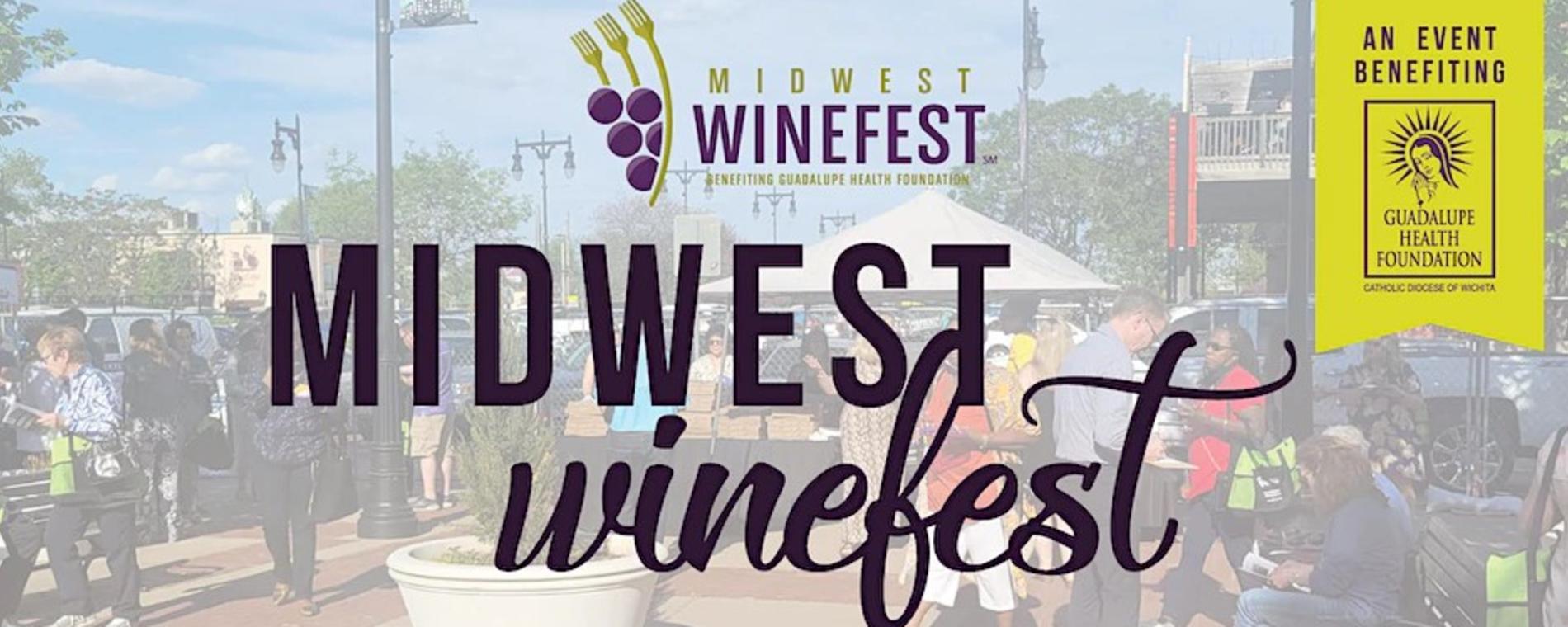 Back to Previous
Midwest Winefest Walkabout
From: 5:30 PM to 8:00 PM, April 27, 2023
The Midwest Winefest is celebrating 28 years in 2023!  Funds raised from Midwest Winefest have totaled more than $5 million which directly go to support the Guadalupe Health Foundation and in turn are used to support their primary beneficiary, Guadalupe Clinic. 
Midwest Winefest is Wichita's premier wine and food festival. Tickets are limited and often sell out for this annual fest that includes separate elements each night: Old Town Walkabout and Reserve Room.
Walkabout stops include local restaurants and venues in Wichita's Old Town District serving a variety of food and wine. Participating venues include restaurants, bars and businesses scattered from Douglas along Rock Island and North Mead up to the Old Town Square north of Second Street. Attendees also can visit a number of wine and food spots centralized in a gated area on the Farm and Art Plaza, where local musicians will perform. Night two offers the Reserve Room event, where guests enjoy higher-end wines and food at Distillery 244 plus a live auction.
The Guadalupe Health Foundation was established to ensure the longevity of the Clinic and the services it provides to those in need. Grants from Guadalupe Health Foundation make it possible for Guadalupe Clinic to provide necessary medical treatment and services to those most in need in the Wichita community. The Foundation is key to the long-term success and growth of Guadalupe Clinic and the services they provide to the working poor and uninsured living among us.
Admission:

$75-$250

Buy Tickets
Days:

4/27/2023

>

2023-04-27 2023-04-27 20:00:00 Midwest Winefest Walkabout <p>The Midwest Winefest is celebrating 28 years in 2023!  Funds raised from Midwest Winefest have totaled more than $5 million which directly go to support the Guadalupe Health Foundation and in turn are used to support their primary beneficiary, Guadalupe Clinic. </p> <p class="MsoNormal"><span style="mso-fareast-font-family: 'Times New Roman';">Midwest Winefest is Wichita's premier wine and food festival. Tickets are limited and often sell out for this annual fest that includes separate elements each night: Old Town Walkabout and Reserve Room.</span></p> <p class="MsoNormal"><span style="mso-fareast-font-family: 'Times New Roman';">Walkabout stops include local restaurants and venues in Wichita's Old Town District serving a variety of food and wine. Participating venues include restaurants, bars and businesses scattered from Douglas along Rock Island and North Mead up to the Old Town Square north of Second Street. Attendees also can visit a number of wine and food spots centralized in a gated area on the Farm and Art Plaza, where local musicians will perform. Night two offers the Reserve Room event, where guests enjoy higher-end wines and food at Distillery 244 plus a live auction.</span></p> <p>The Guadalupe Health Foundation was established to ensure the longevity of the Clinic and the services it provides to those in need. Grants from Guadalupe Health Foundation make it possible for Guadalupe Clinic to provide necessary medical treatment and services to those most in need in the Wichita community. The Foundation is key to the long-term success and growth of Guadalupe Clinic and the services they provide to the working poor and uninsured living among us.</p> <p class="MsoNormal"> </p> 835 E. First St. Wichita, KS America/Chicago
Back To Previous