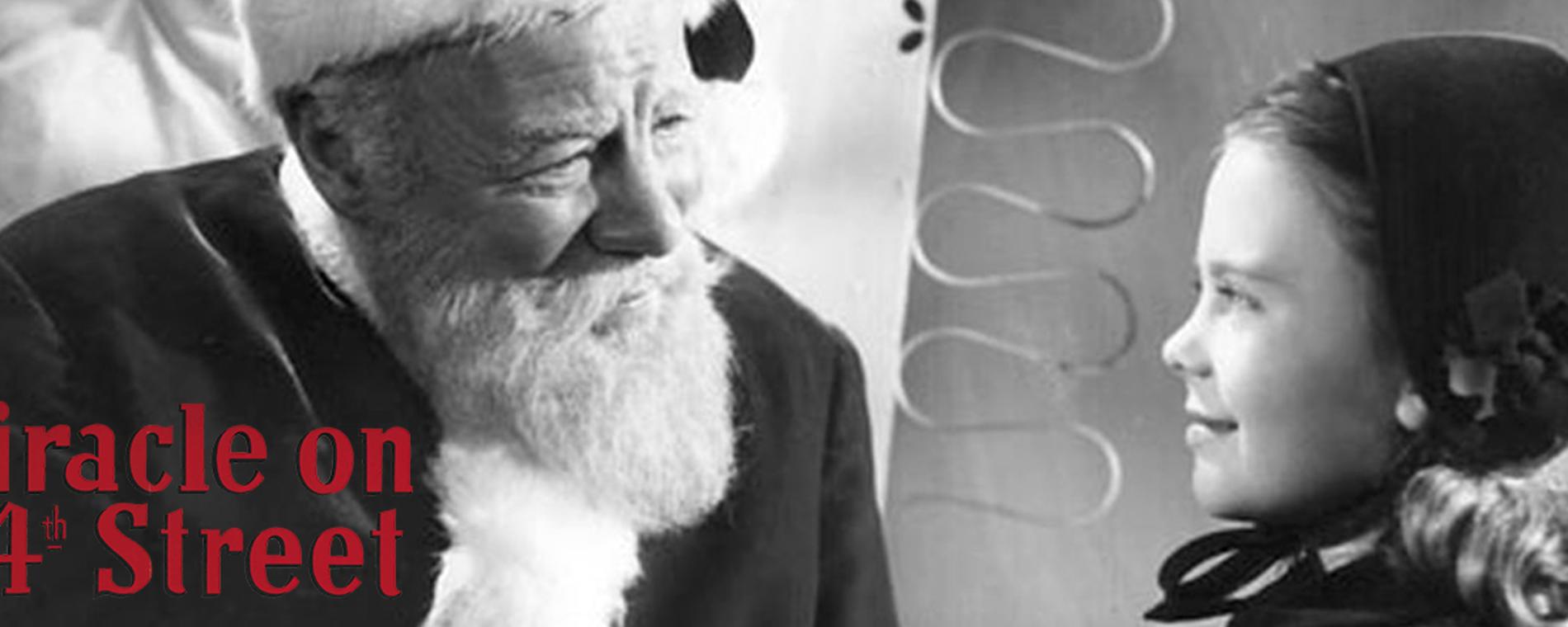 Back to Previous
Miracle on 34th Street
Starting: 07:00 PM, December 15, 2022 | Orpheum Theatre
Christmas isn't just a day, it's a frame of mind.
Miracle on 34th Street is a 1947 American Christmas comedy-drama film starring Maureen O'Hara, John Payne, Natalie Wood, and Edmund Gwenn. The story takes place between Thanksgiving Day and Christmas Day in New York City, and focuses on the effect of a department store Santa Claus who claims to be the real Santa. The film has become a perennial Christmas favorite.
Miracle on 34th Street won three Academy Awards: Gwenn for Best Actor in a Supporting Role, Valentine Davies for Best Writing, Original Story, and George Seaton for Best Writing, Screenplay. In 2005, the film was selected for preservation in the National Film Registry by the Library of Congress as being "culturally, historically or aesthetically significant". The Academy Film Archive preserved Miracle on 34th Street in 2009.
Join us on Thursdays for our monthly Anniversary Film Series events as we celebrate the love of classic film and the big screen experience.
Admission:

$8

Buy Tickets
Days:

December 15, 2022

>

2022-12-15 2022-12-15 19:00:00 Miracle on 34th Street <p>Christmas isn't just a day, it's a frame of mind.</p> <p><em><strong>Miracle on 34th Street</strong></em> is a 1947 American Christmas comedy-drama film starring Maureen O'Hara, John Payne, Natalie Wood, and Edmund Gwenn. The story takes place between Thanksgiving Day and Christmas Day in New York City, and focuses on the effect of a department store Santa Claus who claims to be the real Santa. The film has become a perennial Christmas favorite.</p> <p><em>Miracle on 34th Street</em> won three Academy Awards: Gwenn for Best Actor in a Supporting Role, Valentine Davies for Best Writing, Original Story, and George Seaton for Best Writing, Screenplay. In 2005, the film was selected for preservation in the National Film Registry by the Library of Congress as being "culturally, historically or aesthetically significant". The Academy Film Archive preserved <em>Miracle on 34th Street</em> in 2009.</p> <p>Join us on Thursdays for our monthly Anniversary Film Series events as we celebrate the love of classic film and the big screen experience.</p> 200 N. Broadway St., Ste. 330 Wichita, KS America/Chicago
Back To Previous