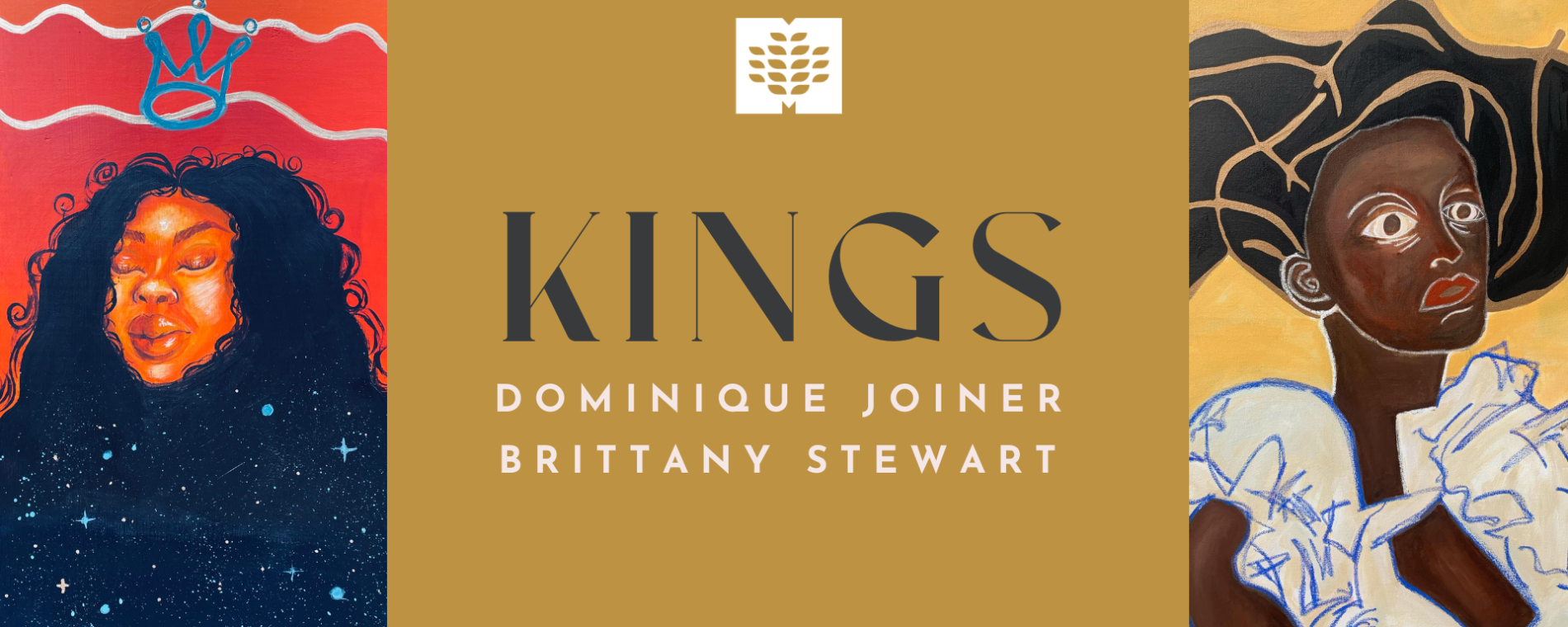 Back to Previous
Mulberry First Friday: KINGS by Dominique Joiner & Brittany Stewart
06:00 PM, October 7, 2022 | Mulberry Art Gallery
Join us on October First Friday for the opening exhibition of KINGS by Dominique Joiner and Brittany Stewart. Beautiful new work from both artists will be on display.

Dominique Joiner (b 1988 Wichita, KS) uses her chosen mediums of acrylic and oils to identify the experience of women in a male dominated society. Her work showcases the ideals of sensuality and affection to draw the viewer in an dcoaxes them to become more aware of the underlying message. Her goal is to press women to gain more ipseity, regardless of the rhetoric they are taught to the contrary. Dominique's art will encourage individuals to search inwardly and come to peace with their feelings.

Brittany Stewart, a Kansas-born artist, found her passion in painting after working in thrifting and upscaling furniture. She believes her purpose as an artist is to explore human conditions, what makes us different and unique, and how we fit into the rest of the world. Within her work, she shares her love for color, texture and shapes while focusing on Abstract figures. In her work, she explores themes of mental health and practicing self care with self love.
Days:

October 7, 2022

>

2022-10-07 2022-10-07 21:00:00 Mulberry First Friday: KINGS by Dominique Joiner & Brittany Stewart <p>Join us on October First Friday for the opening exhibition of KINGS by Dominique Joiner and Brittany Stewart. Beautiful new work from both artists will be on display.<br><br>Dominique Joiner (b 1988 Wichita, KS) uses her chosen mediums of acrylic and oils to identify the experience of women in a male dominated society. Her work showcases the ideals of sensuality and affection to draw the viewer in an dcoaxes them to become more aware of the underlying message. Her goal is to press women to gain more ipseity, regardless of the rhetoric they are taught to the contrary. Dominique's art will encourage individuals to search inwardly and come to peace with their feelings.<br><br>Brittany Stewart, a Kansas-born artist, found her passion in painting after working in thrifting and upscaling furniture. She believes her purpose as an artist is to explore human conditions, what makes us different and unique, and how we fit into the rest of the world. Within her work, she shares her love for color, texture and shapes while focusing on Abstract figures. In her work, she explores themes of mental health and practicing self care with self love.</p> 2721 E Central Ave Ste 215 Wichita, KS America/Chicago
Back To Previous