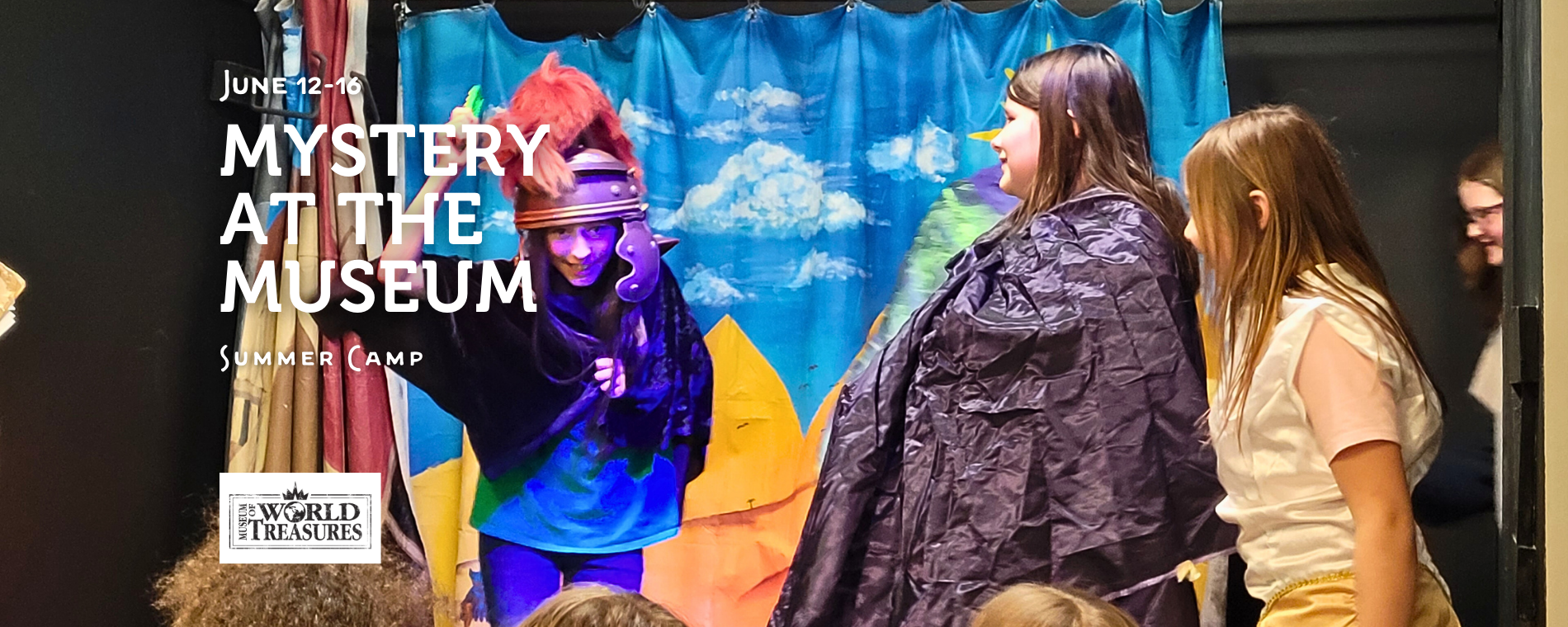 Back to Previous
Mystery at the Museum Summer Camp
1:00 pm - 5:00 pm, June 12, 2023 | Museum of World Treasures
Prepare yourself for a week-long, top-secret mission to solve the ultimate mystery at the Museum of World Treasures! Decorate a personalized agent badge, take a fingerprinting class, and solve clues throughout the Museum to track down the secret suspect. Test your knowledge of all things spies as you attempt to solve our unique Museum Escape Room challenge, create your own mystery-solving tool kit, and finally, learn to decode! Don't miss out on the chance to learn and earn your official title as Museum Sleuth!
This event is for young spies-in-the-making entering grades 4-5!
Registration will be open until May 29.
Classes begin promptly at 1:00 p.m. and sessions end at 5:00 p.m.
Please be sure to drop off/pick up your witch or wizard at the correct time each day!
Admission:

$90, $80 for Museum Members

Register Online
Recurrence:

Recurring every week day

Days:

June 12, 2023 - June 16, 2023

>

2023-06-12 2023-06-16 17:00:00 Mystery at the Museum Summer Camp <p><em>Prepare yourself for a week-long, top-secret mission to solve the ultimate mystery at the Museum of World Treasures! Decorate a personalized agent badge, take a fingerprinting class, and solve clues throughout the Museum to track down the secret suspect. Test your knowledge of all things spies as you attempt to solve our unique Museum Escape Room challenge, create your own mystery-solving tool kit, and finally, learn to decode! Don't miss out on the chance to learn and earn your official title as Museum Sleuth!</em></p> <ul> <li>This event is for young spies-in-the-making entering grades 4-5!</li> <li>Registration will be open until May 29.</li> </ul> <p>Classes begin promptly at 1:00 p.m. and sessions end at 5:00 p.m.</p> <p>Please be sure to drop off/pick up your witch or wizard at the correct time each day!</p> 835 E. First St. Wichita, KS America/Chicago
Back To Previous