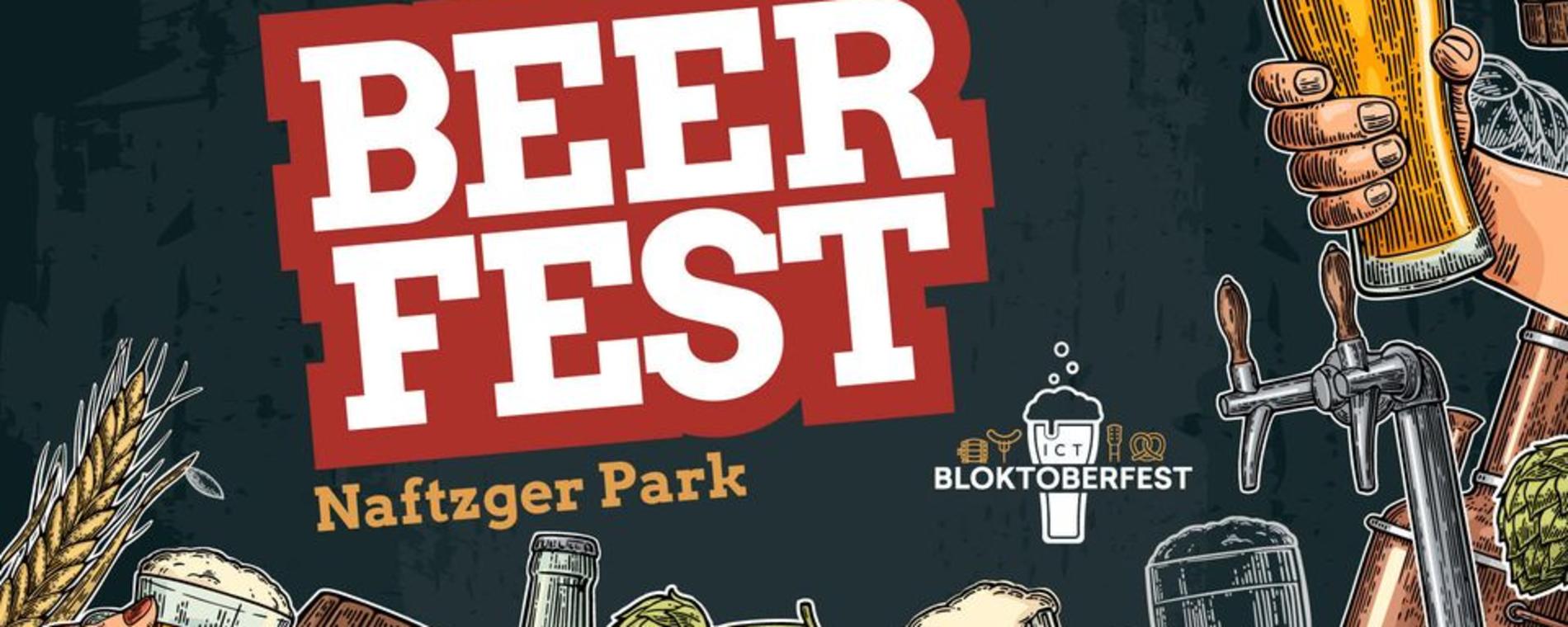 Back to Previous
Naftzger Park Beer Fest @ ICT Bloktoberfest
06:00 PM, October 13, 2023 | Naftzger Park
Naftzger Park Beer Fest & ICT Bloktoberfest will be held, 6-9 p.m., Friday, Oct. 13 at Naftzger Park located in downtown Wichita. The cost to attend is $60 for general admission. Early bird discounted tickets are $50 through Sept. 1. The general admission ticket includes samples to 99-plus beers, commerative tasting stein, snacks from local bakeries, food and alcohol trucks.
The Beer Fest VIP ticket allows participants to come into the fest one hour earlier to start sampling the beer. It also includes a VIP only area, limited edition 20 ounce ceramic stein, tequila tasting, small bites and desserts, limited edition beers and more.
There will be a live DJ at the event to keep the party going.
To get Beer Fest tickets visit, ictbloktoberfest.com. To stay up-to-date on this event, follow the Facebook event. 
Admission:

$60 General Admission ($50 early bird tickets until 9/1); $100 VIP

Buy Tickets
Days:

October 13, 2023

>

2023-10-13 2023-10-13 21:00:00 Naftzger Park Beer Fest @ ICT Bloktoberfest <p>Naftzger Park Beer Fest &amp; ICT Bloktoberfest will be held, 6-9 p.m., Friday, Oct. 13 at Naftzger Park located in downtown Wichita. The cost to attend is $60 for general admission. Early bird discounted tickets are $50 through Sept. 1. The general admission ticket includes samples to 99-plus beers, commerative tasting stein, snacks from local bakeries, food and alcohol trucks.</p> <p>The Beer Fest VIP ticket allows participants to come into the fest one hour earlier to start sampling the beer. It also includes a VIP only area, limited edition 20 ounce ceramic stein, tequila tasting, small bites and desserts, limited edition beers and more.</p> <p>There will be a live DJ at the event to keep the party going.</p> <p>To get Beer Fest tickets visit, <a class="x1i10hfl xjbqb8w x6umtig x1b1mbwd xaqea5y xav7gou x9f619 x1ypdohk xt0psk2 xe8uvvx xdj266r x11i5rnm xat24cr x1mh8g0r xexx8yu x4uap5 x18d9i69 xkhd6sd x16tdsg8 x1hl2dhg xggy1nq x1a2a7pz xt0b8zv x1fey0fg" tabindex="0" role="link" href="http://ictbloktoberfest.com/?fbclid=IwAR29U1MivDOTZ9LZvzVb8zrYKXOr13Q64Pxsbsko9_ySVytgAUK8aohvNvo" target="_blank" rel="nofollow noopener">ictbloktoberfest.com</a>. To stay up-to-date on this event, follow the Facebook <a href="https://www.facebook.com/events/905589453885478/?acontext=%7B%22event_action_history%22%3A[%7B%22surface%22%3A%22external%22%7D%2C%7B%22mechanism%22%3A%22discovery_top_tab%22%2C%22surface%22%3A%22bookmark%22%7D]%2C%22ref_notif_type%22%3Anull%7D">event</a>. </p> 601 E. Douglas Ave. Wichita, KS America/Chicago
Back To Previous