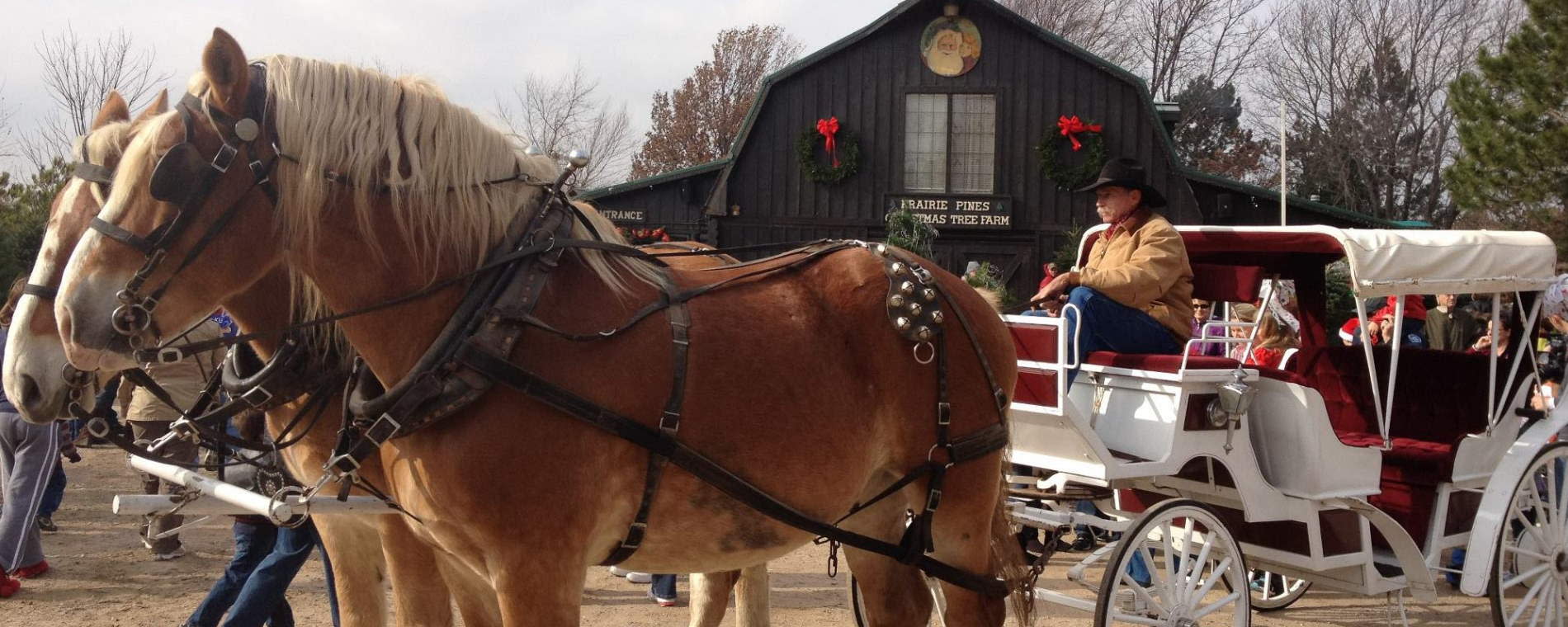 Back to Previous
Old-Fashioned Christmas at Prairie Pines - 2021
Various Times, December 2, 2021 | Prairie Pines
Step back in time and experience an old-fashioned Christmas at Prairie Pines. We are a tree farm first and foremost, but delight in our weekends of horse-drawn hay-rack rides, hot chocolate and cookies served by Maize High School students, visits from Santa, and the occasional "train" ride for the kids. Our Old Barn Christmas Shop is open during all tree-cutting hours and additional fun activities are offered on select weekends.
Hours for 2021:
Saturdays 9 a.m. – 5 p.m. (through Dec. 20)
Sundays 12 p.m. – 5 p.m. (through Dec. 21)
Weekdays 3 p.m. – 6 p.m. (through Dec. 19)
No weekday hours after Dec. 18
By appointment only after Dec. 21
Santa Hours:
Friday, November 26th, 11:00 a.m. – 4:00 p.m.; Saturdays 11 a.m. – 4 p.m. (through Dec. 11); Sundays 1 p.m. – 4 p.m. (through Dec. 12)
Santa hours are approximate and subject to change. Santa hours for our final weekend TBD.
The Prairie Pines Playhouse dinner theatre offers a hilarious mystery dinner 5 nights a week during the holiday season. Please visit PrairiePinesPlayhouse.com to book tickets or get information.
Recurrence:

Recurring daily

Days:

November 26, 2021 - December 19, 2021

2021-12-02 2021-12-19 Old-Fashioned Christmas at Prairie Pines - 2021 <p>Step back in time and experience an old-fashioned Christmas at Prairie Pines. We are a tree farm first and foremost, but delight in our weekends of horse-drawn hay-rack rides, hot chocolate and cookies served by Maize High School students, visits from Santa, and the occasional "train" ride for the kids. Our <em>Old Barn Christmas Shop</em> is open during all tree-cutting hours and additional fun activities are offered on select weekends.</p> <h3 class="fusion-responsive-typography-calculated" data-fontsize="23" data-lineheight="38.41px"><span style="font-size: 13px;"><strong>Hours for 2021:</strong></span></h3> <p>Saturdays 9 a.m. &#8211; 5 p.m. (through Dec. 20)<br />Sundays 12 p.m. &#8211; 5 p.m. (through Dec. 21)<br />Weekdays 3 p.m. &#8211; 6 p.m. (through Dec. 19)</p> <p>No weekday hours after Dec. 18<br />By appointment only after Dec. 21</p> <p><span style="font-size: 13px;"><strong>Santa Hours:</strong></span></p> <p>Friday, November 26th, 11:00 a.m. &#8211; 4:00 p.m.; Saturdays 11 a.m. &#8211; 4 p.m. (through Dec. 11); Sundays 1 p.m. &#8211; 4 p.m. (through Dec. 12)</p> <p>Santa hours are approximate and subject to change. Santa hours for our final weekend TBD.</p> <p><span>The Prairie Pines Playhouse dinner theatre offers a hilarious mystery dinner 5 nights a week during the holiday season. Please visit </span><a href="http://prairiepinesplayhouse.com/" rel="noopener noreferrer" target="_blank">PrairiePinesPlayhouse.com</a><span> to book tickets or get information.</span></p> 4055 N Tyler Rd Maize, KS America/Chicago
Back To Previous