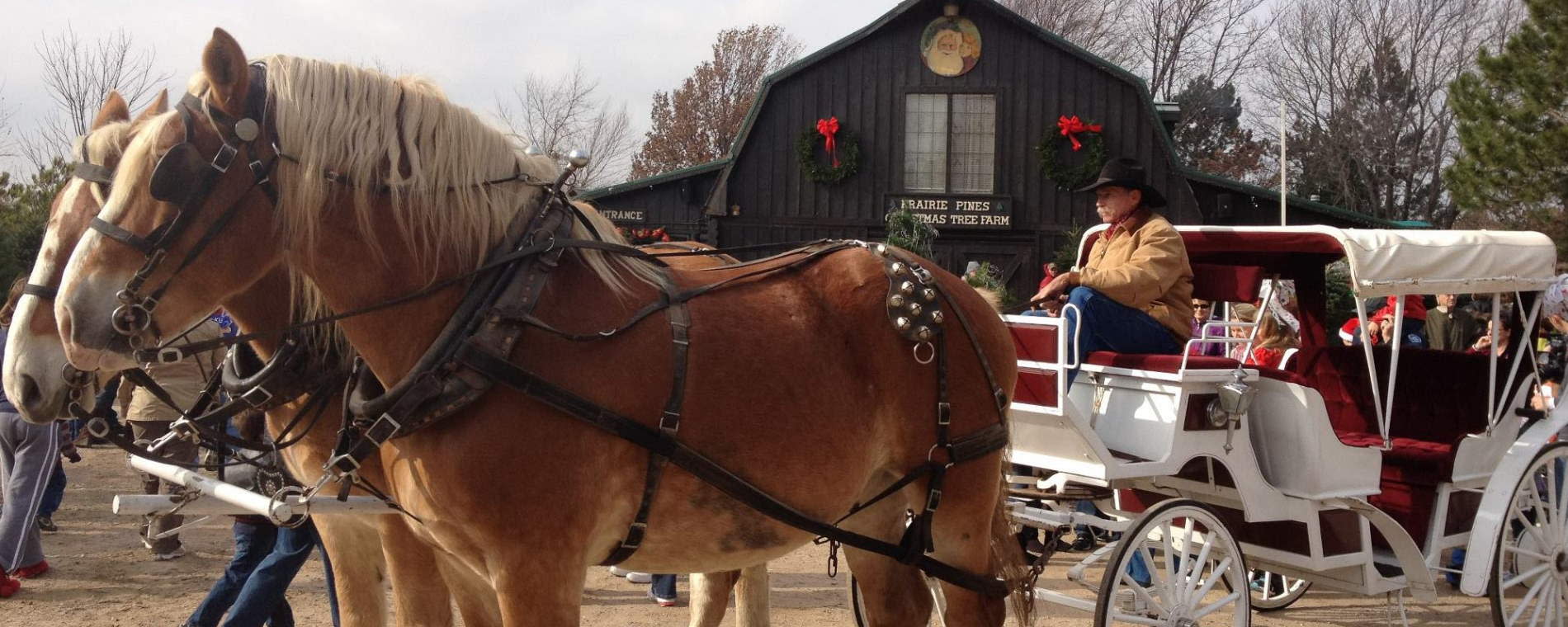 Back to Previous
Old-Fashioned Christmas at Prairie Pines
Various Times December 4, 2020 | Prairie Pines Playhouse
Step back in time and experience an old-fashioned Christmas at Prairie Pines. We are a tree farm first and foremost, but delight in our weekends of horse-drawn hay-rack rides, hot chocolate and cookies served by the Maize High School music department, visits from Santa, and the occasional "train" ride for the kids. Our Old Barn Christmas Shop is open during all tree-cutting hours and additional fun activities are offered on select weekends.
Hours - 11/27-12/20
Opening Day (11/27) - 9am-5pm (Santa arrives around 11am)
Weekdays - 3-6pm
Saturdays - 9am-5pm
Sundays - Noon-5pm
Santa will be visiting Saturdays 10am-4pm and Sundays 1-4pm (hours approximate).
Days:

November 27, 2020 - December 20, 2020

2020-12-04 2020-12-20 Old-Fashioned Christmas at Prairie Pines <p>Step back in time and experience an old-fashioned Christmas at Prairie Pines. We are a tree farm first and foremost, but delight in our weekends of horse-drawn hay-rack rides, hot chocolate and cookies served by the Maize High School music department, visits from Santa, and the occasional "train" ride for the kids. Our <em>Old Barn Christmas Shop</em> is open during all tree-cutting hours and additional fun activities are offered on select weekends.</p> <p><a title="2020 Changes" href="https://www.prairiepines.com/prairie-pines-a-very-2020-holiday/" rel="nofollow" target="_blank"><strong>Changes for this year</strong></a>.</p> <p><strong><span style="text-decoration: underline;">Hours - 11/27-12/20</span></strong><br />Opening Day (11/27) - 9am-5pm (Santa arrives around 11am)<br />Weekdays - 3-6pm<br />Saturdays - 9am-5pm<br />Sundays - Noon-5pm</p> <p><a title="Santa's Wish" href="https://www.prairiepines.com/prairie-pines-santas-wish/" rel="nofollow" target="_blank"><strong>Santa will be visiting</strong></a> Saturdays 10am-4pm and Sundays 1-4pm (hours approximate).</p> 4055 N Tyler Rd Maize, KS America/Chicago
Back To Previous