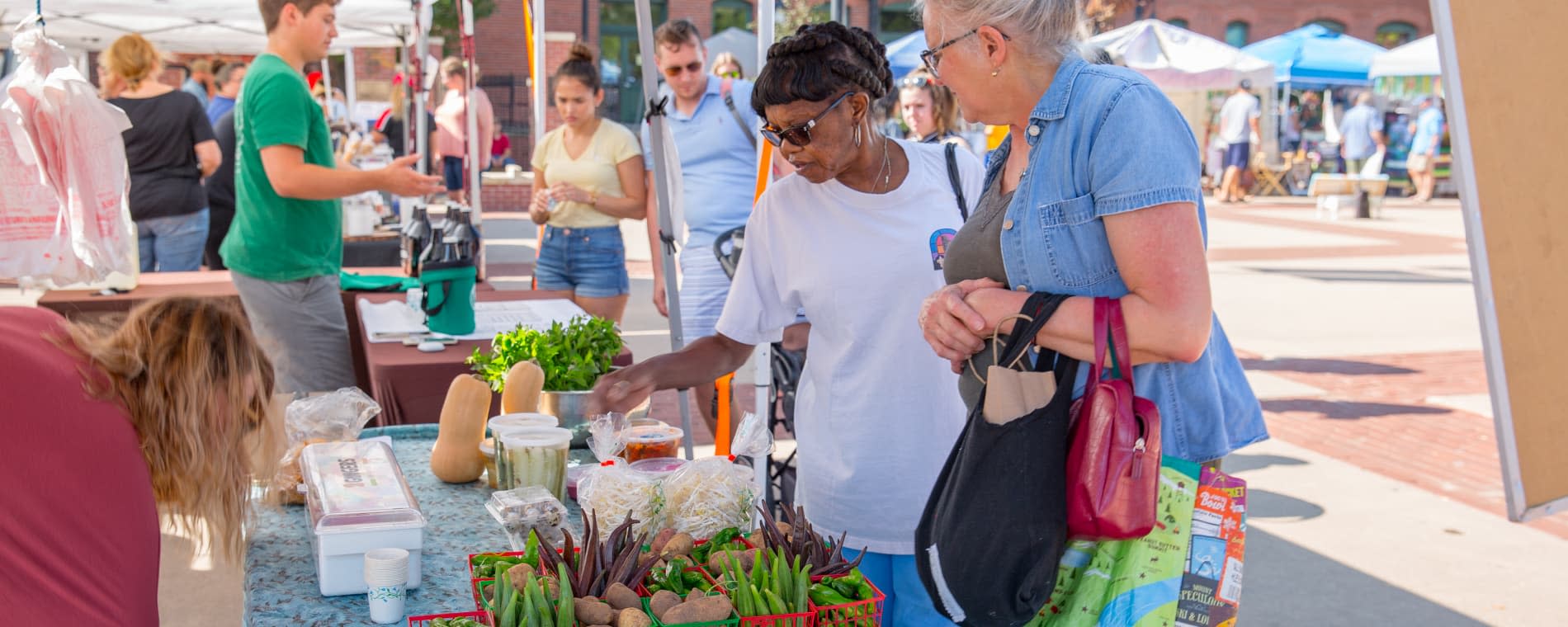 Back to Previous
Old Town Farm and Art Market
8am-1pm, October 23, 2021 | Farm & Art Plaza
The Old Town Farm & Art Market is celebrating 30 years! Catch live music, demonstrations and presentations, community yoga, tastings, competitions, and more. Safeguard your ability to source outstanding food, arts and handmade products from producers you know and trust (browse vendors).
Old Town Farm & Art Market is a weekly destination for thousands of area residents and a must-see for visitors to the city. The Market resides in a setting unique to Wichita. Surrounded by brick-lined streets and native limestone accented buildings dating back to the 1800s, the Old Town district is our city's premier entertainment and destination area. The Farm & Art Plaza is at 1st and Mosley, north of the Museum of World Treasures.
Dog friendly - etiquette and safety info
The holiday season market is in November and December!
Admission:

Free to Attend

Recurrence:

Recurring weekly on Saturday

Days:

April 3, 2021 - October 30, 2021

2021-10-23 2021-10-30 13:00:00 Old Town Farm and Art Market <p>The Old Town Farm &amp; Art Market is celebrating 30 years! Catch live music, demonstrations and presentations, community yoga, tastings, competitions, and more. Safeguard your ability to source outstanding food, arts and handmade products from producers you know and trust (<a title="Old Town Farm and Art Market Vendors" href="https://oldtownfarmandartmarket.com/vendor-profiles" rel="nofollow" target="_blank"><strong>browse vendors</strong></a>).</p> <p>Old Town Farm &amp; Art Market is a weekly destination for thousands of area residents and a must-see for visitors to the city. The Market resides in a setting unique to Wichita. Surrounded by brick-lined streets and native limestone accented buildings dating back to the 1800s, the Old Town district is our city's premier entertainment and destination area. The Farm &amp; Art Plaza is at 1st and Mosley, north of the <strong><a title="Museum of World Treasures" href="https://www.visitwichita.com/listing/museum-of-world-treasures/25776/">Museum of World Treasures</a></strong>.</p> <p>Dog friendly - <a title="Dog Etiquette and Safety" href="https://oldtownfarmandartmarket.com/dogs-rules-of-etiquette-and-safety" rel="nofollow" target="_blank"><strong>etiquette and safety info</strong></a></p> <p>The <a title="Old Town Farm and Art Market - Holiday Season" href="https://www.visitwichita.com/event/old-town-farm-and-art-market-holiday-season/33777/"><strong>holiday season market</strong></a> is in November and December!</p> 835 E. 1st St Wichita, KS America/Chicago
Back To Previous