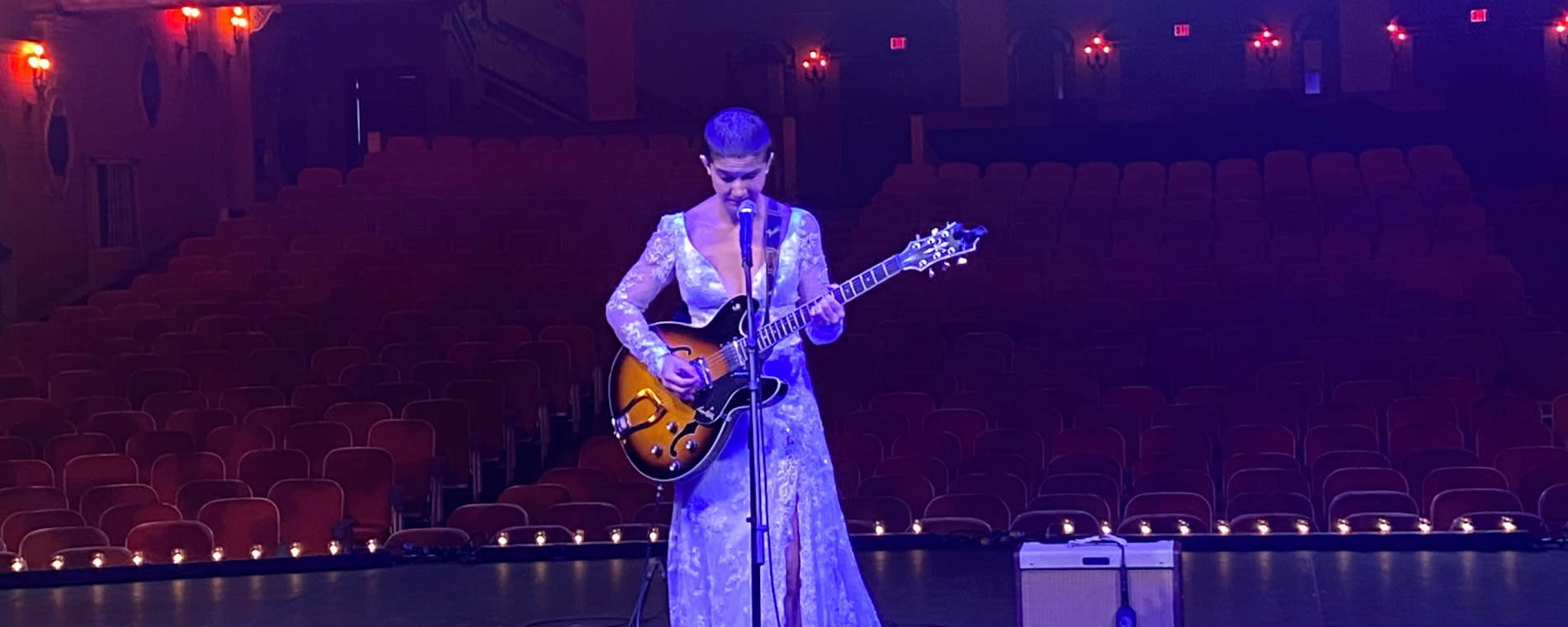 Back to Previous
Orpheum Alive - Jenny Wood
The dates for this event have already occurred, please check back again for new dates.
We're all disappointed not to be coming to the historic Orpheum Theatre for live music, so to fill in the gap while the theatre remains closed to the public, we've created Orpheum Alive!, a video concert series produced right here on our historic stage.
With the voice of a siren, self-taught guitarist and singer-songwriter Jenny Wood has captivated audiences throughout the country redefining alternative pop-rock with her moving lyrics, authenticity, alternate tunings and desperate, potent melodies.
With a background in theater and vocal performance at Wichita State University, Jenny learned to perform while studying composition and songwriting to be able to tote her one-woman show cross-country and earn notoriety as being a truly genuine artist. She lived in southern California and Nashville for much of her early twenties writing, performing and touring with all genres to earn her indie artist title. Jenny recently created her own anti-bullying music program that evolved from her music video, "Don't Let Them Get In Your Head" and now tours local schools with her music concert that encourages kids to take the negative and make it creative.
Since you can't come to the theatre to enjoy great music in person right now, we hope you'll join us virtually for one – or all – of these upcoming video concerts. You'll also be supporting your historic Orpheum Theatre, as all proceeds from these three concerts benefit the Orpheum Recovery Fund.
Orpheum Alive! is made possible by a grant from the COVID-19 Connection Fund at the Wichita Community Foundation, with additional support from the members of the Orpheum Producers Circle.
This virtual concert premieres at 5pm on Friday, August 7 and is available to view through 5pm on Sunday, September 6.
Admission:

Starting at $10

Recurrence:

Recurring daily

Days:

August 7, 2020 - September 6, 2020

Orpheum Alive - Jenny Wood <p>We're all disappointed not to be coming to the historic Orpheum Theatre for live music, so to fill in the gap while the theatre remains closed to the public, we've created Orpheum Alive!, a video concert series produced right here on our historic stage.</p> <p>With the voice of a siren, self-taught guitarist and singer-songwriter Jenny Wood has captivated audiences throughout the country redefining alternative pop-rock with her moving lyrics, authenticity, alternate tunings and desperate, potent melodies.</p> <p>With a background in theater and vocal performance at Wichita State University, Jenny learned to perform while studying composition and songwriting to be able to tote her one-woman show cross-country and earn notoriety as being a truly genuine artist. She lived in southern California and Nashville for much of her early twenties writing, performing and touring with all genres to earn her indie artist title. Jenny recently created her own anti-bullying music program that evolved from her music video, "Don't Let Them Get In Your Head" and now tours local schools with her music concert that encourages kids to take the negative and make it creative.</p> <p>Since you can't come to the theatre to enjoy great music in person right now, we hope you'll join us virtually for one &#8211; or all &#8211; of these upcoming video concerts. You'll also be supporting your historic Orpheum Theatre, as all proceeds from these three concerts benefit the Orpheum Recovery Fund.</p> <p>Orpheum Alive! is made possible by a grant from the COVID-19 Connection Fund at the Wichita Community Foundation, with additional support from the members of the Orpheum Producers Circle.</p> <p>This virtual concert premieres at 5pm on Friday, August 7 and is available to view through 5pm on Sunday, September 6.</p> <p><strong><a title="Get Tickets" href="https://secure.givelively.org/donate/orpheum-performing-arts-centre-ltd/orpheum-alive-featuring-jenny-wood" rel="nofollow" target="_blank">Get Tickets</a></strong></p> America/Chicago
Back To Previous