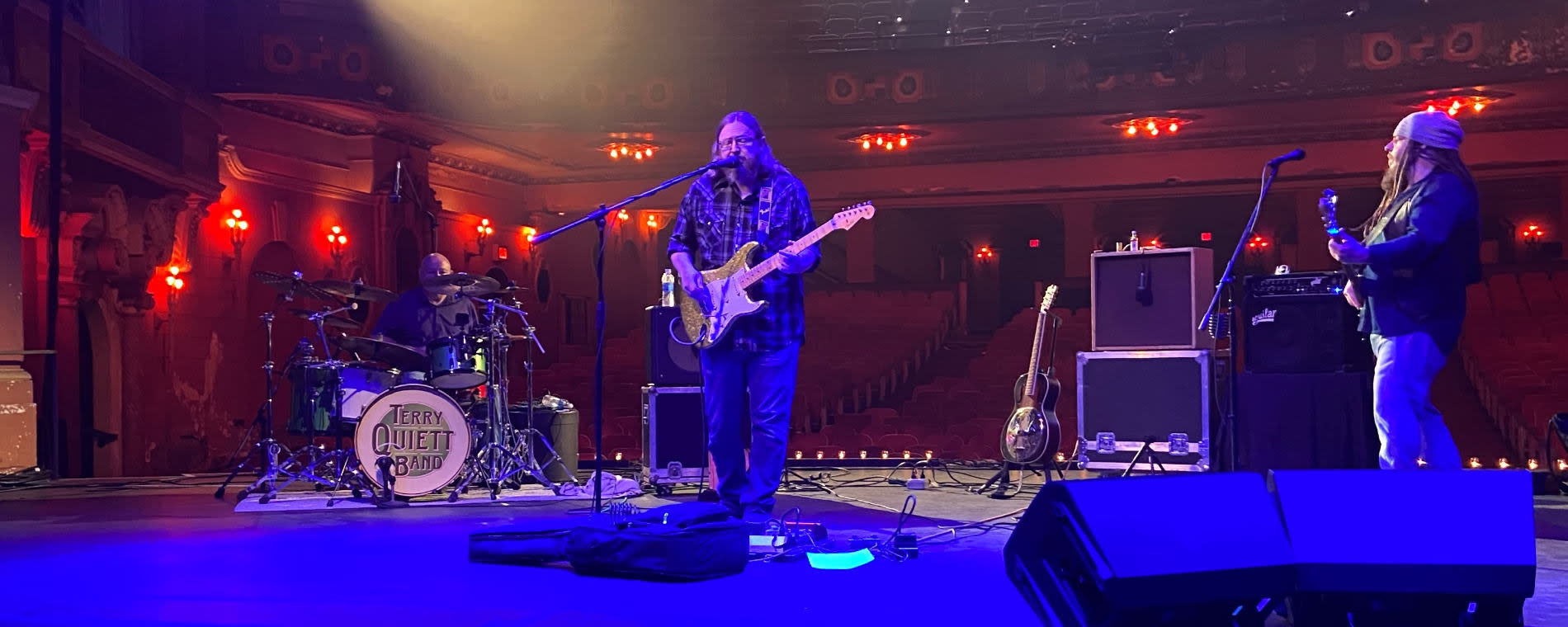 Back to Previous
Orpheum Alive - Terry Quiett Band
The dates for this event have already occurred, please check back again for new dates.
We're all disappointed not to be coming to the historic Orpheum Theatre for live music, so to fill in the gap while the theatre remains closed to the public, we've created Orpheum Alive!, a video concert series produced right here on our historic stage.
Blues rockers and Midwest mainstays the Terry Quiett Band are thrilled to feature songs from their new album Truth & Intent, the first new music from them in six years. This album of all new original songs features their soulful take on modern blues with a rock-n-roll heart. Terry reunites with his original power trio of Rodney "Shotgun" Baker and Rev. Aaron Underwood for the first time since A Night at the Orpheum album that was recorded in 2012. Terry Quiett Band has has always commanded a presence onstage and explodes every power trio cliché by cutting a broad swath of striking original sound from haunt­ing Delta blues and sophisticated jazzy swing to chesty rock n roll. The band has only played a handful of shows over the last several years so you won't want to miss this beautifully filmed and produced concert video.
Since you can't come to the theatre to enjoy great music in person right now, we hope you'll join us virtually for one – or all – of these upcoming video concerts. You'll also be supporting your historic Orpheum Theatre, as all proceeds from these three concerts benefit the Orpheum Recovery Fund.
Orpheum Alive! is made possible by a grant from the COVID-19 Connection Fund at the Wichita Community Foundation, with additional support from the members of the Orpheum Producers Circle.
This virtual concert premieres at 5pm on Thursday, July 23 and is available to purchase and view through 5pm on Saturday, August 22.
*This event was originally scheduled live for 5/16*
Admission:

Starting at $10

Recurrence:

Recurring daily

Days:

July 23, 2020 - August 22, 2020

Orpheum Alive - Terry Quiett Band <p>We're all disappointed not to be coming to the historic Orpheum Theatre for live music, so to fill in the gap while the theatre remains closed to the public, we've created Orpheum Alive!, a video concert series produced right here on our historic stage.</p> <p>Blues rockers and Midwest mainstays the Terry Quiett Band are thrilled to feature songs from their new album Truth &amp; Intent, the first new music from them in six years. This album of all new original songs features their soulful take on modern blues with a rock-n-roll heart. Terry reunites with his original power trio of Rodney "Shotgun" Baker and Rev. Aaron Underwood for the first time since A Night at the Orpheum album that was recorded in 2012. Terry Quiett Band has has always commanded a presence onstage and explodes every power trio cliché by cutting a broad swath of striking original sound from haunt­ing Delta blues and sophisticated jazzy swing to chesty rock n roll. The band has only played a handful of shows over the last several years so you won't want to miss this beautifully filmed and produced concert video.</p> <p>Since you can't come to the theatre to enjoy great music in person right now, we hope you'll join us virtually for one &#8211; or all &#8211; of these upcoming video concerts. You'll also be supporting your historic Orpheum Theatre, as all proceeds from these three concerts benefit the Orpheum Recovery Fund.</p> <p>Orpheum Alive! is made possible by a grant from the COVID-19 Connection Fund at the Wichita Community Foundation, with additional support from the members of the Orpheum Producers Circle.</p> <p>This virtual concert premieres at 5pm on Thursday, July 23 and is available to purchase and view through 5pm on Saturday, August 22.</p> <p><a href="https://secure.givelively.org/donate/orpheum-performing-arts-centre-ltd/orpheum-alive-featuring-the-terry-quiett-band" target="_blank"><strong>Get Tickets</strong></a></p> <p>*This event was originally scheduled live for 5/16*</p> America/Chicago
Back To Previous