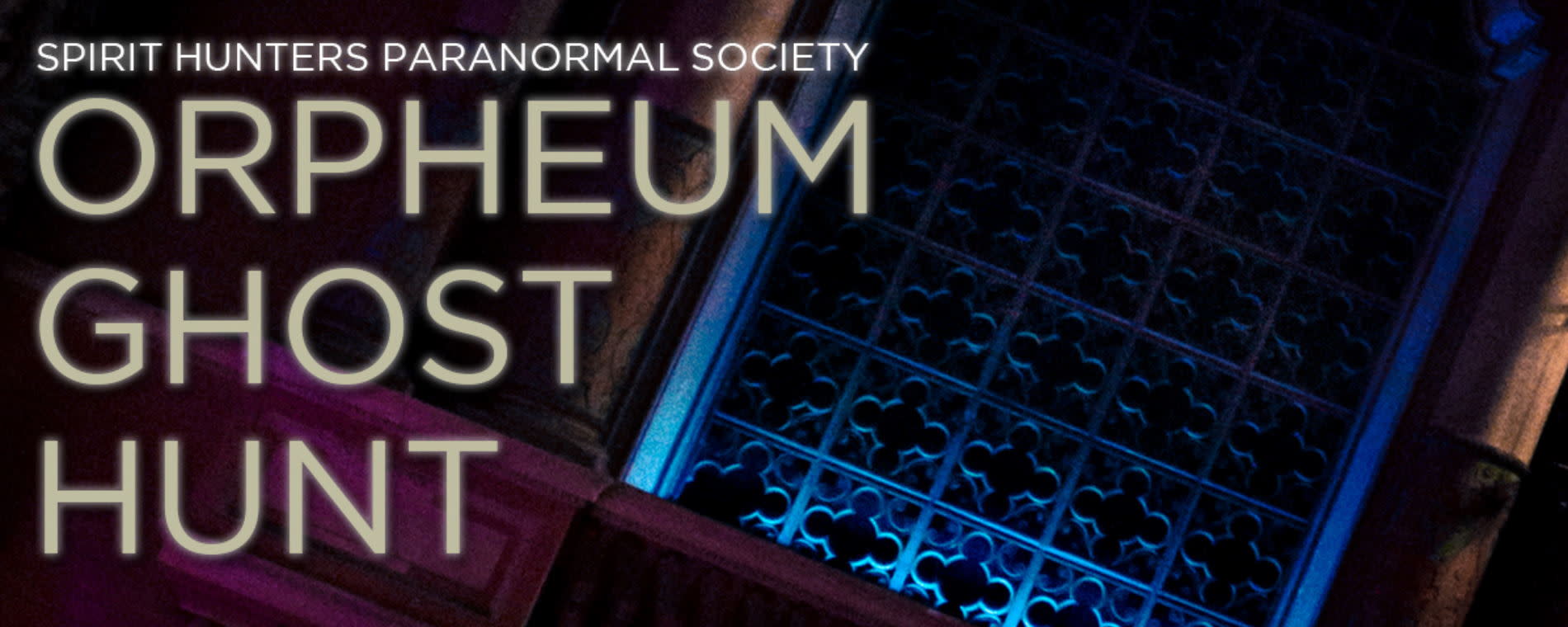 Back to Previous
Orpheum Ghost Hunt
Various Time Slots, June 4, 2021 | Orpheum Theatre
Join the Spirit Hunters Paranormal Society for a mysterious evening full of spectral wonder at the historic (and notably haunted) Orpheum Theatre. Intimate groups will hunt the most active locations throughout the theatre, led by members of one of Wichita's real life ghost hunting teams, Spirit Hunters Paranormal Society! During this paranormal event, you will get to check out behind the scenes hot spots of activity using the same equipment the pros use. It is a hands on event, every attendee will get their own equipment to use. This isn't a ghost tour, it's a ghost hunt!
4 time slots available:
Friday - 7pm & 9pm
Saturday - 7pm & 9pm
Each time slot is limited to 30 people. At the event, attendees will be split into groups of 10 to rotate throughout the theatre investigating hot spots.
Please note: the tour includes climbing stairs and extended periods of standing. Concession and bar will not be open for this event. No outside food or beverage allowed.
Must be age 18+ to attend
Admission:

$30

Get Tickets
Recurrence:

Recurring daily

Days:

June 4, 2021 - June 5, 2021

2021-06-04 2021-06-05 19:00:00 Orpheum Ghost Hunt <p>Join the Spirit Hunters Paranormal Society for a mysterious evening full of spectral wonder at the historic (and notably haunted) Orpheum Theatre. Intimate groups will hunt the most active locations throughout the theatre, led by members of one of Wichita's real life ghost hunting teams, Spirit Hunters Paranormal Society! During this paranormal event, you will get to check out behind the scenes hot spots of activity using the same equipment the pros use. It is a hands on event, every attendee will get their own equipment to use. This isn't a ghost tour, it's a ghost hunt!</p> <p><strong>4 time slots available:</strong><br />Friday - 7pm &amp; 9pm<br />Saturday - 7pm &amp; 9pm</p> <p>Each time slot is limited to 30 people. At the event, attendees will be split into groups of 10 to rotate throughout the theatre investigating hot spots.</p> <p><strong>Please note:</strong> the tour includes climbing stairs and extended periods of standing. Concession and bar will not be open for this event. No outside food or beverage allowed.</p> <p>Must be age 18+ to attend</p> 200 N. Broadway St., Ste. 330 Wichita, KS America/Chicago
Back To Previous