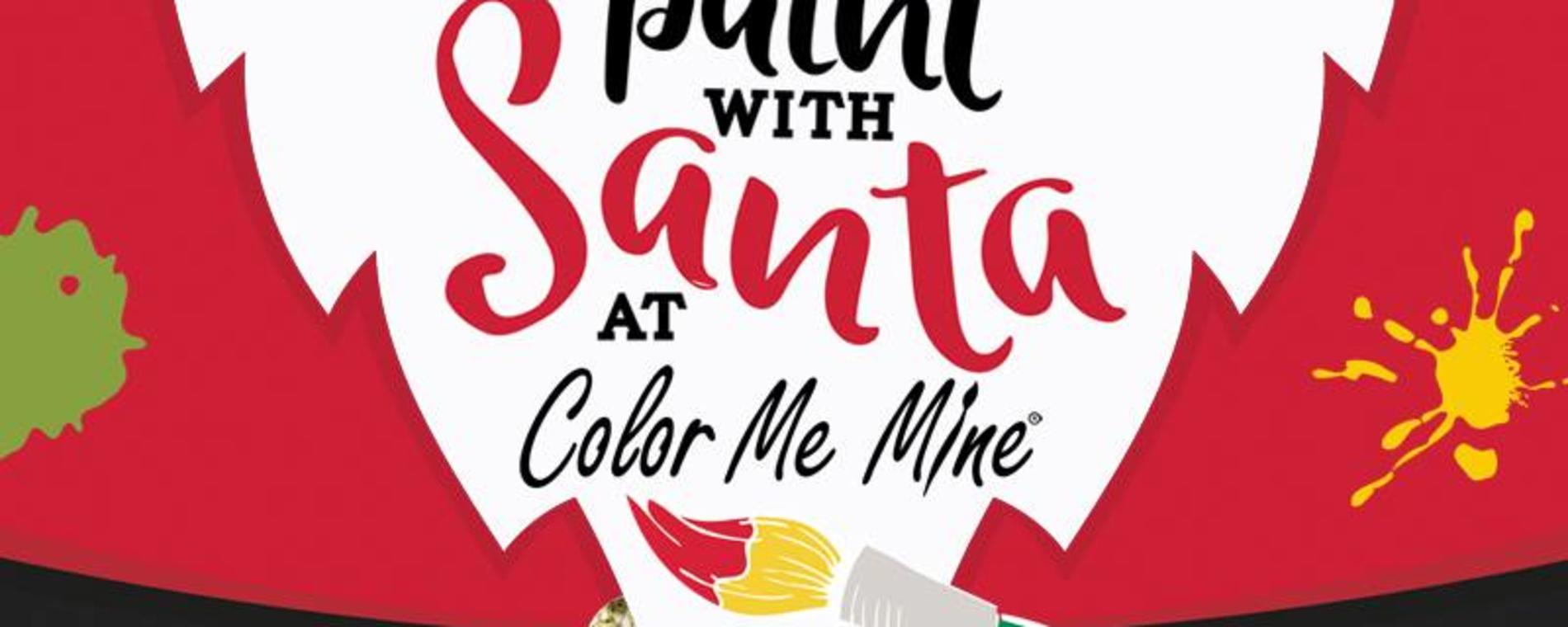 Back to Previous
Paint with Santa
From: 06:00 PM to 08:00 PM, December 9, 2022 | Color Me Mine
Join us to Paint with Santa on Friday, December 9th at 6pm. For $45 plus tax per child you will receive:
*A custom painted dinner sized plate with Santa's handprint and your child's name & year - just add your child's handprint at the event
*Christmas tree ornament to paint with your child
*Santa will read a story and each child will have time to visit with him while parents take pictures
*Christmas cookie
*Kids can wear PJs for a fun "Night Before Christmas" pic
*Additional items can be purchased to paint the night of the event - no additional studio fees
Advance reservations are required, and space is limited. Each paid registration comes with two seats, for child & one parent. Reserve your spot today! Please let us know if you are attending with another family so we can place you at the same table.
Items will be available for pickup 7-10 days after event.
Please contact us at wichita.studio@colormemine.com to be placed on the waiting list when event sells out.
Admission:

$45 per child

Days:

December 9, 2022

>

2022-12-09 2022-12-09 20:00:00 Paint with Santa <p class="MsoNormal" style="margin-bottom: 0in; line-height: normal;"><span style="font-size: 12pt; font-family: verdana, geneva, sans-serif;">Join us to Paint with Santa on Friday, December 9th at 6pm. For $45 plus tax per child you will receive:</span></p> <p class="MsoNormal" style="margin-bottom: 0in; line-height: normal;"><span style="font-family: verdana, geneva, sans-serif;"><span style="font-size: 12pt;">*A custom painted dinner sized plate with Santa's handprint and your child's name &amp; year - just add your child's handprint at the event<br></span><span style="font-size: 12pt;">*Christmas tree ornament to paint with your child<br></span><span style="font-size: 12pt;">*Santa will read a story and each child will have time to visit with him while parents take pictures<br></span><span style="font-size: 12pt;">*Christmas cookie<br></span><span style="font-size: 12pt;">*Kids can wear PJs for a fun "Night Before Christmas" pic<br></span><span style="font-size: 12pt;">*Additional items can be purchased to paint the night of the event - no additional studio fees</span></span></p> <p class="MsoNormal" style="margin-bottom: 0in; line-height: normal;"><span style="font-size: 12pt; font-family: verdana, geneva, sans-serif;">Advance reservations are required, and space is limited. Each paid registration comes with two seats, for child &amp; one parent. Reserve your spot today! Please let us know if you are attending with another family so we can place you at the same table.</span></p> <p class="MsoNormal" style="margin-bottom: 0in; line-height: normal;"><span style="font-size: 12pt; font-family: verdana, geneva, sans-serif;">Items will be available for pickup 7-10 days after event.</span></p> <p class="MsoNormal" style="margin-bottom: 0in; line-height: normal;"><span style="font-size: 12pt; font-family: verdana, geneva, sans-serif;">Please contact us at wichita.studio@colormemine.com to be placed on the waiting list when event sells out.</span></p> <p class="MsoNormal"> </p> 2441 N Maize Rd # 215 Wichita, KS America/Chicago
Back To Previous