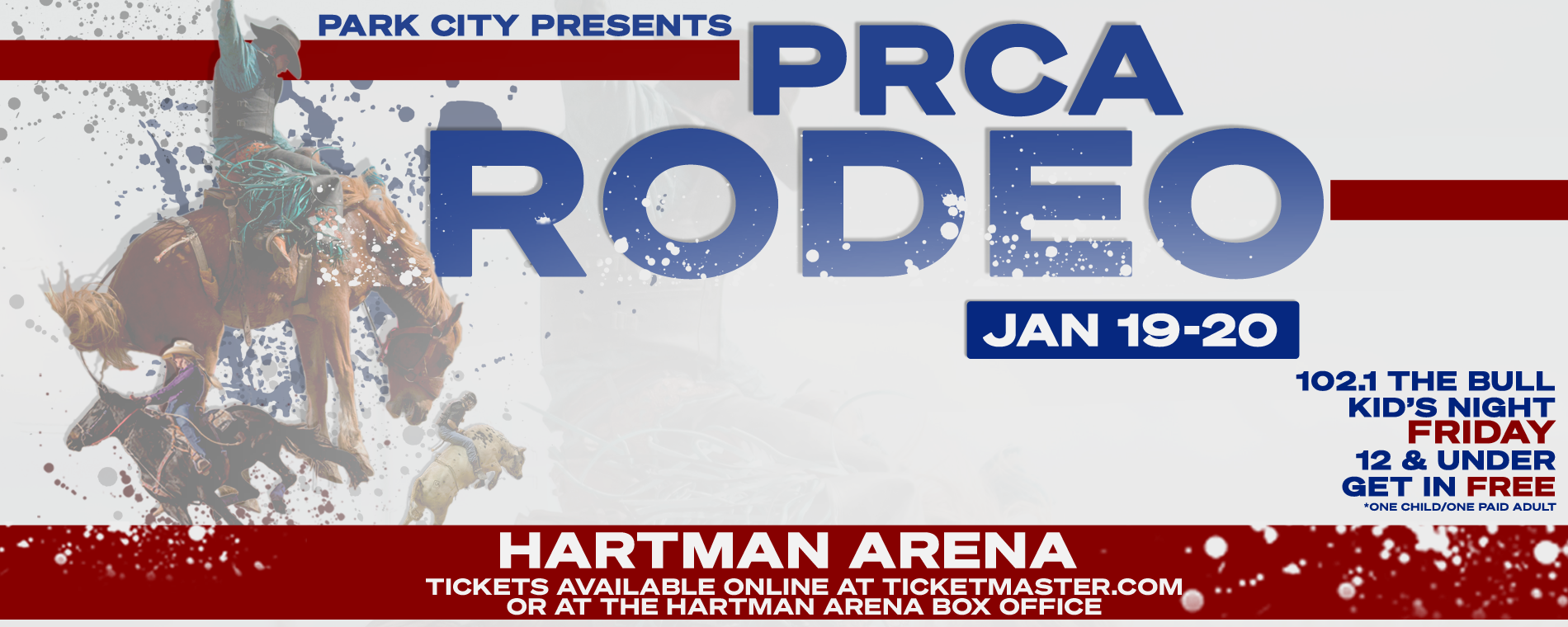 Park City Presents: PRCA Rodeo
From: 07:30 PM to 10:30 PM, January 19, 2024 | Hartman Arena
It's wild! It's unpredictable! It's back! Park City Presents PRCA Championship Rodeo Friday, January 19 and Saturday, January 20 at Hartman Arena! This is the original extreme sport where top professional contestants from across the nation go head to head with award winning stock in seven head slammin', bone jammin', events as they make their run for the Wrangler National Finals in Las Vegas.

Friday, January 19 is Kid's Night, sponsored by 102.1 The Bull. Cowboys and cowgirls between 2-12 years get in free with a paid adult (one child per one adult ticket).

Doors: 6:30 p.m. 
Show: 7:30 p.m. 
Get early bird ticket pricing October 13-December 15
*Ticket prices increase $5 day of event.

 
Admission:

$27-47

Buy Tickets

Recurrence:

Recurring daily

Days:

January 19, 2024 - January 20, 2024

>

2024-01-19 2024-01-20 22:30:00 Park City Presents: PRCA Rodeo <p>It's wild! It's unpredictable! It's back! Park City Presents PRCA Championship Rodeo Friday, January 19 and Saturday, January 20 at Hartman Arena! This is the original extreme sport where top professional contestants from across the nation go head to head with award winning stock in seven head slammin', bone jammin', events as they make their run for the Wrangler National Finals in Las Vegas.<br><br>Friday, January 19 is <strong>Kid's Night</strong>, sponsored by 102.1 The Bull. Cowboys and cowgirls between 2-12 years get in free with a paid adult<em> (one child per one adult ticket).</em><br><br>Doors: 6:30 p.m. <br>Show: 7:30 p.m. </p> <p>Get early bird ticket pricing October 13-December 15</p> <p>*Ticket prices increase $5 day of event.<br><br> </p> <p> </p> 8151 N Hartman Arena Dr PARK CITY America/Chicago
Back To Previous