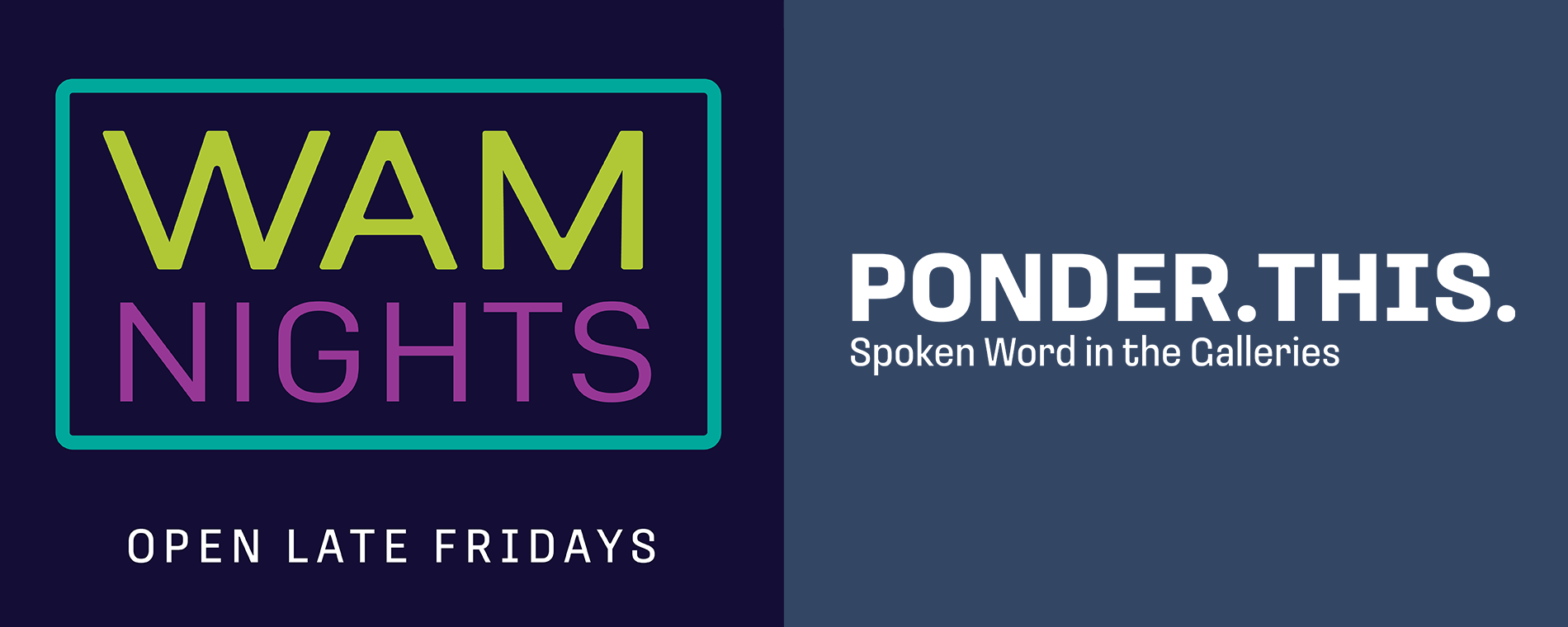 Ponder. This.
From: 06:30 PM to 08:30 PM, December 8, 2023 | Wichita Art Museum
Ponder.This. returns to WAM with another evening of entertaining and thought-provoking spoken word performance inspired by works of art in the fall featured exhibitions, Fighters for Freedom: William H. Johnson Picturing Justice and Barbara Earl Thomas: The Illuminated Body.
6 p.m. | Bar in River Lobby opens
6:30 p.m. | Lecture Hall doors open
7 p.m. | Spoken Word Presentations begin
$15 public/Free WAM members
Space is limited. Purchase tickets/reserve your spot in advance.
*Bar is credit and debit card only.
__________________________________________________
About WAM Nights: We're open late on Fridays until 9 pm! Get your weekend started with after-hours access to the galleries, dinner at 1400 by Elderslie ('Happy Hour' drinks 3-6 pm), or shopping in the Museum Store. WAM Nights will include programs with artists, musicians, and performers–don't miss your chance to see the art at WAM in a new way! The museum comes to life with local creatives during WAM Nights!
Admission:

$15 general public/Free WAM members

Buy Tickets

Days:

December 8, 2023

>

2023-12-08 2023-12-08 20:30:00 Ponder. This. <p><a href="https://www.facebook.com/ponderthiswgp/">Ponder.This.</a><strong><a href="https://www.facebook.com/ponderthiswgp/"> </a></strong>returns to WAM with another<strong> </strong>evening of entertaining and thought-provoking spoken word performance inspired by works of art in the fall featured exhibitions, <a href="https://wam.org/whats-on/exhibitions/william-h-johnson-picturing-justice/"><em>Fighters for Freedom: William H. Johnson Picturing Justice</em></a> and <a href="https://wam.org/whats-on/exhibitions/barbara-earl-thomas/"><em>Barbara Earl Thomas: The Illuminated Body</em></a>.</p> <p>6 p.m. | Bar in River Lobby opens<br>6:30 p.m. | Lecture Hall doors open<br>7 p.m. | Spoken Word Presentations begin</p> <p>$15 public/Free WAM members</p> <p>Space is limited. Purchase tickets/reserve your spot in advance.</p> <p>*Bar is credit and debit card only.</p> <p>__________________________________________________</p> <p>About WAM Nights: We're open late on Fridays until 9 pm! Get your weekend started with after-hours access to the galleries, dinner at <a href="https://wam.org/visit/things-to-do/1400-by-elderslie/" target="_blank" rel="noopener">1400 by Elderslie</a> ('Happy Hour' drinks 3-6 pm), or shopping in the <a href="https://wam.org/visit/things-to-do/store/" target="_blank" rel="noopener">Museum Store</a>. WAM Nights will include programs with artists, musicians, and performers&#8211;don't miss your chance to see the art at WAM in a new way! The museum comes to life with local creatives during WAM Nights!</p> 1400 W. Museum Blvd. Wichita, KS America/Chicago
Back To Previous