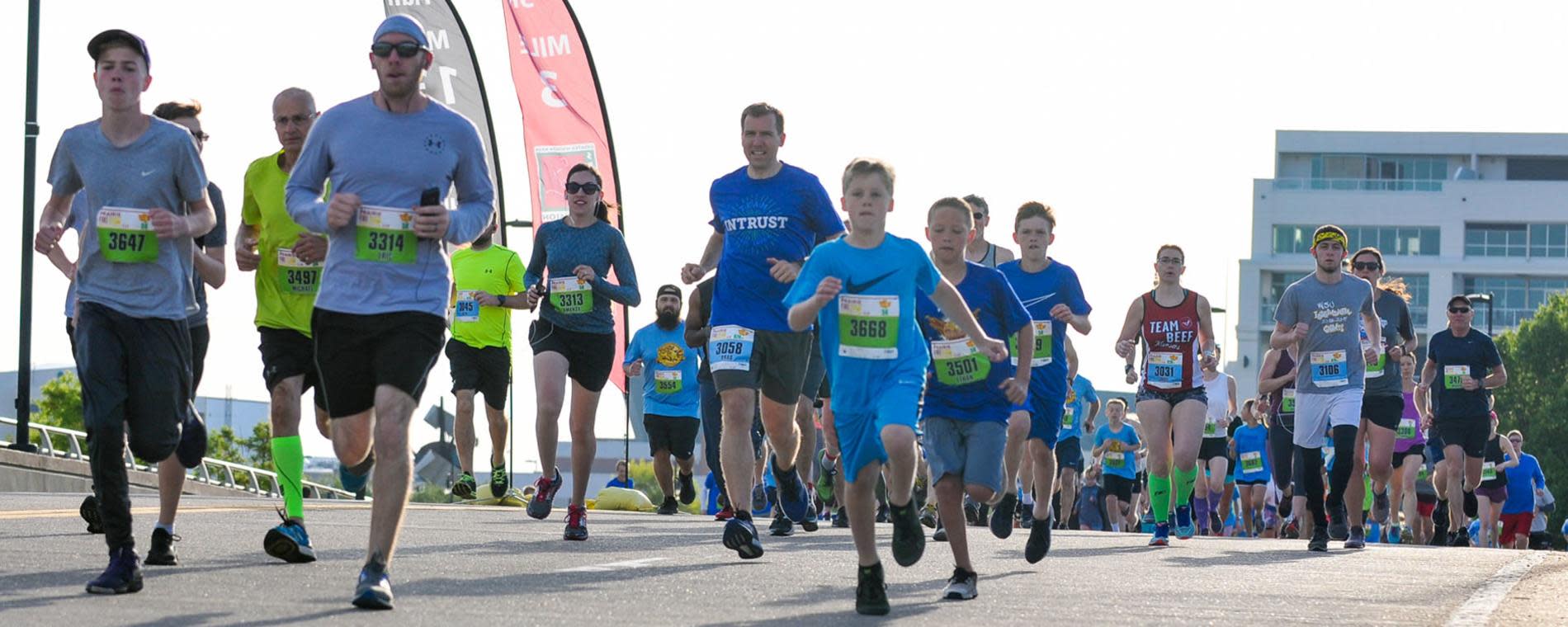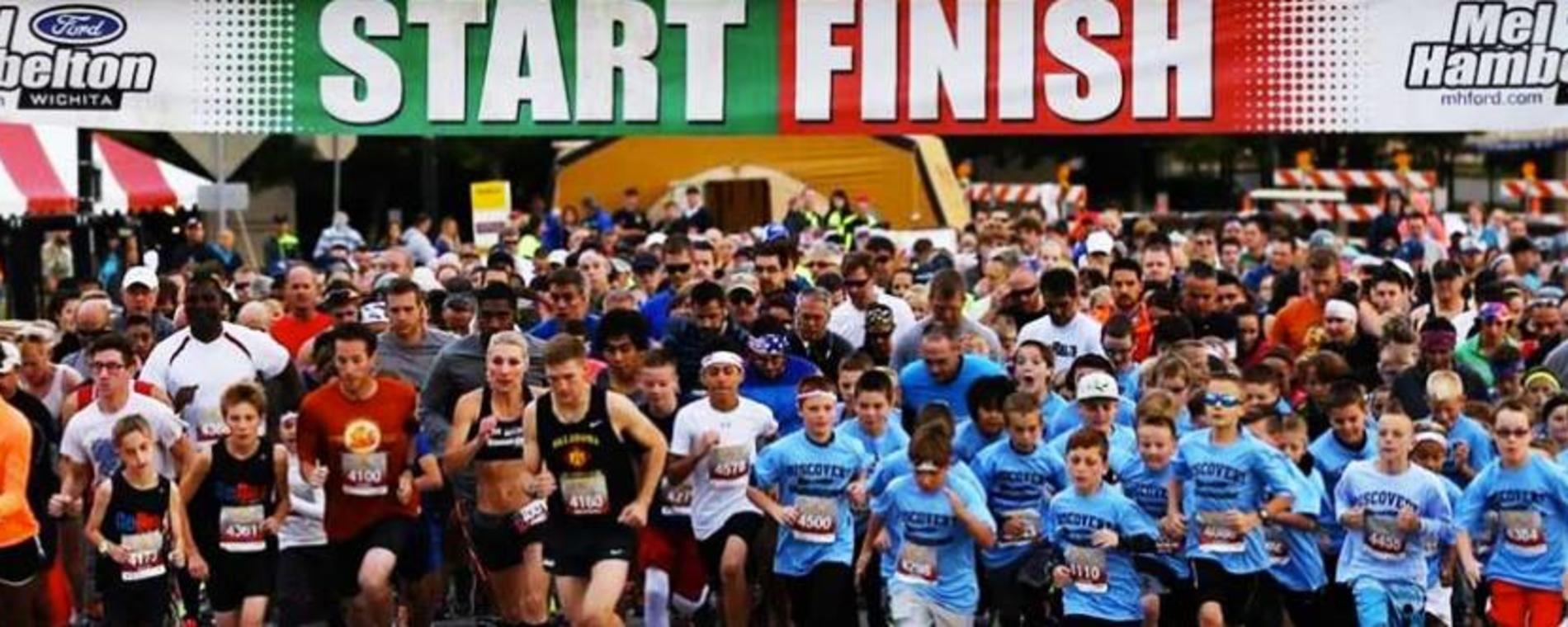 Back to Previous
Prairie Fire Race Series - 2021 Spring Half Marathon
The dates for this event have already occurred, please check back again for new dates.
Grab your tennis shoes and stretch your legs at the Prairie Fire Race Series half marathon or 5K! Run through the heart of Wichita and enjoy fast courses, beautiful views, and fresh air. The Prairie Fire Race Series is committed to promoting health, wellness and fellowship among runners, joggers and strollers from all walks of life.
Be sure to check out the Prairie Fire Marathon, half marathon, and 5K in the fall - sign up for both with the Back2Back challenge!
Half Marathon
7:30am Start
The Prairie Fire Spring Half Marathon is a USATF Certified Race (KS16006TJD). This single loop begins near the Wichita Boathouse then heads west toward Friends University. From there, runners pass through the historic Delano District before running along the river and through Riverside Park, Oak Park, and Sim Park.
5K
8:00am Start
The Prairie Fire Spring 5K is a single loop design. The race begins near the Wichita Boathouse, heads south along the river, and then around Wichita West High School. Runners will take in the sights of the historic Delano District before heading to the finish line.
Back 2 Back (B2B)
Participants MUST complete running in the 5K or Half Marathon events in the Spring to register for the 5K, Half, or Full B2B in the Fall. Participants must complete the Spring & Fall races to be eligible for commemorative items. Registration alone will not release race amenities.
NOTE: Please read policies before registering. After registering, please read Runner Information and Packet Pickup location.
Admission:

Varies by Race

Register Now
Days:

May 2, 2021

>

Prairie Fire Race Series - 2021 Spring Half Marathon <p>Grab your tennis shoes and stretch your legs at the <strong><a title="More info on the Prairie Fire Race Series" href="https://www.visitwichita.com/events/annual-events/prairie-fire-marathon/">Prairie Fire Race Series</a></strong> half marathon or 5K! Run through the heart of Wichita and enjoy fast courses, beautiful views, and fresh air. The Prairie Fire Race Series is committed to promoting health, wellness and fellowship among runners, joggers and strollers from all walks of life.</p> <p>Be sure to check out the <strong><a title="Prairie Fire Race Series - 2021 Fall Marathon" href="https://www.visitwichita.com/event/prairie-fire-race-series-2021-fall-marathon/32953/">Prairie Fire Marathon, half marathon, and 5K in the fall</a></strong> - sign up for both with the Back2Back challenge!</p> <h2>Half Marathon</h2> <p><strong>7:30am Start<br /></strong>The Prairie Fire Spring Half Marathon is a USATF Certified Race (KS16006TJD). This single loop begins near the Wichita Boathouse then heads west toward Friends University. From there, runners pass through the historic Delano District before running along the river and through Riverside Park, Oak Park, and Sim Park.</p> <h2>5K</h2> <p><strong>8:00am Start<br /></strong>The Prairie Fire Spring 5K is a single loop design. The race begins near the Wichita Boathouse, heads south along the river, and then around Wichita West High School. Runners will take in the sights of the historic Delano District before heading to the finish line.</p> <h2>Back 2 Back (B2B)</h2> <p>Participants MUST complete running in the 5K or Half Marathon events in the Spring to register for the 5K, Half, or Full B2B in the Fall. Participants must complete the Spring &amp; Fall races to be eligible for commemorative items. Registration alone will not release race amenities.</p> <p><strong>NOTE:</strong> Please read <a title="Prairie Fire Race Series Policies" href="https://wichitasports.com/prairie-fire-marathon/spring-races/#policies" rel="nofollow" target="_blank"><strong>policies</strong></a> before registering. After registering, please read <a title="Runner Info" href="https://wichitasports.com/prairie-fire-marathon/spring-races/runner-information/" rel="nofollow" target="_blank"><strong>Runner Information and Packet Pickup location</strong></a>.</p> America/Chicago
Back To Previous