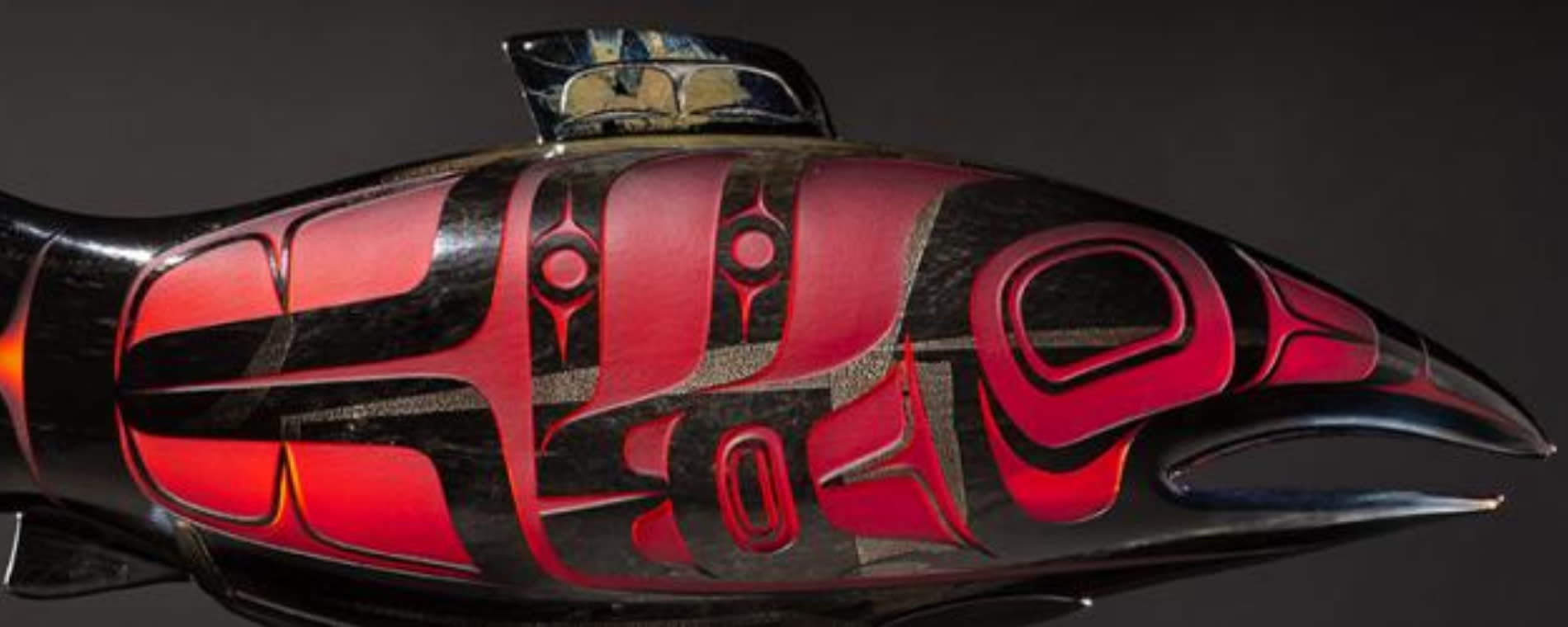 Back to Previous
Preston Singletary: Raven and the Box of Daylight
Regular museum hours September 30, 2020 | Wichita Art Museum
On a stop between the Museum of Glass in Tacoma, Washington, and the Smithsonian Institution in Washington, D.C., the Wichita Art Museum presents Preston Singletary: Raven and the Box of Daylight. The unique exhibition combines extraordinary glass art within an immersive, multi-sensory environment. Art combines with storytelling and theatrical encounter.
The art of internationally regarded Preston Singletary fuses time-honored glassblowing traditions with Pacific Northwest Native art. Specifically, Singletary honors his ancestral Tlingit culture, a tribe centered in southern Alaska.
Image: Preston Singletary (American Tlingit ), Xaat (Salmon) (detail), 2018. Blown, hot-sculpted, sand carved glass, steel stand. 89 1/2 x 25 1/2 x 3 inches. Collection of the artist.
Admission:

Regular museum admission ($10/$5 for seniors 60+), free for members

Days:

June 23, 2020 - January 17, 2021

2020-09-30 2021-01-17 17:00:00 Preston Singletary: Raven and the Box of Daylight <p>On a stop between the Museum of Glass in Tacoma, Washington, and the Smithsonian Institution in Washington, D.C., the Wichita Art Museum presents Preston Singletary: Raven and the Box of Daylight. The unique exhibition combines extraordinary glass art within an immersive, multi-sensory environment. Art combines with storytelling and theatrical encounter.</p> <p>The art of internationally regarded Preston Singletary fuses time-honored glassblowing traditions with Pacific Northwest Native art. Specifically, Singletary honors his ancestral Tlingit culture, a tribe centered in southern Alaska.</p> <p>Image: Preston Singletary (American Tlingit ), Xaat (Salmon) (detail), 2018. Blown, hot-sculpted, sand carved glass, steel stand. 89 1/2 x 25 1/2 x 3 inches. Collection of the artist.</p> 1400 W. Museum Blvd. Wichita, KS America/Chicago
Back To Previous