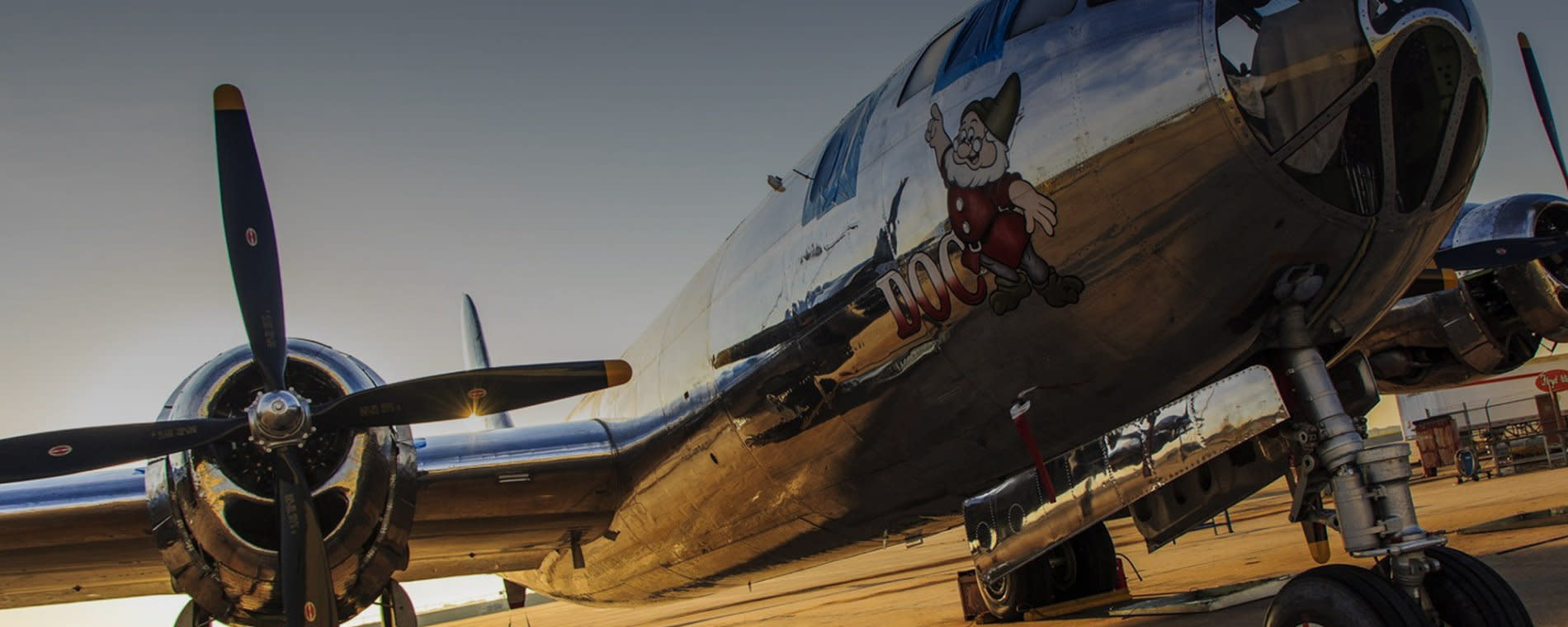 Back to Previous
Pull A Plane for Education
9am-5pm, October 16, 2021 | B-29 Doc Hangar, Education and Visitors Center
B-29 Doc and the WSU Tech Foundation are partnering to bring you Wichita's inaugural Pull a Plane event, featuring the ultimate tug-of-war competition - men and women against plane! The challenge is to see whose team of 25 people can pull Doc (a restored B-29 weighing in at nearly 80,000 pounds) 25 feet down the taxiway in the quickest time - with the ultimate prize being a ride in Doc for the person who raises the most donations for education!
To participate, each team raises a minimum of $2,500 (that's only $100 per person for a team of 25), then competes for trophies and, most importantly, bragging rights. More than 40 teams are expected to test their strength, so recruit your friends and register your team now!
The net proceeds collected through Pull a Plane will be split between the WSU Tech Foundation (to support student-focused initiatives) and B-29 Doc (to broaden Doc's operations and education mission).
Pull a Plane is a family friendly event that's open to the public. Anyone is welcome to attend to witness the event firsthand while cheering on their friends and family.
Food will be available for purchase and entertainment will be provided for spectators throughout the event.
Admission:

Public admission will be $10 per person or $25 for a family (up to six people) - grants access to the Pull a Plane event, as well as to the Doc Hangar

Sign Up
Days:

October 16, 2021

2021-10-16 2021-10-16 17:00:00 Pull A Plane for Education <p>B-29 Doc and the WSU Tech Foundation are partnering to bring you Wichita's inaugural Pull a Plane event, featuring the ultimate tug-of-war competition - men and women against plane! The challenge is to see whose team of 25 people can pull Doc (a restored B-29 weighing in at nearly 80,000 pounds) 25 feet down the taxiway in the quickest time - with the ultimate prize being a ride in Doc for the person who raises the most donations for education!</p> <p>To participate, each team raises a minimum of $2,500 (that's only $100 per person for a team of 25), then competes for trophies and, most importantly, bragging rights. More than 40 teams are expected to test their strength, so recruit your friends and register your team now!</p> <p>The net proceeds collected through Pull a Plane will be split between the WSU Tech Foundation (to support student-focused initiatives) and B-29 Doc (to broaden Doc's operations and education mission).</p> <p>Pull a Plane is a family friendly event that's open to the public. Anyone is welcome to attend to witness the event firsthand while cheering on their friends and family.</p> <p>Food will be available for purchase and entertainment will be provided for spectators throughout the event.</p> 1788 S. Airport Rd. Wichita, KS America/Chicago
Back To Previous