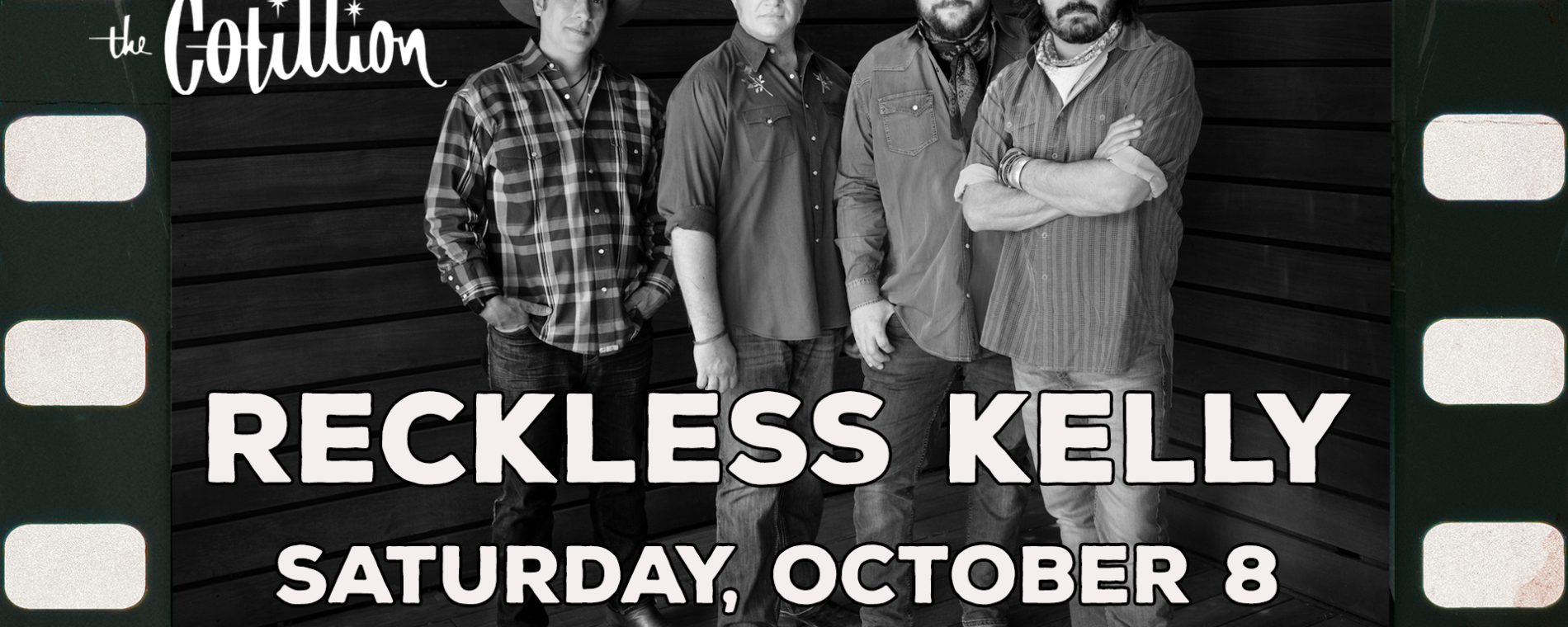 Back to Previous
Reckless Kelly at The Cotillion
From: 08:00 PM to 11:00 PM, October 8, 2022 | The Cotillion
For nearly 25 years, Reckless Kelly has graced the musical landscape with a high-powered form of Americana, equally rooted in raw passion, refined musicianship, and gritty authenticity. With the dual release of two new albums—American Jackpot and American Girls—the Idaho-bred band presents a beautifully detailed portrait of their beloved country, turning their nuanced songwriting to its many glories and tragedies. While one batch of songs centers on slice-of-life storytelling and the other explores the complexities of human connection, the collective body of work unfolds with a profound and often eye-opening attention to the subtleties of American life. Though the two brothers first forged their musical partnership back in Idaho, they later decamped to Bend, Oregon, where they quickly linked up with Jay Nazz. Soon after forming Reckless Kelly (whose name nods to the legend of Australian highwayman Ned Kelly), the three musicians relocated to Austin and rounded out the lineup with bassist Joe Miller and guitarist David Abeyta (who exited the band after the release of Sunset Motel). Over the years, they've delivered a string of critically lauded albums, including 2011's Grammy-nominated Good Luck & True Love and 2013's Grammywinning Long Night Moon. With the release of American Jackpot and American Girls, Reckless Kelly hopes to lead listeners to thoughtful reflection on their own experience of living in America, and possibly invite a certain purposeful nostalgia. Mostly I just hope these songs remind them of all the different aspects of growing up in America, and feeling so lucky to live here," says Willy Braun.
Support acts subject to change
Text COUNTRY to 49798 for concert updates.
A limited number of table reservations are available by calling 316-722-4201 or in person at The Cotillion. Coat check is open during events to check your coats, hats, merch and more. Coat check is located next to merch by the front doors. All sales are final.  No exchanges or refunds unless a show is cancelled or postponed. 
COVID-19 Show Policy: There are no restrictions on this show but we encourage face masks when you can not social distance and ask that you stay home if you are feeling sick or have been exposed recently to someone with COVID-19.  
Admission:

GA $25 Advance, $30 Day of Show

Days:

October 8, 2022

>

2022-10-08 2022-10-08 23:00:00 Reckless Kelly at The Cotillion <p>For nearly 25 years, Reckless Kelly has graced the musical landscape with a high-powered form of Americana, equally rooted in raw passion, refined musicianship, and gritty authenticity. With the dual release of two new albums—American Jackpot and American Girls—the Idaho-bred band presents a beautifully detailed portrait of their beloved country, turning their nuanced songwriting to its many glories and tragedies. While one batch of songs centers on slice-of-life storytelling and the other explores the complexities of human connection, the collective body of work unfolds with a profound and often eye-opening attention to the subtleties of American life. Though the two brothers first forged their musical partnership back in Idaho, they later decamped to Bend, Oregon, where they quickly linked up with Jay Nazz. Soon after forming Reckless Kelly (whose name nods to the legend of Australian highwayman Ned Kelly), the three musicians relocated to Austin and rounded out the lineup with bassist Joe Miller and guitarist David Abeyta (who exited the band after the release of Sunset Motel). Over the years, they've delivered a string of critically lauded albums, including 2011's Grammy-nominated Good Luck &amp; True Love and 2013's Grammywinning Long Night Moon. With the release of American Jackpot and American Girls, Reckless Kelly hopes to lead listeners to thoughtful reflection on their own experience of living in America, and possibly invite a certain purposeful nostalgia. Mostly I just hope these songs remind them of all the different aspects of growing up in America, and feeling so lucky to live here," says Willy Braun.</p> <p>Support acts subject to change</p> <p>Text COUNTRY to 49798 for concert updates.</p> <p>A limited number of table reservations are available by calling 316-722-4201 or in person at The Cotillion. <em>Coat check is open during events to check your coats, hats, merch and more. Coat check is located next to merch by the front doors. </em><em>All sales are final.  No exchanges or refunds unless a show is cancelled or postponed. </em></p> <p><strong><em>COVID-19 Show Policy: There are no restrictions on this show but we encourage face masks when you can not social distance and ask that you stay home if you are feeling sick or have been exposed recently to someone with COVID-19.  </em></strong></p> 11120 W. Kellogg Wichita, KS America/Chicago
Back To Previous