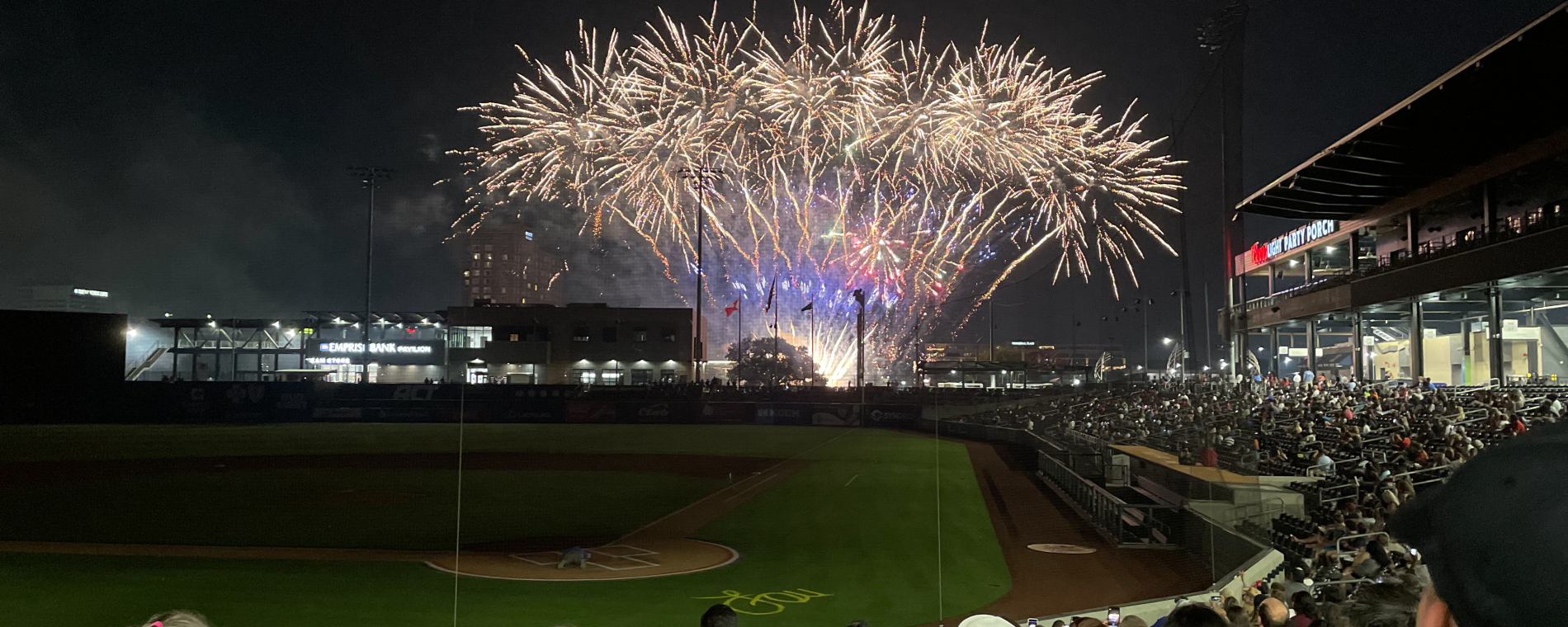 Back to Previous
Red, White & Boom!
Starting: 07:00 PM, July 4, 2022 | Riverfront Stadium
The Wichita Parks Foundation and Wichita Park & Recreation will be hosting the 7th annual Red, White & BOOM! Presented by Freddy's Frozen Custard & Steakburgers on Monday, July 4th.
Fireworks will be launched east of Riverfront Stadium. Food trucks will be set up just south of the Hyatt Lawn at 7:00 p.m, so come early to grab a good spot.
Make sure you're there by 9:40 p.m. when fireworks light the sky over the Arkansas River. However, if the Wind Surge game is still being played at that time, the show will begin ten minutes after the completion of the game.
We are so grateful to Freddy's Frozen Custard & Steakburgers for being the Presenting Sponsor of this event.
Days:

July 4, 2022

2022-07-04 2022-07-04 22:10:00 Red, White & Boom! <div class="kvgmc6g5 cxmmr5t8 oygrvhab hcukyx3x c1et5uql">The Wichita Parks Foundation and Wichita Park &amp; Recreation will be hosting the 7th annual Red, White &amp; BOOM! Presented by Freddy's Frozen Custard &amp; Steakburgers on Monday, July 4th.</div> <div class="kvgmc6g5 cxmmr5t8 oygrvhab hcukyx3x c1et5uql"> </div> <div class="cxmmr5t8 oygrvhab hcukyx3x c1et5uql o9v6fnle">Fireworks will be launched east of Riverfront Stadium. Food trucks will be set up just south of the Hyatt Lawn at 7:00 p.m, so come early to grab a good spot.</div> <div class="cxmmr5t8 oygrvhab hcukyx3x c1et5uql o9v6fnle"> </div> <div class="cxmmr5t8 oygrvhab hcukyx3x c1et5uql o9v6fnle">Make sure you're there by 9:40 p.m. when fireworks light the sky over the Arkansas River. However, if the Wind Surge game is still being played at that time, the show will begin ten minutes after the completion of the game.</div> <div class="cxmmr5t8 oygrvhab hcukyx3x c1et5uql o9v6fnle"> </div> <div class="cxmmr5t8 oygrvhab hcukyx3x c1et5uql o9v6fnle">We are so grateful to Freddy's Frozen Custard &amp; Steakburgers for being the Presenting Sponsor of this event.</div> 275 S. McLean Blvd. Wichita, KS America/Chicago
Back To Previous