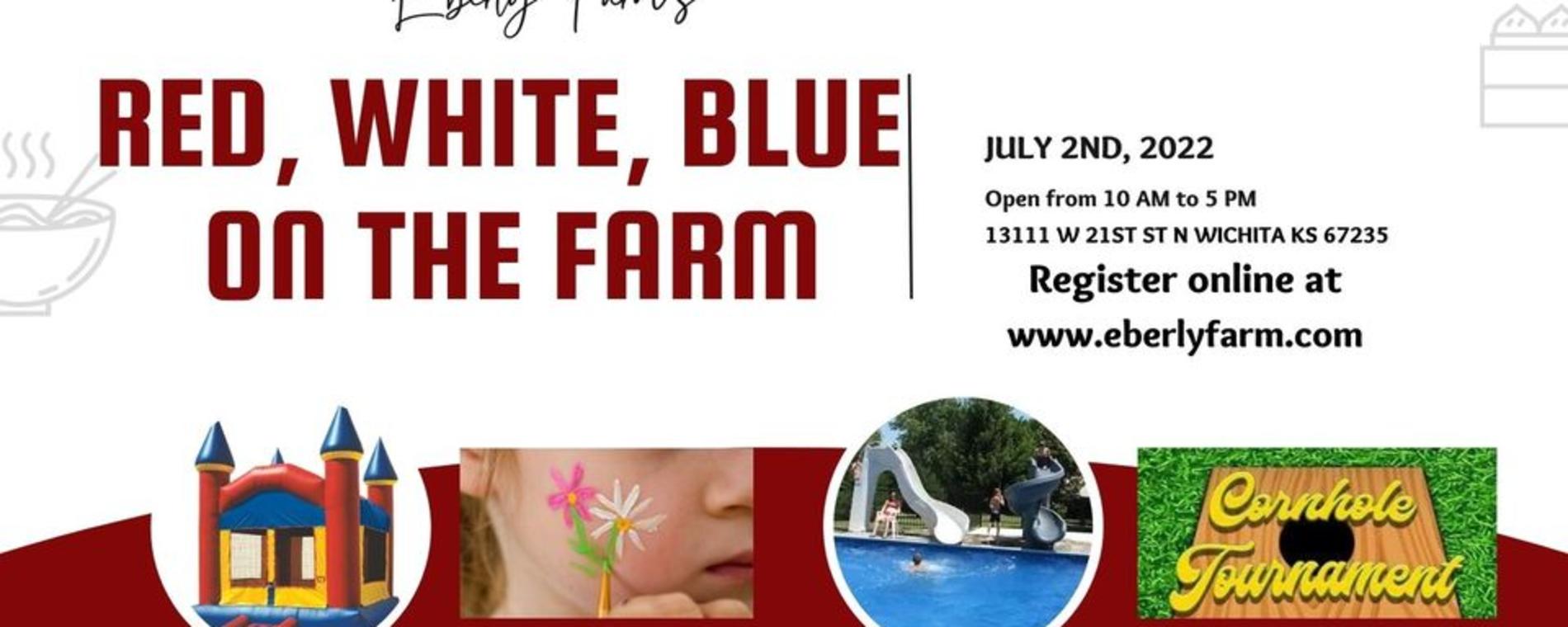 Back to Previous
Red, White, Blue on the Farm
July 2, 2022 | Eberly Farm, Inc.
Enjoy a fun-filled family day at the farm! Tickets are $10 per person (ages 2 & under are free) Music will fill the air as you enjoy bounce houses, field games, playground equipment, volleyball, basketball, soccer, trail walk, crafts & games, face painter from 11am-2pm, covered eating patios to enjoy your pre-purchased BBQ ticket, and a snack, drink & cash bar will be available and much more!
BBQ Meal (includes BBQ Pork, Pickle, Potato Salad & Baked Beans)- $15/person
Swimming is available for an additional $2/person for 1 hour. (pick a time slot when checking out)
Register for our Cornhole Tournament- singles & teams of two available! Singles $40/person, Doubles $50/team of two, Double Elimination Tournament with CASH prizes up for grabs! Register Online via this link https://bit.ly/EberlyFarmCornholeRegistration (pay your fees through this ticketing site please) (Cornhole Registration Price includes gate admission)
Gates open at 10am, Check in for tournament starts at 10:30am, tournament begins at 11am, awards ceremony at 4pm. Close at 5pm. 
Can't wait to see you at this First-Ever Eberly Event!
Admission:

$10 to $50

Buy Tickets
Days:

July 2, 2022

2022-07-02 2022-07-02 Red, White, Blue on the Farm <p>Enjoy a fun-filled family day at the farm! Tickets are $10 per person (ages 2 &amp; under are free) Music will fill the air as you enjoy bounce houses, field games, playground equipment, volleyball, basketball, soccer, trail walk, crafts &amp; games, face painter from 11am-2pm, covered eating patios to enjoy your pre-purchased BBQ ticket, and a snack, drink &amp; cash bar will be available and much more!</p> <p>BBQ Meal (includes BBQ Pork, Pickle, Potato Salad &amp; Baked Beans)- $15/person</p> <p>Swimming is available for an additional $2/person for 1 hour. (pick a time slot when checking out)</p> <p>Register for our Cornhole Tournament- singles &amp; teams of two available! Singles $40/person, Doubles $50/team of two, Double Elimination Tournament with CASH prizes up for grabs! Register Online via this link <a tabindex="0" href="https://bit.ly/EberlyFarmCornholeRegistration" rel="nofollow">https://bit.ly/EberlyFarmCornholeRegistration</a> (pay your fees through this ticketing site please) (Cornhole Registration Price includes gate admission)</p> <p>Gates open at 10am, Check in for tournament starts at 10:30am, tournament begins at 11am, awards ceremony at 4pm. Close at 5pm. </p> <p>Can't wait to see you at this First-Ever Eberly Event!</p> 13111 W. 21st St. North Wichita, KS America/Chicago
Back To Previous