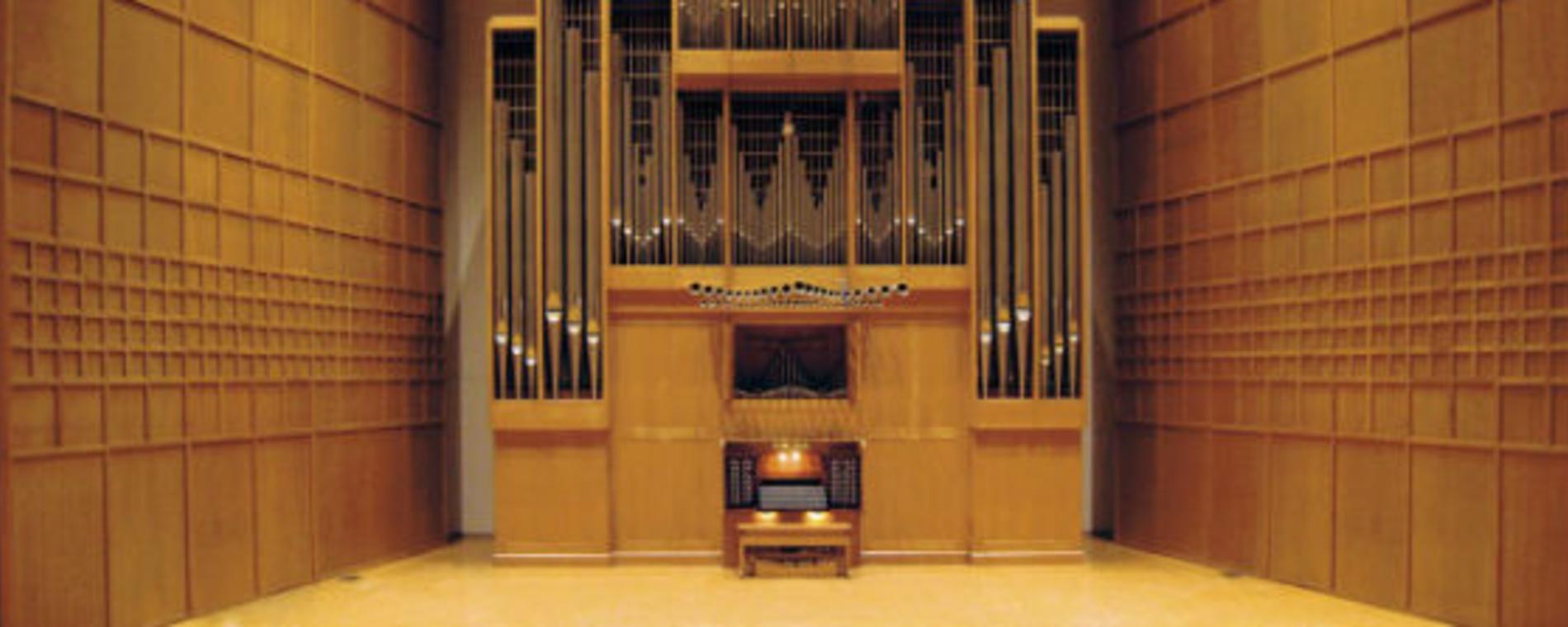 Back to Previous
Rie Bloomfield Organ Series 25th Anniversary Gala
7:30pm, April 20, 2021 | Wichita State University, Wiedemann Hall
WSU School of Music presents the Rie Bloomfield Organ Series, featuring organists Brett Valliant and Tate Addis, in the 25th Anniversary of the RBOS!
Tate Addis; a WSU alum with a Bachelor of Music in piano, a Master of Music and Artist's Certificate from the University of Missouri – Kansas City Conservatory of Music and Dance. A 2015 graduate with a Master's in Organ Performance from the Yale University's School of Sacred Music. As a piano soloist, Tate has appeared with the Jefferson City Symphony Orchestra, Omaha Symphony Orchestra, University of Missouri – Kansas City Conservatory Orchestra, UMKC Wind Symphony, and Wichita State University Symphony Orchestra. As a collaborative pianist, he has performed with many notable musicians including tenor Vinson Cole, cellist Yo-Yo Ma, and violinists Daniel Home and Benny Kim.
Bret Valliant; former WSU student and organist and music director of First United Methodist Church of Wichita. He has also been the Artist-in-Residence for the Wichita Wurlitzer – the former New York Paramount Wurlitzer organ now housed in Wichita. His recordings have been featured on National Public Radio's Pipe Dreams as well as the National Bible Broadcasting Network. Today Brett is one of two resident organists at the iconic Organ Stop Pizza in Mesa, Arizona. In addition to his playing at the Organ Stop, Brett is known for accompanying and scoring silent films and appears annually at several film festivals. Along with his regular appearances at American Theatre Organ Society and American Guild of Organists conventions, he has toured extensively as a concert artist throughout the United States, Australia, New Zealand and Europe.
Admission:

$16

Get Tickets
Days:

April 20, 2021

2021-04-20 2021-04-20 21:30:00 Rie Bloomfield Organ Series 25th Anniversary Gala <p>WSU School of Music presents the Rie Bloomfield Organ Series, featuring organists Brett Valliant and Tate Addis, in the 25th Anniversary of the RBOS!</p> <p>Tate Addis; a WSU alum with a Bachelor of Music in piano, a Master of Music and Artist's Certificate from the University of Missouri &#8211; Kansas City Conservatory of Music and Dance. A 2015 graduate with a Master's in Organ Performance from the Yale University's School of Sacred Music. As a piano soloist, Tate has appeared with the Jefferson City Symphony Orchestra, Omaha Symphony Orchestra, University of Missouri &#8211; Kansas City Conservatory Orchestra, UMKC Wind Symphony, and Wichita State University Symphony Orchestra. As a collaborative pianist, he has performed with many notable musicians including tenor Vinson Cole, cellist Yo-Yo Ma, and violinists Daniel Home and Benny Kim.</p> <p>Bret Valliant; former WSU student and organist and music director of First United Methodist Church of Wichita. He has also been the Artist-in-Residence for the Wichita Wurlitzer &#8211; the former New York Paramount Wurlitzer organ now housed in Wichita. His recordings have been featured on National Public Radio's Pipe Dreams as well as the National Bible Broadcasting Network. Today Brett is one of two resident organists at the iconic Organ Stop Pizza in Mesa, Arizona. In addition to his playing at the Organ Stop, Brett is known for accompanying and scoring silent films and appears annually at several film festivals. Along with his regular appearances at American Theatre Organ Society and American Guild of Organists conventions, he has toured extensively as a concert artist throughout the United States, Australia, New Zealand and Europe.</p> 1845 Fairmount Wichita, KS America/Chicago
Back To Previous