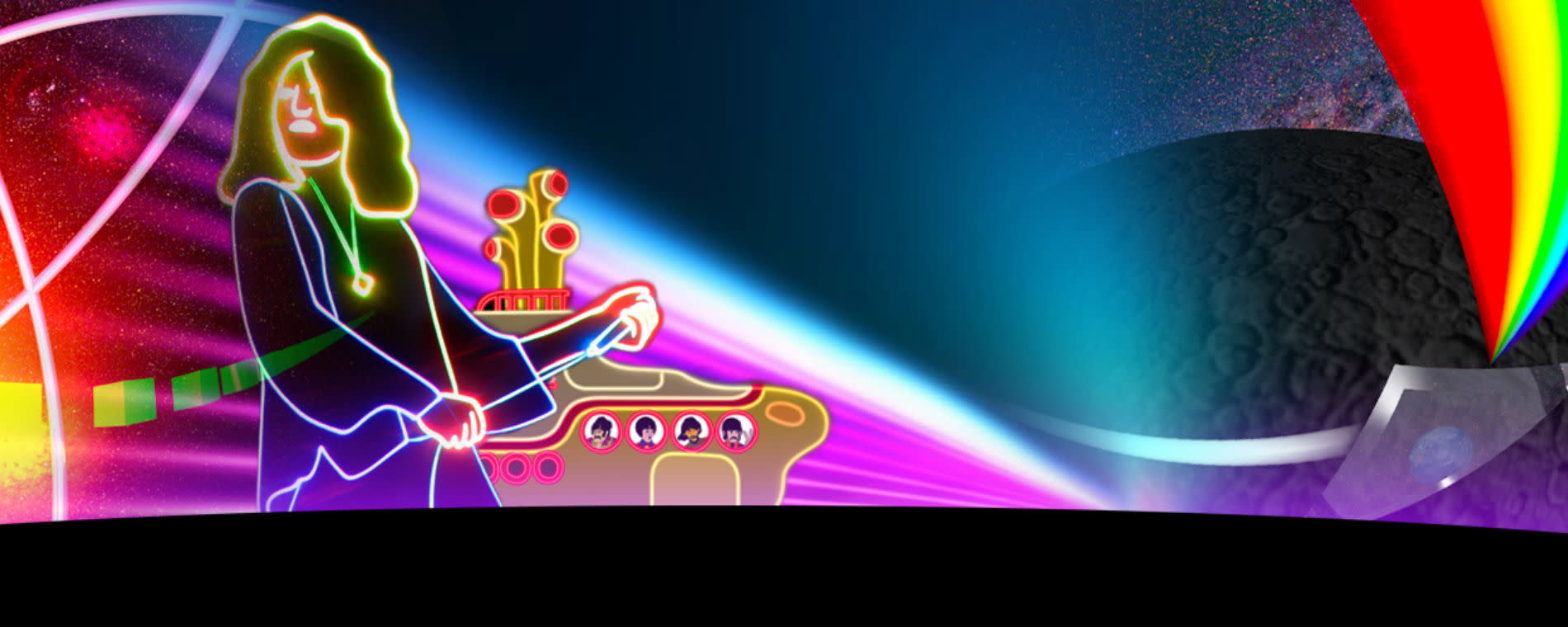 Back to Previous
Rock the Dome at Exploration Place
This event has been postponed and will be moved to its new date once rescheduled. See details.
The dates for this event have already occurred, please check back again for new dates.
It's time to Rock the Dome like never before. Gaze upon vivid visuals under the Digital Dome Theater's massive 60-foot screen, set to the iconic tunes of The Beatles, Led Zeppelin, and Pink Floyd. Grab a seat for over five hours of timeless tunes and psychedelic sights. Stay refreshed with drinks from Xclusive Events. Plus, pick up some cool merchandise from the Explore Store as well!
Exploration Place has upgraded the Dome Theater technology. The changes are so compelling you need to see it to believe it! The dome theater is the largest in the state – with a soaring 60-foot tall screen, an immersive 360 degree view, and booming Dolby sound.
Schedule

| | |
| --- | --- |
| 5:30pm | Laser Beatles |
| 6:30pm | Laser Led Zeppelin |
| 7:30pm | Dark Side of the Moon |
| 8:30pm | The Wall |
| 9:45pm | Wish You Were Here |
| 10:45pm | Laser Pink Floyd: Best of Echoes |
Recommended for ages 17+
Get Tickets
Six show combo pass includes reserved seats and exclusive lanyard for expedited check-in
Masks are required. A limit of 55 seats are available per showing to allow for proper social distancing. The theater's stair railing, doors and chairs will be cleaned after every show and the entire theater will be sanitized at least twice per day. Exploration Place asks that you please pick up your empty soda bottles, candy wrappers, etc. when you exit the theater. This effort will help keep all safe and healthy.
Admission:

$30 (plus tax)

Days:

November 28, 2020

Rock the Dome at Exploration Place <p>It's time to Rock the Dome like never before. Gaze upon vivid visuals under the Digital Dome Theater's massive 60-foot screen, set to the iconic tunes of The Beatles, Led Zeppelin, and Pink Floyd. Grab a seat for over five hours of timeless tunes and psychedelic sights. Stay refreshed with drinks from Xclusive Events. Plus, pick up some cool merchandise from the Explore Store as well!</p> <p>Exploration Place has upgraded the Dome Theater technology. The changes are so compelling you need to see it to believe it! The dome theater is the largest in the state &#8211; with a soaring 60-foot tall screen, an immersive 360 degree view, and booming Dolby sound.</p> <table style="width: 325px;" border="0" align="center"><caption><span style="font-size: 13px;"><strong>Schedule</strong></span></caption> <tbody> <tr> <td>5:30pm</td> <td><span>Laser Beatles</span></td> </tr> <tr> <td><span>6:30pm</span></td> <td><span>Laser Led Zeppelin</span></td> </tr> <tr> <td><span>7:30pm</span></td> <td><span>Dark Side of the Moon</span></td> </tr> <tr> <td><span>8:30pm</span></td> <td><span>The Wall</span></td> </tr> <tr> <td><span>9:45pm</span></td> <td><span>Wish You Were Here</span></td> </tr> <tr> <td>10:45pm</td> <td>Laser Pink Floyd: Best of Echoes</td> </tr> </tbody> </table> <p><em>Recommended for ages 17+</em></p> <div> <p><strong><a title="Get Tickets" href="https://form.jotform.com/203088297729165" rel="nofollow" target="_blank">Get Tickets</a><br /></strong>Six show combo pass includes reserved seats and exclusive lanyard for expedited check-in</p> <p>Masks are required. A limit of 55 seats are available per showing to allow for proper social distancing. The theater's stair railing, doors and chairs will be cleaned after every show and the entire theater will be sanitized at least twice per day. Exploration Place asks that you please pick up your empty soda bottles, candy wrappers, etc. when you exit the theater. This effort will help keep all safe and healthy.</p> <p><strong><a title="Show times" href="https://exploration.org/theaters/dome-theater/show-schedule/" rel="nofollow" target="_blank">More information on Digital Dome Theater shows</a></strong></p> </div> America/Chicago
Back To Previous