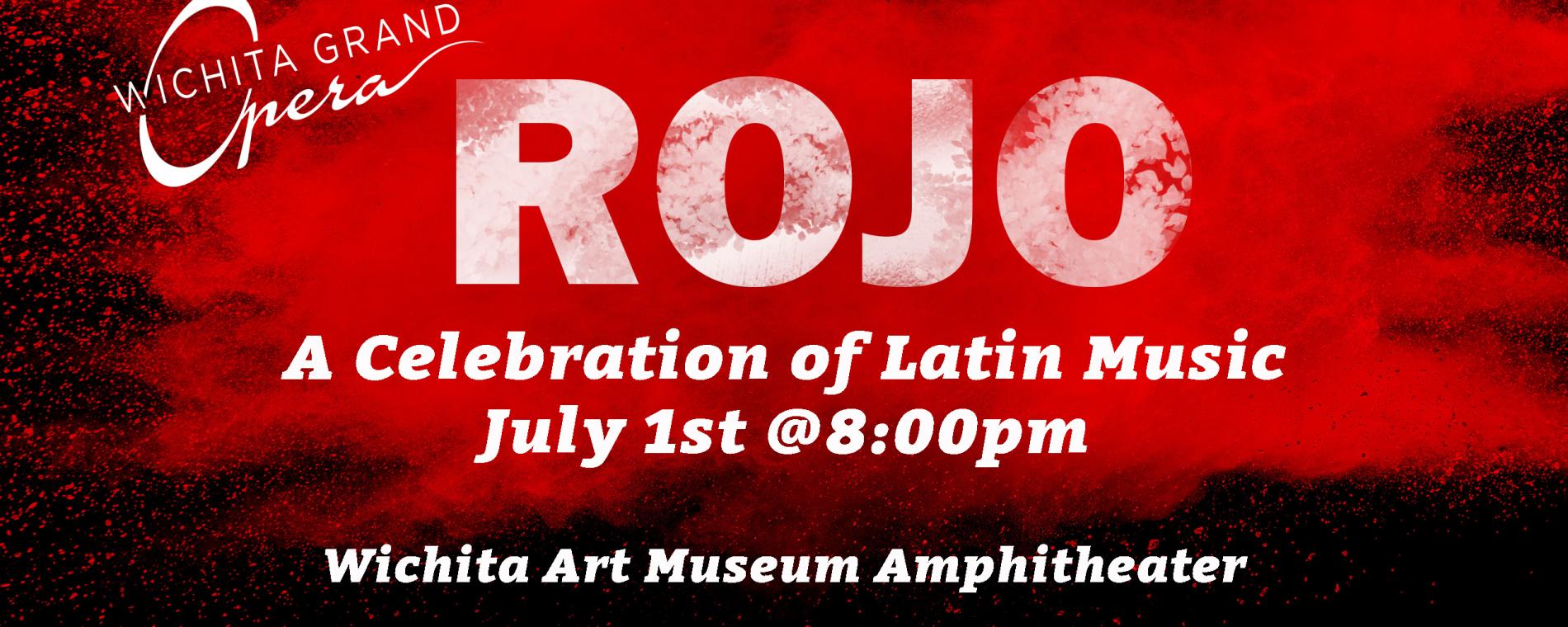 Back to Previous
ROJO - A Celebration of Latin Music
08:00 PM, July 1, 2022 | Wichita Art Museum
ROJO - A Celebration of Latin Music.

July 1st, Wichita Grand Opera is bringing the four corners of the Spanish speaking world home to the plains with a unique concert of Latin music! Come and drink in the music of Spain, Mexico, Middle- and South America brought to life by Uruguayan star-duo Maria Antunez and Martin Nusspaumer. The Wichita Grand Opera Orchestra, comprised of many of Wichita's finest musicians, will also be accompanying ICT's very own Folklorico Youth Dance Troupe Raices de mi Tierra, as well as Wichita dance artists extraordinaire Sabrina Vasquez, Mina Estrada, and Cheyla Clawson Chandler.

You won't want to miss this unique summer-night musical offering, una noche de belleza y fuego, celebrating culture and community in Wichita in one of our most atmospheric venues, the amphitheater of the Wichita Art Museum, right on the banks of the Arkansas River! Tickets are $50/75/100 with discounts of 25% for groups of 4 or more. Children 12 and under are welcomed gratis. Lawn chairs as well as picnic seating (bring your own chair/blanket) are available.

Tickets can be purchased at online.
Admission:

Kids 12 and under are free, $50 lawn seating $75 above reserved seating, buy 4 or more save 25%

Buy Tickets
Days:

July 1, 2022

2022-07-01 2022-07-01 21:45:00 ROJO - A Celebration of Latin Music <p>ROJO - A Celebration of Latin Music.<br /><br /><strong>July 1st, </strong>Wichita Grand Opera is bringing the four corners of the Spanish speaking world home to the plains with a unique concert of Latin music! Come and drink in the music of Spain, Mexico, Middle- and South America brought to life by Uruguayan star-duo Maria Antunez and Martin Nusspaumer. The Wichita Grand Opera Orchestra, comprised of many of Wichita's finest musicians, will also be accompanying ICT's very own Folklorico Youth Dance Troupe Raices de mi Tierra, as well as Wichita dance artists extraordinaire Sabrina Vasquez, Mina Estrada, and Cheyla Clawson Chandler. <br /><br />You won't want to miss this unique summer-night musical offering, una noche de belleza y fuego, celebrating culture and community in Wichita in one of our most atmospheric venues, the amphitheater of the Wichita Art Museum, right on the banks of the Arkansas River! Tickets are $50/75/100 with discounts of 25% for groups of 4 or more. Children 12 and under are welcomed gratis. Lawn chairs as well as picnic seating (bring your own chair/blanket) are available. <br /><br /> Tickets can be purchased at <a href="https://wichitagrandopera.orgvhttps//wichitagrandopera.org/">online</a>.</p> 1400 W. Museum Blvd. Wichita, KS America/Chicago
Back To Previous