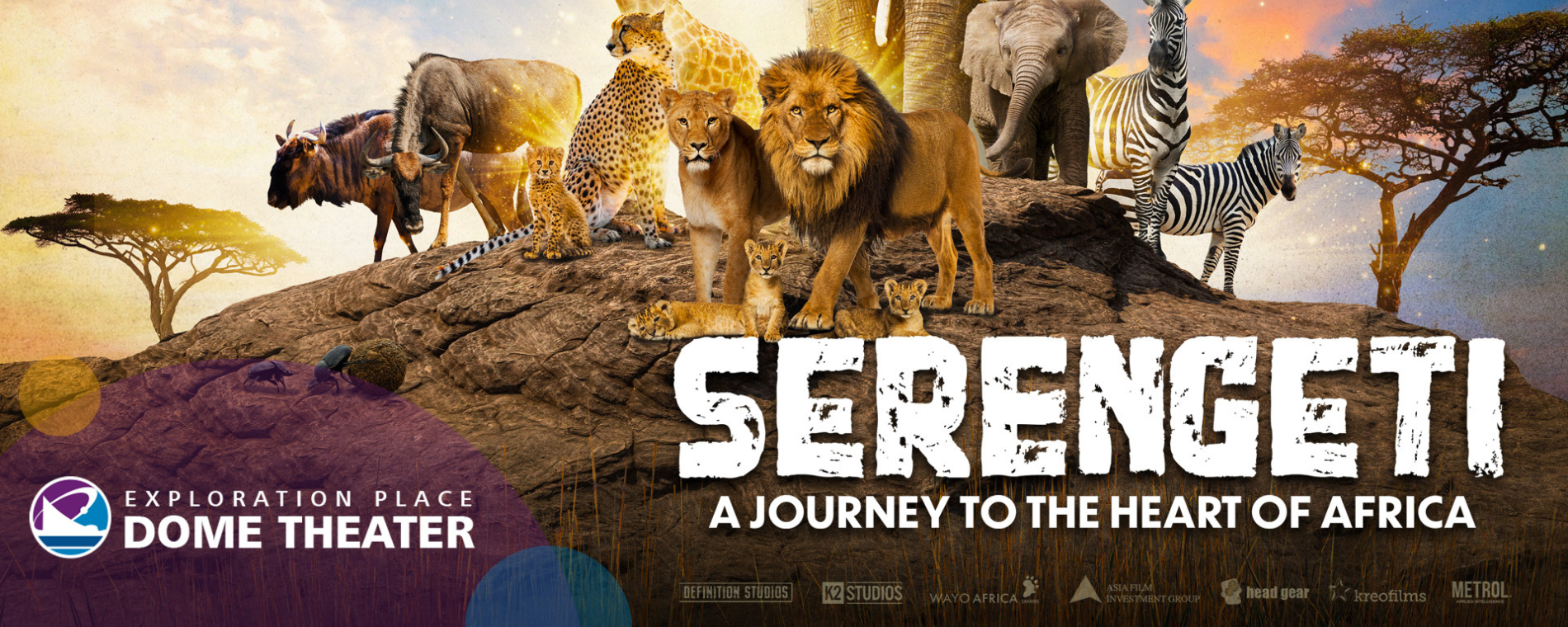 Back to Previous
Serengeti in Dome Theater
From: 10:30 AM to 04:00 PM, February 2, 2023 | Exploration Place
Life happened in the Serengeti on an unprecedented scale. It's home to most of Africa's iconic animals, and hosts one of the world's greatest natural events — the annual wildebeest migration. Nature has orchestrated a perfect symphony in which every species has a very distinct role to play in a larger story — the balance of an entire ecosystem. We'll see it through the eyes of the youngest members of our animal cast as they imitate their parents, and learn about the mighty roles they'll play. Prepare to be awed by this immersive giant screen 3D IMAX® film about how nature works in one of the world's greatest ecosystems.
"In the end, we will conserve only what we love, we will love only what we understand, and we will understand only what we are taught."     
     – Baba Dioum
RATED: G | RUNTIME: 40 min. 
Dome Theater tickets are available for purchase only at Exploration Place. Tax not included. 
Admission:

$6-$8 (discounts for museum members)

Recurrence:

Recurring daily

>

2023-02-02 Serengeti in Dome Theater <p>Life happened in the Serengeti on an unprecedented scale. It's home to most of Africa's iconic animals, and hosts one of the world's greatest natural events — the annual wildebeest migration. Nature has orchestrated a perfect symphony in which every species has a very distinct role to play in a larger story — the balance of an entire ecosystem. We'll see it through the eyes of the youngest members of our animal cast as they imitate their parents, and learn about the mighty roles they'll play. Prepare to be awed by this immersive giant screen 3D IMAX® film about how nature works in one of the world's greatest ecosystems.</p> <p><strong>"In the end, we will conserve only what we love, we will love only what we understand, and we will understand only what we are taught."    </strong> <br>     &#8211; Baba Dioum</p> <p>RATED: G | RUNTIME: 40 min. </p> <p><em>Dome Theater tickets are available for purchase only at Exploration Place. Tax not included. </em></p> <p><strong><a href="https://exploration.org/theaters/dome-theater/show-schedule/" target="_blank" rel="noopener">More information on Digital Dome Theater shows</a></strong></p> 300 N McLean Blvd Wichita, KS America/Chicago
Back To Previous