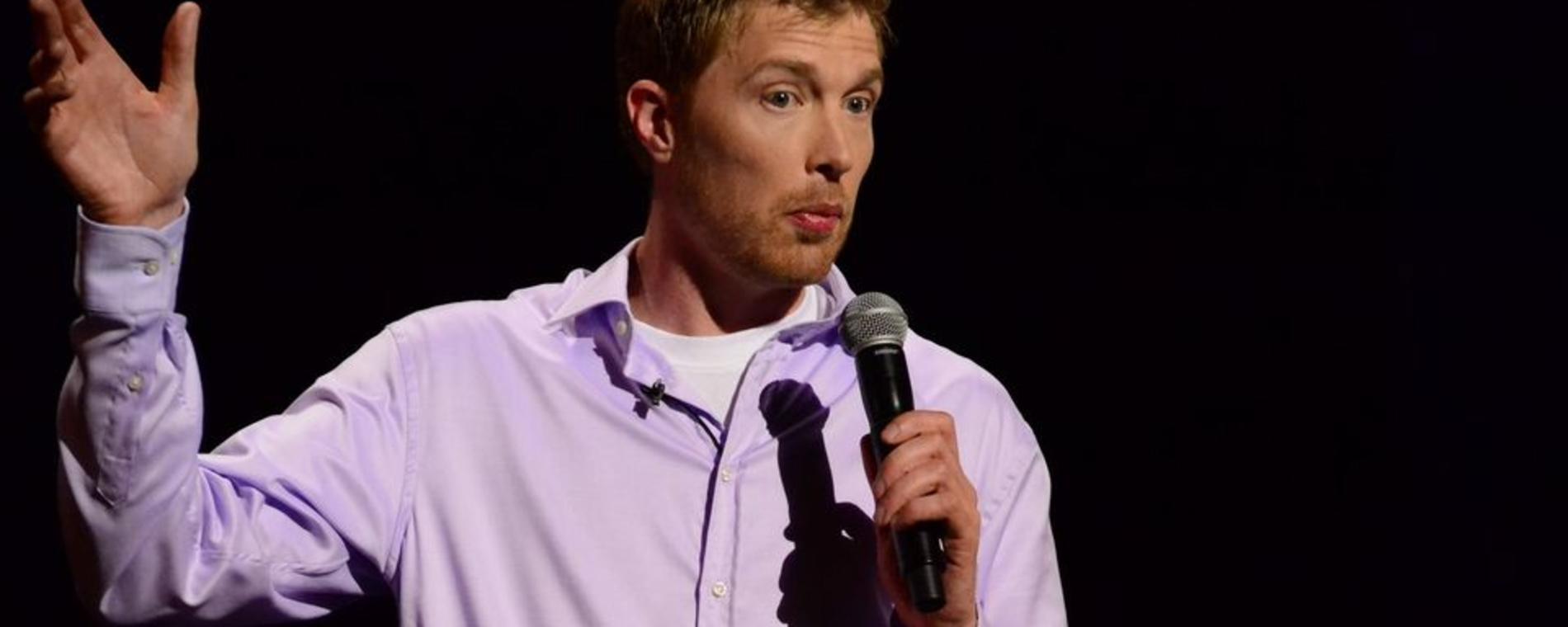 Shane Mauss
Starting: 8:00 PM, December 7, 2023 | TempleLive Wichita
Shane Mauss is an American stand-up comedian and podcast host known for his blend of comedy and science communication. Born in Onalaska, Wisconsin, Mauss entered the comedy scene in the early 2000s and quickly gained recognition for his unique, often introspective, comedic style.
He has appeared on several late-night shows, including "Conan" and "Jimmy Kimmel Live!" and has released multiple comedy albums. Shane Mauss gained particular attention for his stand-up performances that delve into scientific topics, mental health, and psychedelics. In fact, his interest in science and psychology has been a defining feature of his comedic career, setting him apart from many of his peers in the comedy world.
In addition to his stand-up career, Mauss hosts the podcast "Here We Are," where he interviews experts across various scientific disciplines, discussing topics from evolutionary biology to neuroscience. The podcast has garnered a loyal following and is praised for making complex scientific topics accessible to the general public.
Mauss has also toured with specialized shows like "A Good Trip," which focuses on his experiences and insights regarding psychedelics and their potential therapeutic uses. These shows often feature a blend of comedy, personal anecdotes, and factual information, offering audiences an experience that is as educational as it is entertaining.
His efforts to bridge the gap between comedy and science have been lauded by both the scientific community and comedy aficionados alike. Whether on stage, on his podcast, or in interviews, Shane Mauss has carved out a unique niche in the world of comedy by encouraging audiences to both laugh and think.
Admission:

$30-$35

Buy Tickets

Days:

December 7, 2023

>

2023-12-07 2023-12-07 20:00:00 Shane Mauss <p>Shane Mauss is an American stand-up comedian and podcast host known for his blend of comedy and science communication. Born in Onalaska, Wisconsin, Mauss entered the comedy scene in the early 2000s and quickly gained recognition for his unique, often introspective, comedic style.</p> <p>He has appeared on several late-night shows, including "Conan" and "Jimmy Kimmel Live!" and has released multiple comedy albums. Shane Mauss gained particular attention for his stand-up performances that delve into scientific topics, mental health, and psychedelics. In fact, his interest in science and psychology has been a defining feature of his comedic career, setting him apart from many of his peers in the comedy world.</p> <p>In addition to his stand-up career, Mauss hosts the podcast "Here We Are," where he interviews experts across various scientific disciplines, discussing topics from evolutionary biology to neuroscience. The podcast has garnered a loyal following and is praised for making complex scientific topics accessible to the general public.</p> <p>Mauss has also toured with specialized shows like "A Good Trip," which focuses on his experiences and insights regarding psychedelics and their potential therapeutic uses. These shows often feature a blend of comedy, personal anecdotes, and factual information, offering audiences an experience that is as educational as it is entertaining.</p> <p>His efforts to bridge the gap between comedy and science have been lauded by both the scientific community and comedy aficionados alike. Whether on stage, on his podcast, or in interviews, Shane Mauss has carved out a unique niche in the world of comedy by encouraging audiences to both laugh and think.</p> 332 E. First St. N. Wichita, KS America/Chicago
Back To Previous