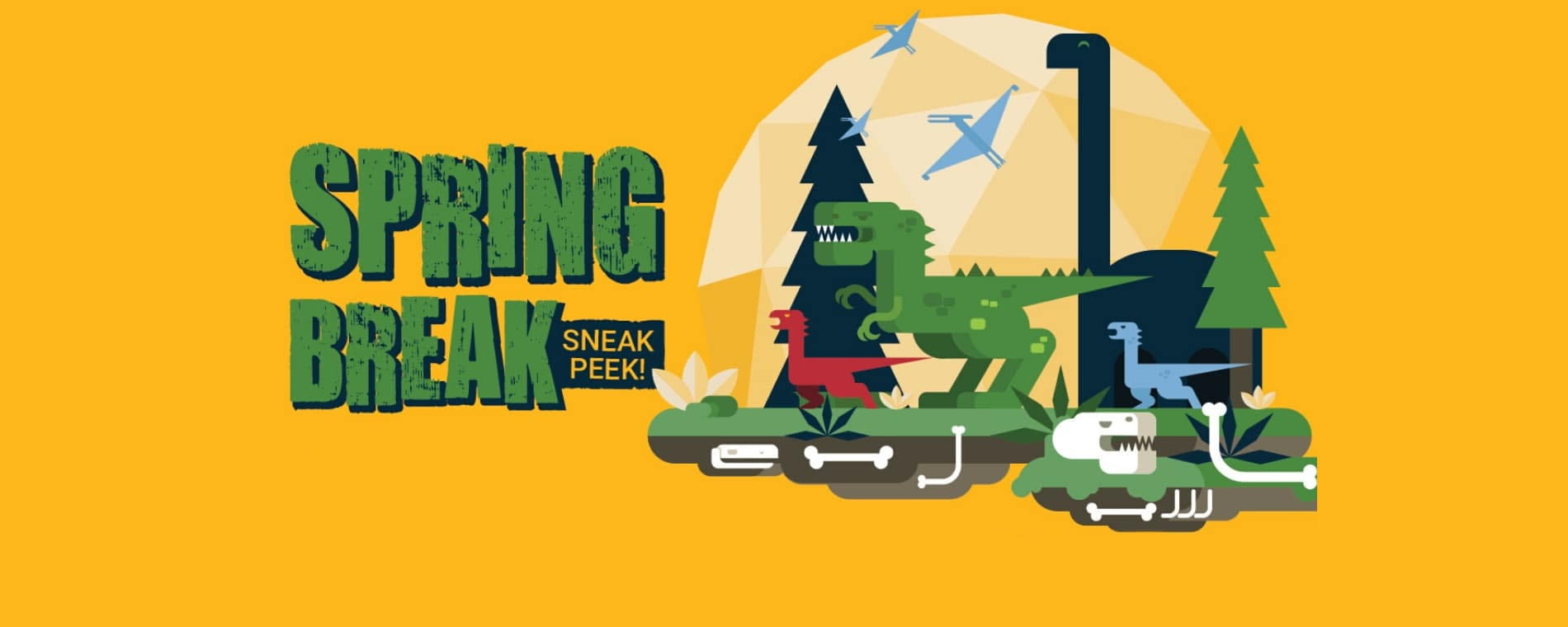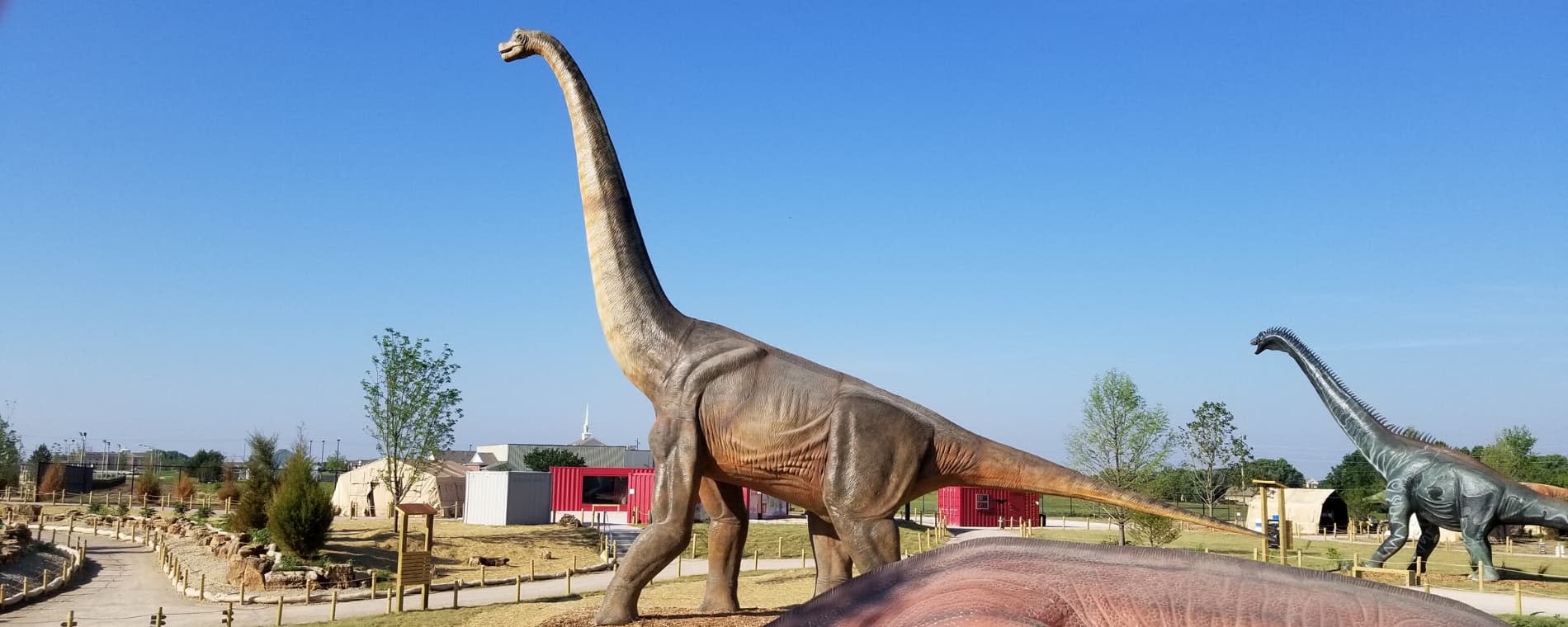 Back to Previous
Spring Break Sneak Peek at Field Station: Dinosaurs
From: 10:00 AM to 05:00 PM, March 12, 2022 | Field Station: Dinosaurs
The dinosaurs are shaking the snow off of their tails and The Mighty T-Rex takes his place back on stage! It's part of Sneak Peek Week at Field Station: Dinosaurs – a living highlight reel of all the fun and adventure coming this spring and summer to the Wichita area's most unique family attraction. Sneak Peek Week opens Saturday March 12, and runs 10 a.m.-5 p.m. every day through Sunday March 20.
All tickets to Sneak Peek Week are $12 and include access to our dinosaur trail, live shows, games, hands-on activities and Jurassic Golf. After you finish your visit, use your Sneak Peek Week ticket purchase toward a Family Membership for a full year of fun, science and more!
A Brand New, Spring Break Show - A brand new mini-musical comedy takes the stage and features content from shows we are trying out for summer! See some of your favorite characters – The Mighty T-Rex, the Dinosaur Wrangler, the Dinosaur Handler and more!
Family Favorites - Participate in some of our activities intended for the whole family! Meet the baby Hadrosaurus, star of the Dinosaur Daycare. Learn some of our most popular dinosaur dance moves, including a Jurassic Jig.
Paleo Playground - Featuring yard games for the whole family, an Observation Tower and located next to our Dino Bites concessions stand. Children will have the time of their lives as they literally bounce off the walls in our inflatable Jurassic Zoo bouncer!
Buried Treasures: Kansas Undergound (presented by Kansas Strong) - This one-of-a-kind exhibit features treasures from the Sunflower state – both prehistoric and modern. Learn about rocks, minerals, human artifacts, dinosaur fossils, gas, oil and more. This hands-on exhibit has something for all ages!
Admission:

$12 for all ages 2 and up

Recurrence:

Recurring daily

Days:

March 12, 2022 - March 20, 2022

2022-03-12 2022-03-20 17:00:00 Spring Break Sneak Peek at Field Station: Dinosaurs <p>The dinosaurs are shaking the snow off of their tails and The Mighty T-Rex takes his place back on stage! It's part of Sneak Peek Week at Field Station: Dinosaurs &#8211; a living highlight reel of all the fun and adventure coming this spring and summer to the Wichita area's most unique family attraction. Sneak Peek Week opens Saturday March 12, and runs 10 a.m.-5 p.m. every day through Sunday March 20.</p> <p>All tickets to Sneak Peek Week are $12 and include access to our dinosaur trail, live shows, games, hands-on activities and Jurassic Golf. After you finish your visit, use your Sneak Peek Week ticket purchase toward a Family Membership for a full year of fun, science and more!</p> <p><strong>A Brand New, Spring Break Show</strong> - A brand new mini-musical comedy takes the stage and features content from shows we are trying out for summer! See some of your favorite characters &#8211; The Mighty T-Rex, the Dinosaur Wrangler, the Dinosaur Handler and more!</p> <p><strong>Family Favorites</strong> - Participate in some of our activities intended for the whole family! Meet the baby Hadrosaurus, star of the Dinosaur Daycare. Learn some of our most popular dinosaur dance moves, including a Jurassic Jig.</p> <p><strong>Paleo Playground</strong> - Featuring yard games for the whole family, an Observation Tower and located next to our Dino Bites concessions stand. Children will have the time of their lives as they literally bounce off the walls in our inflatable Jurassic Zoo bouncer!</p> <p><strong>Buried Treasures: Kansas Undergound</strong> (presented by Kansas Strong) - This one-of-a-kind exhibit features treasures from the Sunflower state &#8211; both prehistoric and modern. Learn about rocks, minerals, human artifacts, dinosaur fossils, gas, oil and more. This hands-on exhibit has something for all ages!</p> 2999 N. Rock Road Derby, KS America/Chicago
Back To Previous