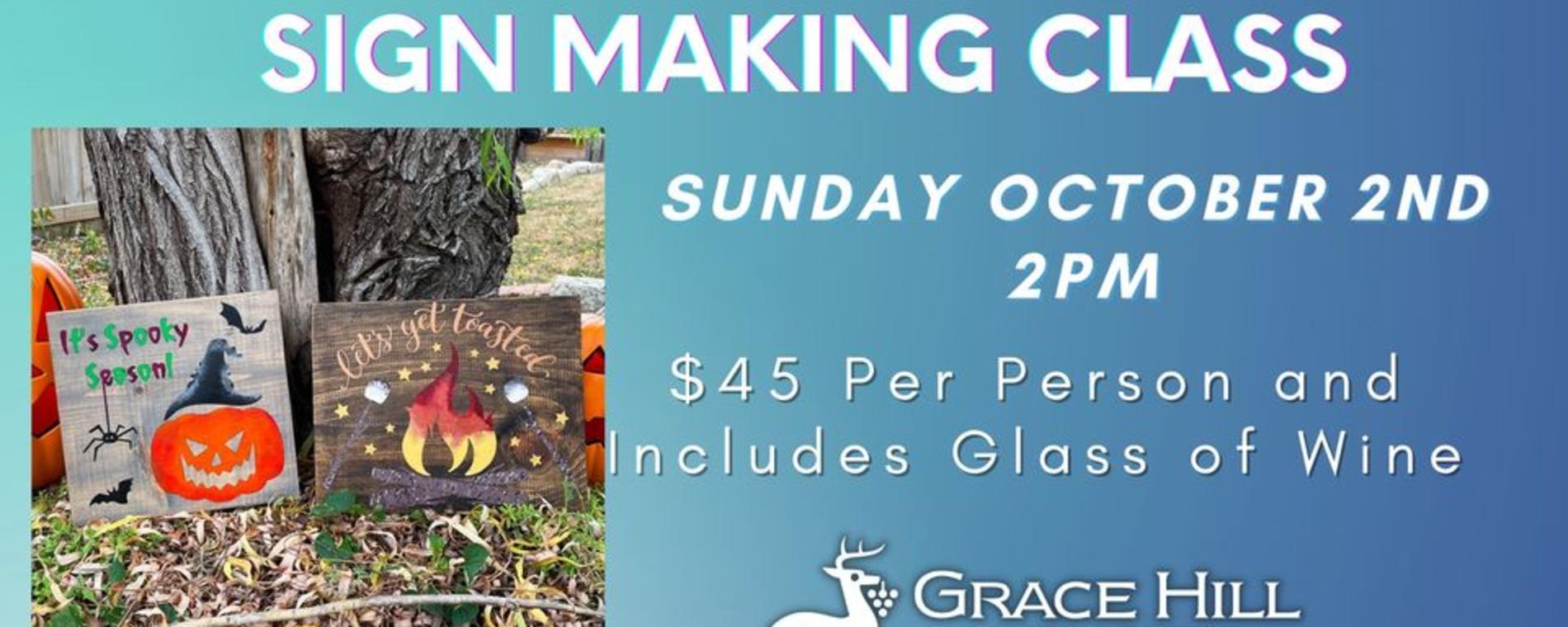 Back to Previous
Stain & Stem Wooden Sign Making Class
02:00 PM, October 2, 2022 | Grace Hill Winery
Spooky season is upon us! Let's light up the bonfire, grab some wine, and have some fun making a sign together!
Grey and Shannon from Stepp Design & Decor will walk us through the process of distressing your sign, staining with a color of your choice, and applying and painting the stencil design. No artistic ability needed!
Our sign selections this month are our "It's Spooky Season" (11.5" x 11.5") or "Let's get toasted" (11.5" x 14").
Admission for the class is $45 and can be purchased at our online store. That includes all of the necessary supplies for the class and a glass of wine. Additional wine and snacks will be available for purchase as well. The designs are from a stencil and there will be various stain and paint colors available to customize your piece.
We will have one session beginning at 2:00 p.m. that we expect to last for about 2.5 hours total. Space is limited so get your tickets today!
Admission:

$45

Buy Tickets
Days:

October 2, 2022

>

2022-10-02 2022-10-02 16:30:00 Stain & Stem Wooden Sign Making Class <p>Spooky season is upon us! Let's light up the bonfire, grab some wine, and have some fun making a sign together!</p> <p>Grey and Shannon from Stepp Design &amp; Decor will walk us through the process of distressing your sign, staining with a color of your choice, and applying and painting the stencil design. No artistic ability needed!</p> <p>Our sign selections this month are our "It's Spooky Season" (11.5" x 11.5") or "Let's get toasted" (11.5" x 14").<br>Admission for the class is $45 and can be purchased at our online store. That includes all of the necessary supplies for the class and a glass of wine. Additional wine and snacks will be available for purchase as well. The designs are from a stencil and there will be various stain and paint colors available to customize your piece.</p> <p>We will have one session beginning at 2:00 p.m. that we expect to last for about 2.5 hours total. Space is limited so get your tickets today!</p> 11511 W Delano St Wichita, KS America/Chicago
Back To Previous