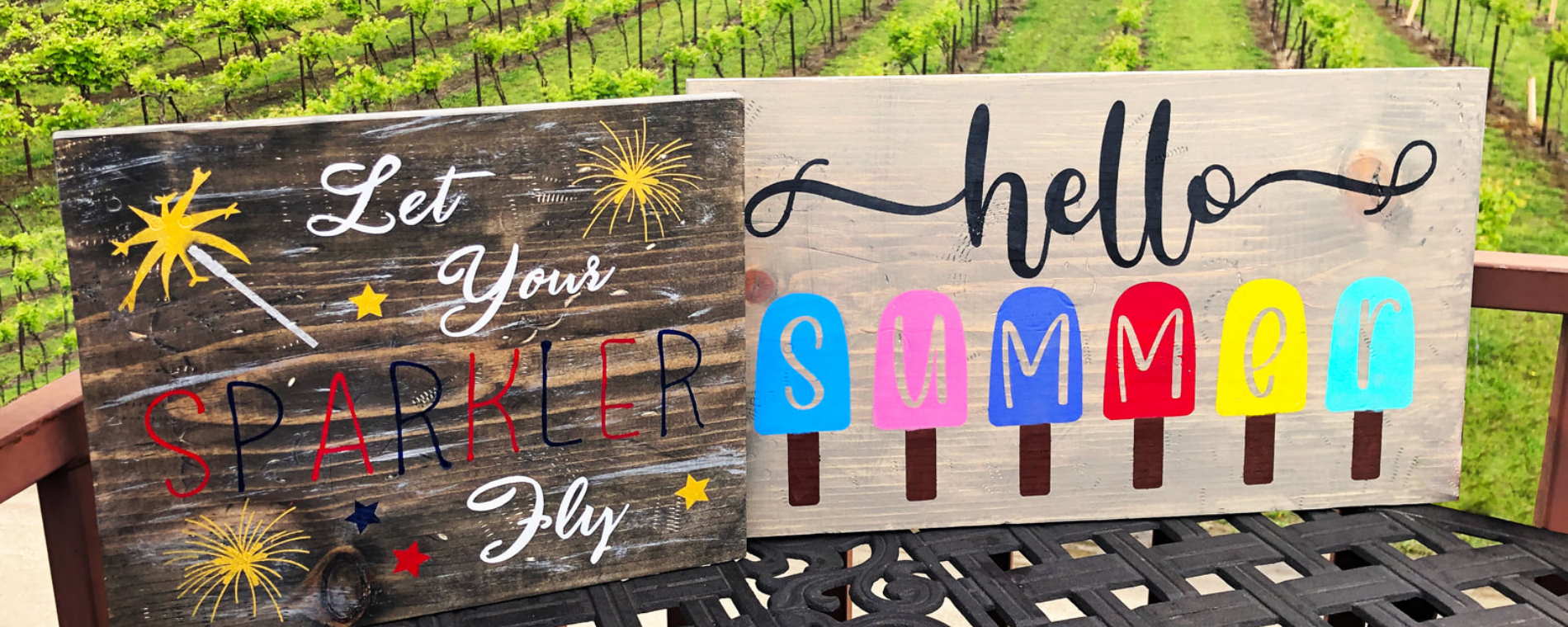 Back to Previous
Stain and Stem Sign Making Class
2:00pm, June 27, 2021 | Grace Hill Winery
Summertime is time for barbecues, popsicles, the 4th of July and, of course, lots of wine. Bring your friends and family to our June Stain and Stem wooden sign-making class at Grace Hill Winery!
Grey and Shannon from Stepp Design & Decor will walk through the process of distressing your sign, staining with a color of your choice, and applying and painting the stencil design. No artistic ability needed!
Sign selections this month are our "Hello Summer" (11.5" x 20") or "Let Your Sparkler Fly" (11.5" x 14").
Admission includes all of the necessary supplies for the class and a glass of wine. Additional wine and snacks will be available for purchase as well. The designs are from a stencil and there will be various stain and paint colors available to customize your piece.
There will be 1 session beginning at 2:00 pm that will last about 2.5 hours total. Space is limited so get your tickets today!
Admission:

$40

Get Tickets
Days:

June 27, 2021

2021-06-27 2021-06-27 16:30:00 Stain and Stem Sign Making Class <p>Summertime is time for barbecues, popsicles, the 4th of July and, of course, lots of wine. Bring your friends and family to our June Stain and Stem wooden sign-making class at Grace Hill Winery!</p> <p>Grey and Shannon from Stepp Design &amp; Decor will walk through the process of distressing your sign, staining with a color of your choice, and applying and painting the stencil design. No artistic ability needed!</p> <p>Sign selections this month are our "Hello Summer" (11.5" x 20") or "Let Your Sparkler Fly" (11.5" x 14").</p> <p>Admission includes all of the necessary supplies for the class and a glass of wine. Additional wine and snacks will be available for purchase as well. The designs are from a stencil and there will be various stain and paint colors available to customize your piece.</p> <p>There will be 1 session beginning at 2:00 pm that will last about 2.5 hours total. Space is limited so get your tickets today!</p> 6310 S. Grace Hill Rd. Whitewater, KS America/Chicago
Back To Previous