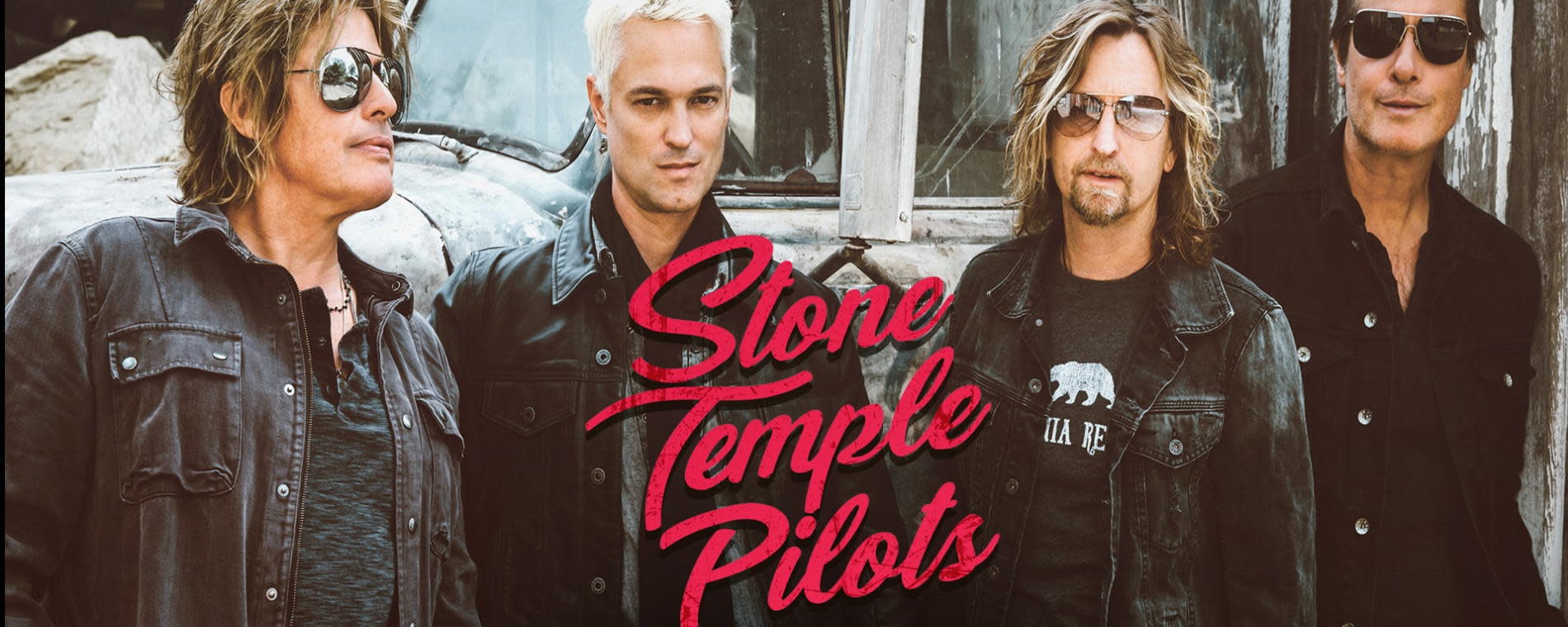 Back to Previous
Stone Temple Pilots 2021 Tour
8:00pm, October 18, 2021 | The Cotillion
Stone Temple Pilots are coming to the Cotillion with special guest Tyler Brant & The Shakedown!
With over 70 million albums sold, Stone Temple Pilots roared on to the scene in 1992 with their raucous debut, Core. A breakout success, the album peaked #3 on the Billboard 200 chart, and dominated radio waves with hits like "Sex Type Thing," "Wicked Garden," and the Grammy-Award winning smash single, "Plush." STP quickly distinguished themselves as a band beholden to no trend. Boasting the inimitable riffs of guitarist Dean DeLeo, the propulsive rhythm section of bassist Robert DeLeo and drummer Eric Kretz, and the charismatic baritone of frontman Scott Weiland, STP ruled airways, video playlists and charts alike over their legendary career. The band released their latest studio album, Perdida in 2020 with new lead singer, Jeff Gutt. Paste magazine described Perdida as the most sonically rich experience that Stone Temple Pilots have offered fans to date.
All Ages. Reserved and General Admission seating available. Concessions and full bars open.
Admission:

$50-$70

Get Tickets
Days:

October 18, 2021

2021-10-18 2021-10-18 20:00:00 Stone Temple Pilots 2021 Tour <p>Stone Temple Pilots are coming to the Cotillion with special guest Tyler Brant &amp; The Shakedown!</p> <p>With over 70 million albums sold, Stone Temple Pilots roared on to the scene in 1992 with their raucous debut, Core. A breakout success, the album peaked #3 on the Billboard 200 chart, and dominated radio waves with hits like "Sex Type Thing," "Wicked Garden," and the Grammy-Award winning smash single, "Plush." STP quickly distinguished themselves as a band beholden to no trend. Boasting the inimitable riffs of guitarist Dean DeLeo, the propulsive rhythm section of bassist Robert DeLeo and drummer Eric Kretz, and the charismatic baritone of frontman Scott Weiland, STP ruled airways, video playlists and charts alike over their legendary career. The band released their latest studio album, Perdida in 2020 with new lead singer, Jeff Gutt. Paste magazine described Perdida as the most sonically rich experience that Stone Temple Pilots have offered fans to date.</p> <p>All Ages. Reserved and General Admission seating available. Concessions and full bars open.</p> 11120 W. Kellogg Wichita, KS America/Chicago
Back To Previous