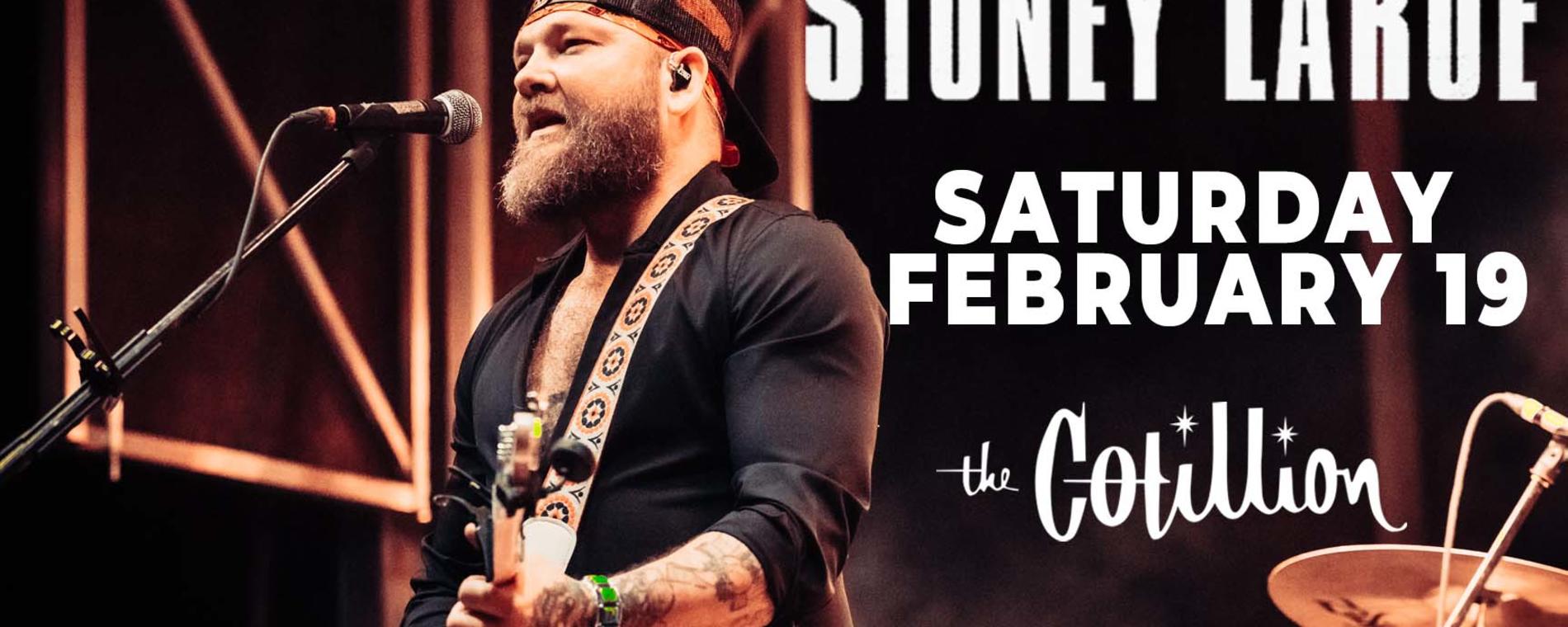 Back to Previous
Stoney LaRue at The Cotillion
08:00 PM, February 19, 2022 | The Cotillion
Throw away any preconceived notions you might have about country singers — especially ones from Texas — because Stoney LaRue smashes them all. Over a nearly 20-year career, the Lone Star-born and Oklahoma-raised LaRue has transformed himself into an unlikely Renaissance man. He is a deft songwriter, informed traveler and self-aware philosopher, a troubadour who converses just as easily about Indian yogis and gurus as he does about Texas barbecue and dance halls. LaRue highlights all facets of his complex persona on the inspiring new album Onward.
The title itself is reflective of his outlook on life — if LaRue has a mantra these days, it's "keep moving forward." His first album since 2015's Us Time, Onward captures the husky-voiced singer looking not only ahead, but inward. This is a man unflinchingly shining a light into some dark, uncomfortable corners of his psyche and bettering himself in the process.
"You want to test your bones and see where they break," he says, dropping one of the many bon mots that pepper his conversation. "This record is wading through all the mud and storms to hopefully come out on the other side with a wisdom that you didn't have before. It's a brighter way to look at things."
Before there can be redemption, though, there must be a conflict, and LaRue dives into that head-first in the album opener "Fallin' and Flyin'." One of 10 songs co-written by Onward's producer Gary Nicholson, the track was famously performed by Jeff Bridges in the 2009 country music drama Crazy Heart. In LaRue's hands, it's a humble admission, part of his journey toward self-improvement. "I never meant to hurt no one/I just had to have my way/if there's such a thing as too much fun/this must be the price you pay," he sings.
Likewise, he lays bare his soul in "You Oughta Know Me by Now," a song that Nicholson and his co-writer Shawn Camp wrote especially for LaRue. While it's framed around a man's shortcomings and bad habits, it also conveys a precious honesty, like much of the vulnerable Onward does. "Gary told me, 'You're getting a chance with this album to show people who you truly are,'" LaRue says. "It might be too blatant for some people, but if you're that blatantly honest, that's a direct path to someone's spirit, you know?"
Concessions and full bars will be open! Also local favorites Nancy's A-Maize-N Sandwich Booth will be featured. All ages are welcome. Support acts subject to change.
Text COUNTRY to 49798 for concert updates.
A limited number of table reservations are available by calling 316-722-4201 or in person at The Cotillion.
COVID-19 Show Policy: There are no restrictions on this show but we encourage face masks when you can not social distance and ask that you stay home if you are feeling sick or have been exposed recently to someone with COVID-19.  
Admission:

$22 Advance, $25 Day of Show

Buy Tickets
Days:

February 19, 2022

2022-02-19 2022-02-19 22:00:00 Stoney LaRue at The Cotillion <p>Throw away any preconceived notions you might have about country singers — especially ones from Texas — because Stoney LaRue smashes them all. Over a nearly 20-year career, the Lone Star-born and Oklahoma-raised LaRue has transformed himself into an unlikely Renaissance man. He is a deft songwriter, informed traveler and self-aware philosopher, a troubadour who converses just as easily about Indian yogis and gurus as he does about Texas barbecue and dance halls. LaRue highlights all facets of his complex persona on the inspiring new album Onward.<br />The title itself is reflective of his outlook on life — if LaRue has a mantra these days, it's "keep moving forward." His first album since 2015's Us Time, Onward captures the husky-voiced singer looking not only ahead, but inward. This is a man unflinchingly shining a light into some dark, uncomfortable corners of his psyche and bettering himself in the process.</p> <p>"You want to test your bones and see where they break," he says, dropping one of the many bon mots that pepper his conversation. "This record is wading through all the mud and storms to hopefully come out on the other side with a wisdom that you didn't have before. It's a brighter way to look at things."</p> <p>Before there can be redemption, though, there must be a conflict, and LaRue dives into that head-first in the album opener "Fallin' and Flyin'." One of 10 songs co-written by Onward's producer Gary Nicholson, the track was famously performed by Jeff Bridges in the 2009 country music drama Crazy Heart. In LaRue's hands, it's a humble admission, part of his journey toward self-improvement. "I never meant to hurt no one/I just had to have my way/if there's such a thing as too much fun/this must be the price you pay," he sings.</p> <p>Likewise, he lays bare his soul in "You Oughta Know Me by Now," a song that Nicholson and his co-writer Shawn Camp wrote especially for LaRue. While it's framed around a man's shortcomings and bad habits, it also conveys a precious honesty, like much of the vulnerable Onward does. "Gary told me, 'You're getting a chance with this album to show people who you truly are,'" LaRue says. "It might be too blatant for some people, but if you're that blatantly honest, that's a direct path to someone's spirit, you know?"</p> <p>Concessions and full bars will be open! Also local favorites Nancy's A-Maize-N Sandwich Booth will be featured. All ages are welcome. Support acts subject to change.</p> <p>Text COUNTRY to 49798 for concert updates.</p> <p>A limited number of table reservations are available by calling 316-722-4201 or in person at The Cotillion.</p> <p>COVID-19 Show Policy: There are no restrictions on this show but we encourage face masks when you can not social distance and ask that you stay home if you are feeling sick or have been exposed recently to someone with COVID-19.  </p> 11120 W. Kellogg Wichita, KS America/Chicago
Back To Previous