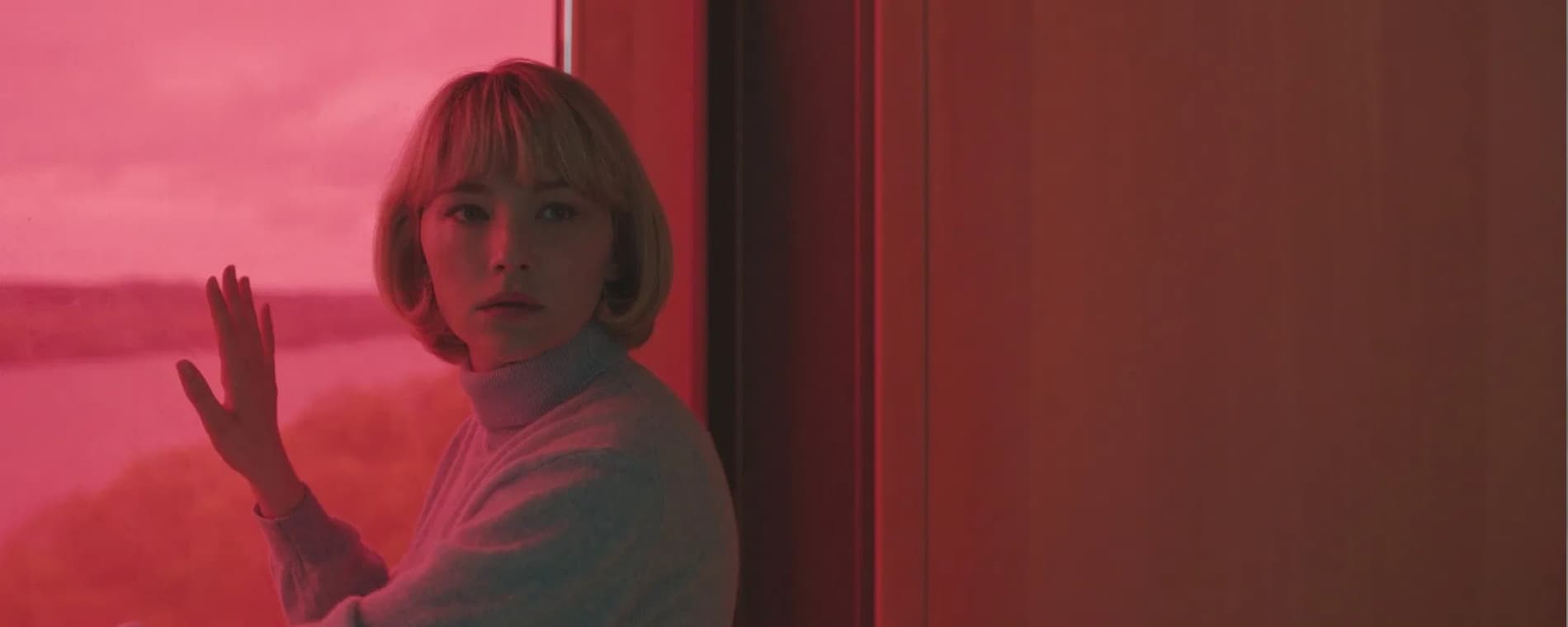 Back to Previous
Swallow - Presented by mamafilm
This event has been postponed and will be moved to its new date once rescheduled.
The dates for this event have already occurred, please check back again for new dates.
NOTE:
Postponed: As soon as we can reopen, we will reschedule SWALLOW! - mama.film on Facebook
On the surface, Hunter (Haley Bennett) appears to have it all. A newly pregnant housewife, she seems content to spend her time tending to an immaculate home and doting on her Ken-doll husband, Richie (Austin Stowell). However, as the pressure to meet her controlling in-laws and husband's rigid expectations mounts, cracks begin to appear in her carefully created facade. Hunter develops a dangerous habit, and a dark secret from her past seeps out in the form of a disorder called pica — a condition that has her compulsively swallowing inedible, and oftentimes life-threatening, objects. A provocative and squirm-inducing psychological thriller, SWALLOW follows one woman's unraveling as she struggles to reclaim independence in the face of an oppressive system by whatever means possible.
Seating is limited. You may BYO food/drinks to the cinema; unlimited popcorn will be available for $1 and is free for mamafilm members. Most events take place in the evenings and on weekends. There is ample FREE parking on Market Street & in surrounding lots on these off-hours. The Lux Doors & Theater Door will open 30 minutes before showtime. The main building doors will close 30 minutes after the start of the film. Arrive on time!
*This event was originally scheduled for 3/26*
Admission:

$10 at the door (cash only) or online

Days:

March 26, 2020

Swallow - Presented by mamafilm <p><strong>NOTE:<br /></strong><em>Postponed: As soon as we can reopen, we will reschedule SWALLOW! </em>- <a title="Notice" href="https://www.facebook.com/events/3057015981015176/permalink/3110998402283600/" rel="nofollow" target="_blank"><strong>mama.film on Facebook</strong></a></p> <p>On the surface, Hunter (Haley Bennett) appears to have it all. A newly pregnant housewife, she seems content to spend her time tending to an immaculate home and doting on her Ken-doll husband, Richie (Austin Stowell). However, as the pressure to meet her controlling in-laws and husband's rigid expectations mounts, cracks begin to appear in her carefully created facade. Hunter develops a dangerous habit, and a dark secret from her past seeps out in the form of a disorder called pica — a condition that has her compulsively swallowing inedible, and oftentimes life-threatening, objects. A provocative and squirm-inducing psychological thriller, SWALLOW follows one woman's unraveling as she struggles to reclaim independence in the face of an oppressive system by whatever means possible.</p> <p><strong><a title="Get Tickets" href="https://www.goelevent.com/MamaFilm/e/Swallow" rel="nofollow" target="_blank">Get Tickets</a></strong></p> <p>Seating is limited. You may BYO food/drinks to the cinema; unlimited popcorn will be available for $1 and is free for <a title="mamafilm membership" href="http://mama.film/membership/" rel="nofollow" target="_blank"><strong>mamafilm members</strong></a>. Most events take place in the evenings and on weekends. There is ample FREE parking on Market Street &amp; in surrounding lots on these off-hours. The Lux Doors &amp; Theater Door will open 30 minutes before showtime. The main building doors will close 30 minutes after the start of the film. Arrive on time!</p> <p>*This event was originally scheduled for 3/26*</p> America/Chicago
Back To Previous