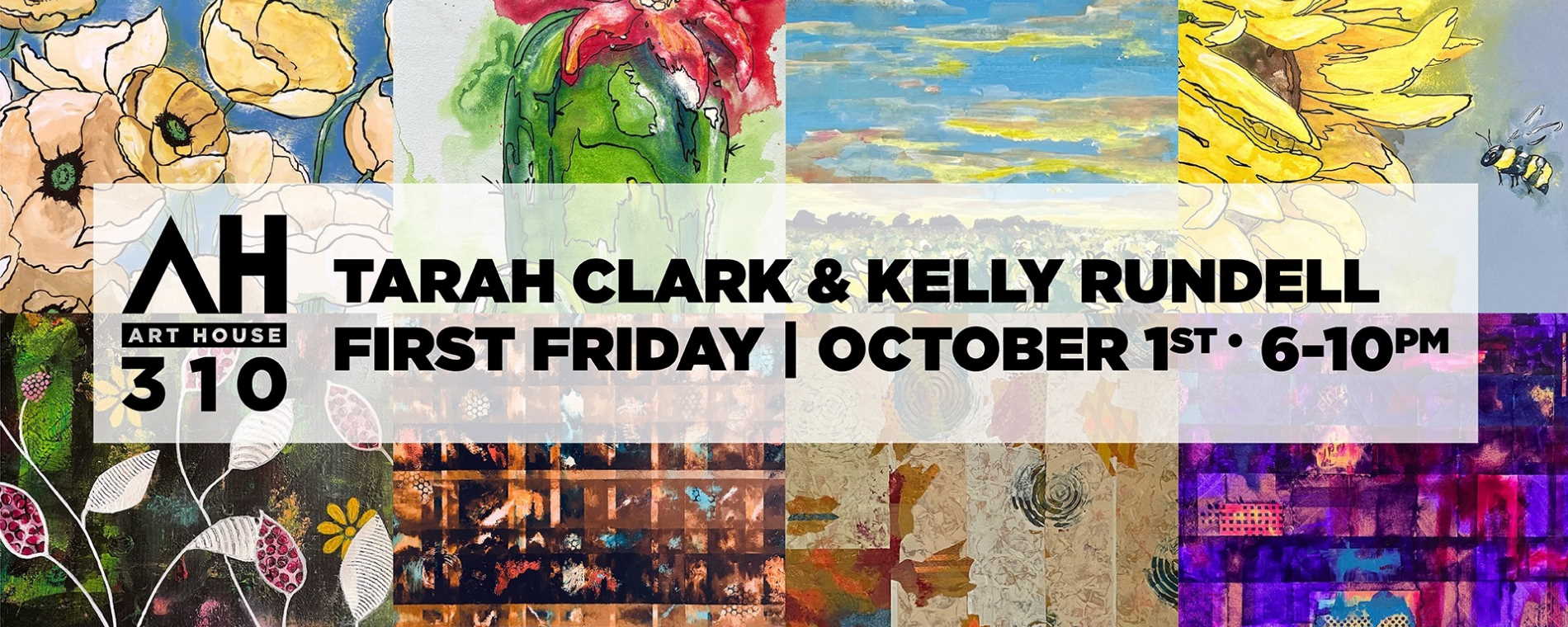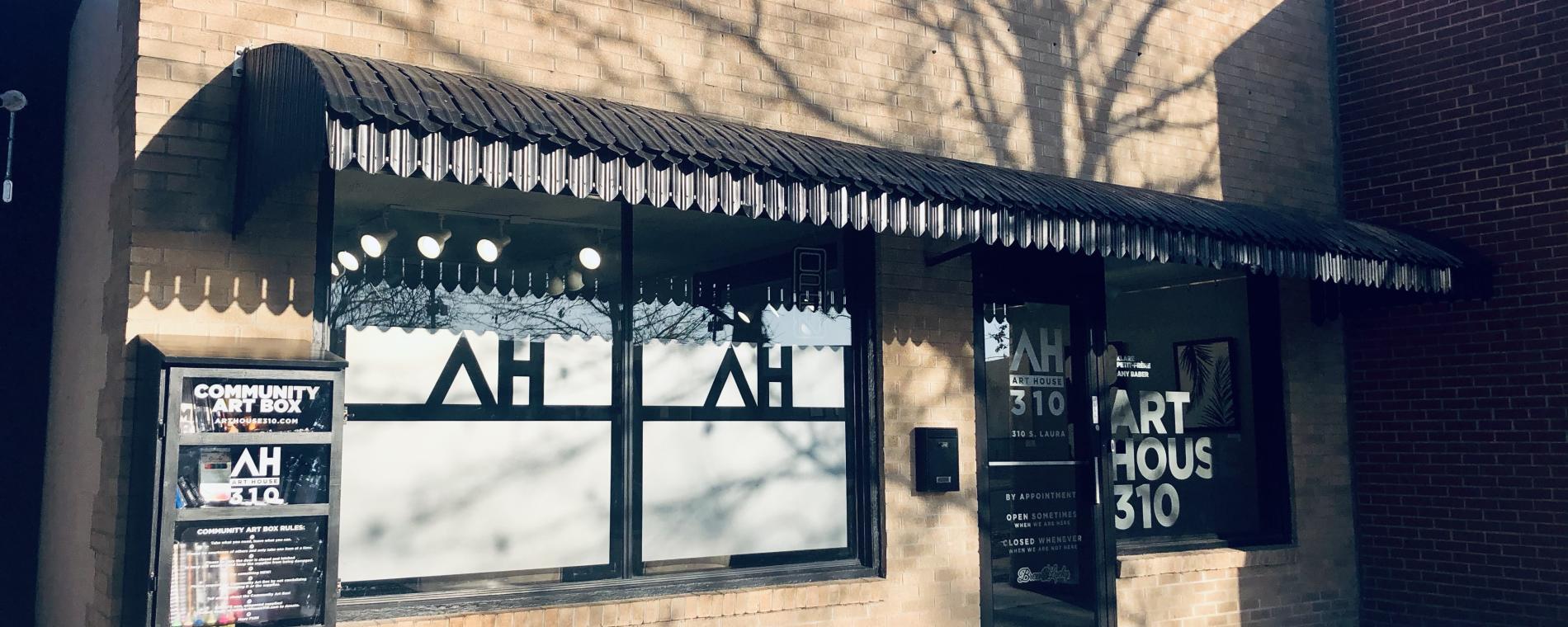 Back to Previous
Tarah Clark & Kelly Rundell Opening Reception - First Friday
6-10pm, October 1, 2021 | Art House 310
TARAH CLARK Artist Statement: "Colorful Creations" is a collection of work which explores the vibrance of nature from my point of view.
Through this work I spent time exploring the details of the world around us, from the folds of a flower petal to the texture on a bumblebee. When you look at the way an insect lands on a plant or the way the colors seamlessly blend together as one, that's what I've gone for here.
I've added a feature that doesn't get noticed much by creating a watercolor like aspect which almost helps create that blending of the blooms, then highlighting it with ink as they come to their full potential, leaving just the right amount of want from the on looker. My media of choice has always been acrylic paint and with these I've stretched the bright pigment around the canvas letting it have a natural flow yet still guiding it in the direction I wish it to go. The florals are seen in the fields where they naturally grow and also displayed in a vase that always brings the cheerfulness back to your heart. Hopefully these colorful creations find their way to yours. Enjoy!
KELLY RUNDELL Artist Statement: My paintings serve as a reminder that not everything is as simple as it seems.
I use lots of straight lines because that is how I present myself to the world– straightforward and organized. But I'm not really like that. Like many other people, my unseen mind and spirit are much deeper, more interesting and complex than just my well-curated public persona. Buildings are the same way. Behind every wall, there is always something else. What is happening beyond what is seen? What is really on the other side of the wall or window? What would it be like if the energy and excitement that seems confined by the wall actually burst through? My paintings encourage people to be curious and wonder what else is going on.
These paintings are exclusively acrylic paint on canvas. There is very little brush work, most of my work is painted with my fingers. I use tools to scrape paint off and create textures. Multiple layers of paint are used to reflect depth and complexity. The textures in my paintings are representative of the lack of perfection. I prefer strong colors because what is hidden can be challenging, exciting and fun.
Show hangs through October 24th, 2021.
COVID-19 PRECAUTIONS:
As the CDC relaxes the mask recommendations for fully vaccinated individuals, we ask that anyone entering Art House 310 use your best moral judgement on masks. We will continue to have masks on hand as well as hand sanitizer. We do ask that individuals who are not fully vaccinated continue to wear a mask when entering Art House 310. We follow CDC recommendations on masking.
All events at Art House 310 are subject to change. Hand sanitizer will be on site for use. Art House 310 will disinfect the public areas before and after any events. There is no public restroom at Art House 310. Properly worn masks are strongly recommended when entering Art House 310 and we strongly encourage you to practice safe social distancing. We ask that any purchases be done so with card payment in order to reduce the spread of germs. Anyone showing symptoms or feeling ill or have been exposed to Covid-19 should NOT enter Art House 310. We appreciate your understanding and efforts to keep everyone safe and healthy.
Admission:

Free to attend

Days:

October 1, 2021

2021-10-01 2021-10-01 22:00:00 Tarah Clark & Kelly Rundell Opening Reception - First Friday <p>TARAH CLARK Artist Statement: "Colorful Creations" is a collection of work which explores the vibrance of nature from my point of view.</p> <p>Through this work I spent time exploring the details of the world around us, from the folds of a flower petal to the texture on a bumblebee. When you look at the way an insect lands on a plant or the way the colors seamlessly blend together as one, that's what I've gone for here.</p> <p>I've added a feature that doesn't get noticed much by creating a watercolor like aspect which almost helps create that blending of the blooms, then highlighting it with ink as they come to their full potential, leaving just the right amount of want from the on looker. My media of choice has always been acrylic paint and with these I've stretched the bright pigment around the canvas letting it have a natural flow yet still guiding it in the direction I wish it to go. The florals are seen in the fields where they naturally grow and also displayed in a vase that always brings the cheerfulness back to your heart. Hopefully these colorful creations find their way to yours. Enjoy!</p> <p>KELLY RUNDELL Artist Statement: My paintings serve as a reminder that not everything is as simple as it seems.</p> <p>I use lots of straight lines because that is how I present myself to the world&#8211; straightforward and organized. But I'm not really like that. Like many other people, my unseen mind and spirit are much deeper, more interesting and complex than just my well-curated public persona. Buildings are the same way. Behind every wall, there is always something else. What is happening beyond what is seen? What is really on the other side of the wall or window? What would it be like if the energy and excitement that seems confined by the wall actually burst through? My paintings encourage people to be curious and wonder what else is going on.</p> <p>These paintings are exclusively acrylic paint on canvas. There is very little brush work, most of my work is painted with my fingers. I use tools to scrape paint off and create textures. Multiple layers of paint are used to reflect depth and complexity. The textures in my paintings are representative of the lack of perfection. I prefer strong colors because what is hidden can be challenging, exciting and fun.</p> <p>Show hangs through October 24th, 2021.</p> <p>COVID-19 PRECAUTIONS:<br />As the CDC relaxes the mask recommendations for fully vaccinated individuals, we ask that anyone entering Art House 310 use your best moral judgement on masks. We will continue to have masks on hand as well as hand sanitizer. We do ask that individuals who are not fully vaccinated continue to wear a mask when entering Art House 310. We follow CDC recommendations on masking.</p> <p>All events at Art House 310 are subject to change. Hand sanitizer will be on site for use. Art House 310 will disinfect the public areas before and after any events. There is no public restroom at Art House 310. Properly worn masks are strongly recommended when entering Art House 310 and we strongly encourage you to practice safe social distancing. We ask that any purchases be done so with card payment in order to reduce the spread of germs. Anyone showing symptoms or feeling ill or have been exposed to Covid-19 should NOT enter Art House 310. We appreciate your understanding and efforts to keep everyone safe and healthy.</p> 310 S. Laura Wichita, KS America/Chicago
Back To Previous