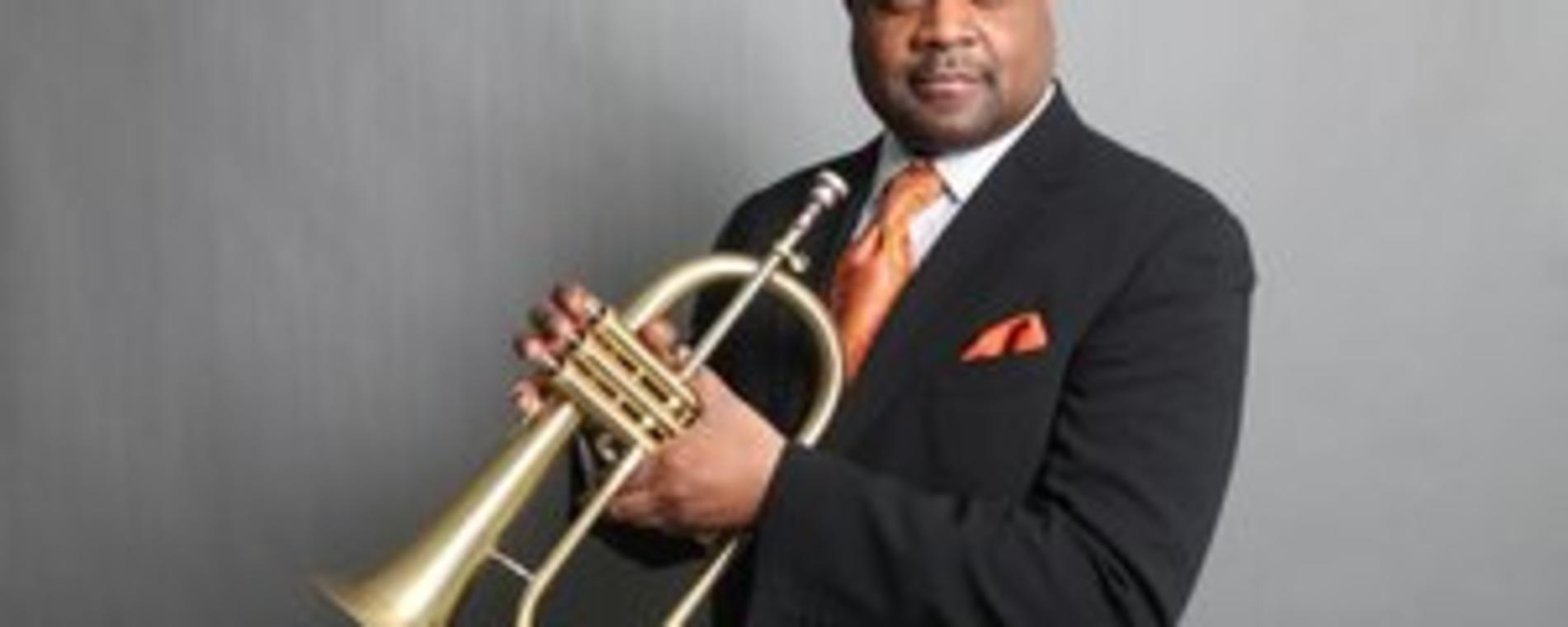 Back to Previous
Terell Stafford with the Mid-Kansas Honor Band and WSU Jazz Arts 1
Starting: 7:00 PM, April 21, 2023 | Wichita Art Museum
Terell Stafford, acclaimed trumpet player based in New York, has been hailed as "one of the great players of our time, a fabulous trumpet player" by piano legend McCoy Tyner.
Since the mid-1990's, Stafford has performed with groups such as Benny Golson's Sextet, McCoy Tyner's Sextet, Kenny Barron Quintet, Frank Wess Quintet, Jimmy Heath Quintet and Big Band, Jon Faddis Jazz Orchestra, Carnegie Hall Jazz Band and Dizzy Gillespie All-Star Alumni Band. With the Hamilton- Clayton Jazz Orchestra, Stafford performed on Diana Krall's GRAMMY nominated From this Moment On (2006). Stafford is a member of the Vanguard Jazz Orchestra and they were awarded a GRAMMY in 2009 for Best Large Ensemble, Live at the Village Vanguard. Stafford can be heard on over 130 albums including his own, BrotherLee Love, Celebrating Lee Morgan, which received a 47th Annual NAACP Image Award nomination.
Stafford is the Director of Jazz Studies and Chair of Instrumental Studies at Temple University, founder and band leader of the Terell Stafford Quintet, and Managing and Artistic Director of the Jazz Orchestra of Philadelphia (JOP). Stafford is renowned in the jazz world as an educator, performer and leader and has received countless award nominations and accolades.
The evening will start with cocktails from 6:00 - 7:00pm, followed by Terell performing with the Mid-Kansas honor Band and WSU Jazz Arts 1.
Admission:

$30 ($5 discount for students and seniors when purchased at the door)

Buy Tickets
Days:

April 21, 2023

>

2023-04-21 2023-04-21 22:00:00 Terell Stafford with the Mid-Kansas Honor Band and WSU Jazz Arts 1 <p>Terell Stafford, acclaimed trumpet player based in New York, has been hailed as "one of the great players of our time, a fabulous trumpet player" by piano legend McCoy Tyner.</p> <p>Since the mid-1990's, Stafford has performed with groups such as Benny Golson's Sextet, McCoy Tyner's Sextet, Kenny Barron Quintet, Frank Wess Quintet, Jimmy Heath Quintet and Big Band, Jon Faddis Jazz Orchestra, Carnegie Hall Jazz Band and Dizzy Gillespie All-Star Alumni Band. With the Hamilton- Clayton Jazz Orchestra, Stafford performed on Diana Krall's GRAMMY nominated <em>From this Moment On </em>(2006). Stafford is a member of the Vanguard Jazz Orchestra and they were awarded a GRAMMY in 2009 for Best Large Ensemble, <em>Live at the Village Vanguard</em>. Stafford can be heard on over 130 albums including his own, <em>BrotherLee Love, Celebrating Lee Morgan, </em>which received a 47th Annual NAACP Image Award nomination.</p> <p class="">Stafford is the Director of Jazz Studies and Chair of Instrumental Studies at Temple University, founder and band leader of the Terell Stafford Quintet, and Managing and Artistic Director of the Jazz Orchestra of Philadelphia (JOP). Stafford is renowned in the jazz world as an educator, performer and leader and has received countless award nominations and accolades.</p> <p class="">The evening will start with cocktails from 6:00 - 7:00pm, followed by Terell performing with the Mid-Kansas honor Band and WSU Jazz Arts 1.</p> 1400 W. Museum Blvd. Wichita, KS America/Chicago
Back To Previous