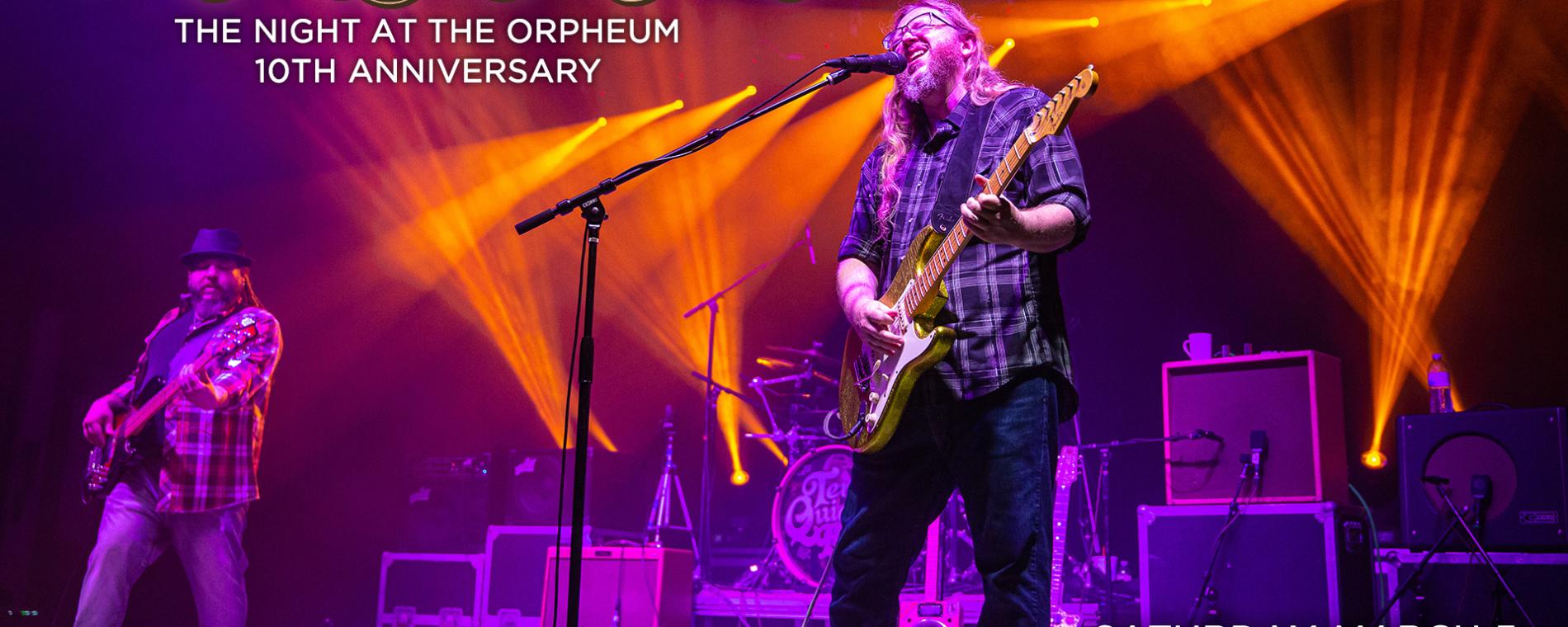 Back to Previous
Terry Quiett Band
07:30 PM, September 24, 2022 | Orpheum Theatre
This event has been rescheduled.
On March 10, 2012, Terry Quiett Band recorded their first live album at the historic Orpheum Theatre. The band felt the night would be electric and so they had multi Grammy-winning Producer Jim Gaines join them to mix the show as it happened. So, they took a 2-hour show and laid their heart and soul on that stage in hopes of a great performance that folks would enjoy for years to come. Thus, releasing that night's magic in October of 2012 on the album The Night at the Orpheum. So, on March 5, 2022 they will make their return to this historic venue to celebrate the 10 year anniversary of that magical night.

Since 2010, the Terry Quiett Band has become a mainstay across America's Heartland. From 6th street in Austin to the windy city of Chicago through the mountains of Colorado across the deserts of Arizona jamming down on Beale Street in Memphis, wherever they went the band has won over young and old with their energetic and soulful sound.

On the road they grew very loyal fans and the pleasure of sharing the stage with rock and blues legends including Buddy Guy, Robert Cray, B.B King, Kenny Wayne Shepherd, Johnny Winter, Robin Trower, Big Head Todd & the Monsters, .38 Special, Los Lonely Boys just to name a few…Releasing new music for the first time in 6 yrs in 2020 with Truth & Intent EP featuring 5 brand new tunes. The band released a DVD/Live album in the 2021 fall. Looking for them to release a new album in 2022 and will be on the road with a limited summer/fall tour.

Terry Quiett Band is joined by special guest The Avey Grouws Band.
Admission:

$20 - $25

Buy Tickets
Days:

September 24, 2022

2022-09-24 2022-09-24 19:30:00 Terry Quiett Band <p>On March 10, 2012, Terry Quiett Band recorded their first live album at the historic Orpheum Theatre. The band felt the night would be electric and so they had multi Grammy-winning Producer Jim Gaines join them to mix the show as it happened. So, they took a 2-hour show and laid their heart and soul on that stage in hopes of a great performance that folks would enjoy for years to come. Thus, releasing that night's magic in October of 2012 on the album <em>The Night at the Orpheum</em>. So, on March 5, 2022 they will make their return to this historic venue to celebrate the 10 year anniversary of that magical night.<br /><br />Since 2010, the Terry Quiett Band has become a mainstay across America's Heartland. From 6th street in Austin to the windy city of Chicago through the mountains of Colorado across the deserts of Arizona jamming down on Beale Street in Memphis, wherever they went the band has won over young and old with their energetic and soulful sound.<br /><br />On the road they grew very loyal fans and the pleasure of sharing the stage with rock and blues legends including Buddy Guy, Robert Cray, B.B King, Kenny Wayne Shepherd, Johnny Winter, Robin Trower, Big Head Todd &amp; the Monsters, .38 Special, Los Lonely Boys just to name a few…Releasing new music for the first time in 6 yrs in 2020 with Truth &amp; Intent EP featuring 5 brand new tunes. The band released a DVD/Live album in the 2021 fall. Looking for them to release a new album in 2022 and will be on the road with a limited summer/fall tour.<br /><br />Terry Quiett Band is joined by special guest The Avey Grouws Band.</p> 200 N. Broadway St. Wichita, KS America/Chicago
Back To Previous