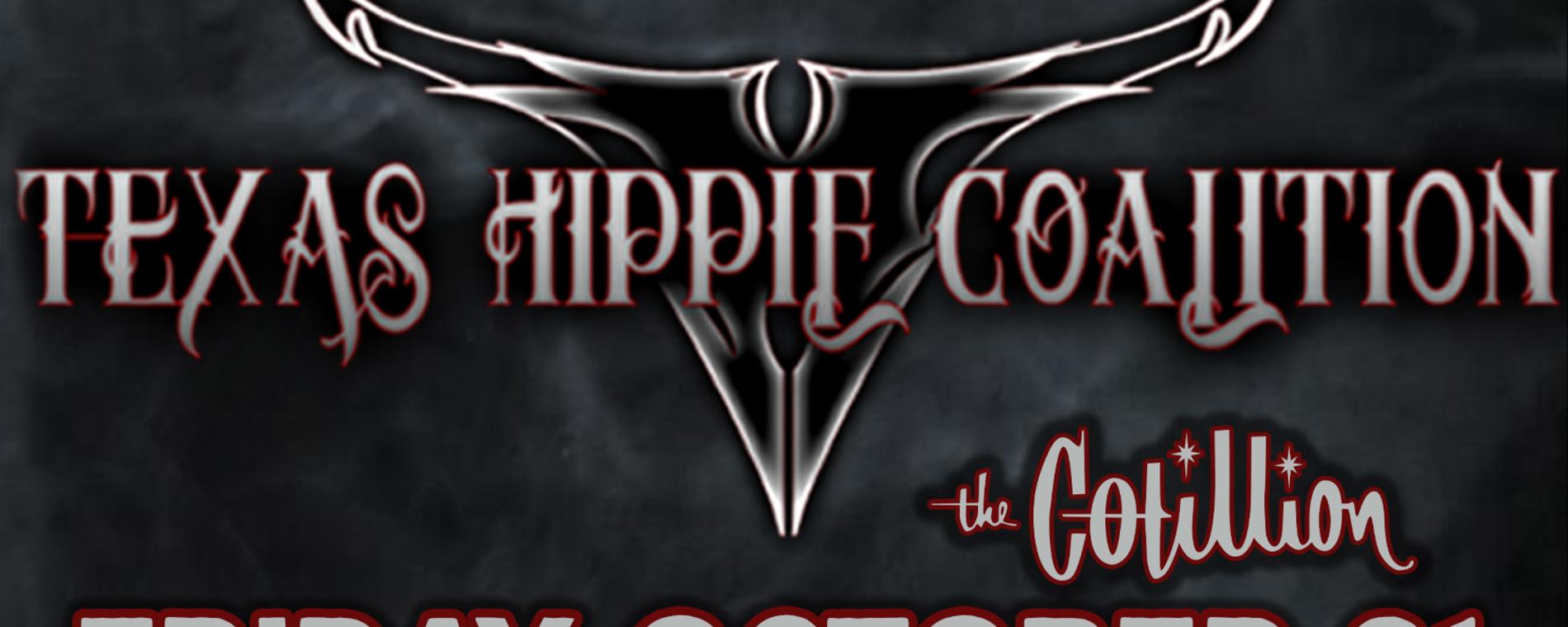 Back to Previous
Texas Hippie Coalition at The Cotillion
From: 06:00 PM to 10:00 PM, October 21, 2022 | The Cotillion
Backyard barbeques, barroom brawls, tent revivals, and big rock festivals alike are suitable environments for the Red Dirt Metal of TEXAS HIPPIE COALITION, a band with a sound so devilishly electrifying that they had to come up with a new genre to describe it. 
BIG DAD RITCH captains this pirate ship of bikers, outlaws, troubadours, and hellraisers, welcoming all comers to the THC party with gregarious charisma and Southern charm. Across a half dozen albums, countless club gigs, and show stealing performances at Rockstar Mayhem, THC has spread the good word of big riffs, big hooks, and wild times.
High in the Saddle is a record full of unashamed, full-throttle ass kicking. It's the band's second pairing with producer Bob Marlette (Black Stone Cherry, Rob Zombie) and sixth album over all, on the heels of the No. 2 Billboard Heatseekers slab,  Dark Side of Black . Rock/metal tastemaker Loudwire.com described THC's "nonstop gritty, grooving, and downright party rock as "sounding like the bastard that spawned from a threesome between Monster Magnet, Willie Nelson, and Pantera." Guitarists Cord Pool and Nevada Romo, bassist Rado Romo, and drummer Devon Carothers build songs with traditional blue-collar and red-blooded American craftsmanship, skillfully transforming Big Dad Ritch's tales of recklessness and revelry into anthems for the Red Dirt Metal lifestyle. 
Texas Hippie Coalition sounded just as at home sharing the stage with Korn and Black Label Society as they have been supporting Nazareth, Lynyrd Skynyrd, and David Allan Coe. Country trailblazers like Waylon Jennings and Johnny Cash are essential parts of THC's lifeblood, intermingled with the Southern swagger of Molly Hatchet and ZZ Top; the Sunset Strip debauchery of Mötley Crüe and Van Halen; the heavy stoner grooves of Clutch and COC; and the metallic Texas-sized crunch of the late, great Abbott brothers. 
Concessions and full bars will be open. Also featuring local favorites Nancy's A-Maize-N Sandwich Booth. All ages are welcome to attend and support acts are subject to change. 

Text METAL to 49798 for concert updates.
Wear your Cotillion merch and jump to the front of the GA line.
A limited number of table reservations are available by calling 316-722-4201 or in person at The Cotillion. Coat check is open during events to check your coats, hats, merch and more. Coat check is located next to merch by the front doors. All sales are final.  No exchanges or refunds unless a show is cancelled or postponed.
COVID-19 Show Policy: There are no restrictions on this show but we encourage face masks when you can not social distance and ask that you stay home if you are feeling sick or have been exposed recently to someone with COVID-19.  
Admission:

General Admission $20 Advance, $24 Day of Show

Days:

October 21, 2022

>

2022-10-21 2022-10-21 22:00:00 Texas Hippie Coalition at The Cotillion <p>Backyard barbeques, barroom brawls, tent revivals, and big rock festivals alike are suitable environments for the Red Dirt Metal of TEXAS HIPPIE COALITION, a band with a sound so devilishly electrifying that they had to come up with a new genre to describe it. <br>BIG DAD RITCH captains this pirate ship of bikers, outlaws, troubadours, and hellraisers, welcoming all comers to the THC party with gregarious charisma and Southern charm. Across a half dozen albums, countless club gigs, and show stealing performances at Rockstar Mayhem, THC has spread the good word of big riffs, big hooks, and wild times.</p> <p>High in the Saddle is a record full of unashamed, full-throttle ass kicking. It's the band's second pairing with producer Bob Marlette (Black Stone Cherry, Rob Zombie) and sixth album over all, on the heels of the No. 2 Billboard Heatseekers slab,  Dark Side of Black . Rock/metal tastemaker Loudwire.com described THC's "nonstop gritty, grooving, and downright party rock as "sounding like the bastard that spawned from a threesome between Monster Magnet, Willie Nelson, and Pantera." Guitarists Cord Pool and Nevada Romo, bassist Rado Romo, and drummer Devon Carothers build songs with traditional blue-collar and red-blooded American craftsmanship, skillfully transforming Big Dad Ritch's tales of recklessness and revelry into anthems for the Red Dirt Metal lifestyle. </p> <p>Texas Hippie Coalition sounded just as at home sharing the stage with Korn and Black Label Society as they have been supporting Nazareth, Lynyrd Skynyrd, and David Allan Coe. Country trailblazers like Waylon Jennings and Johnny Cash are essential parts of THC's lifeblood, intermingled with the Southern swagger of Molly Hatchet and ZZ Top; the Sunset Strip debauchery of Mötley Crüe and Van Halen; the heavy stoner grooves of Clutch and COC; and the metallic Texas-sized crunch of the late, great Abbott brothers. </p> <p>Concessions and full bars will be open. Also featuring local favorites Nancy's A-Maize-N Sandwich Booth. All ages are welcome to attend and support acts are subject to change. <br><br>Text METAL to 49798 for concert updates.</p> <p>Wear your Cotillion merch and jump to the front of the GA line.</p> <p>A limited number of table reservations are available by calling 316-722-4201 or in person at The Cotillion. <em>Coat check is open during events to check your coats, hats, merch and more. Coat check is located next to merch by the front doors. </em><em>All sales are final.  No exchanges or refunds unless a show is cancelled or postponed.</em></p> <p><strong><em>COVID-19 Show Policy: There are no restrictions on this show but we encourage face masks when you can not social distance and ask that you stay home if you are feeling sick or have been exposed recently to someone with COVID-19.  </em></strong></p> 11120 W. Kellogg Dr. Wichita, KS America/Chicago
Back To Previous