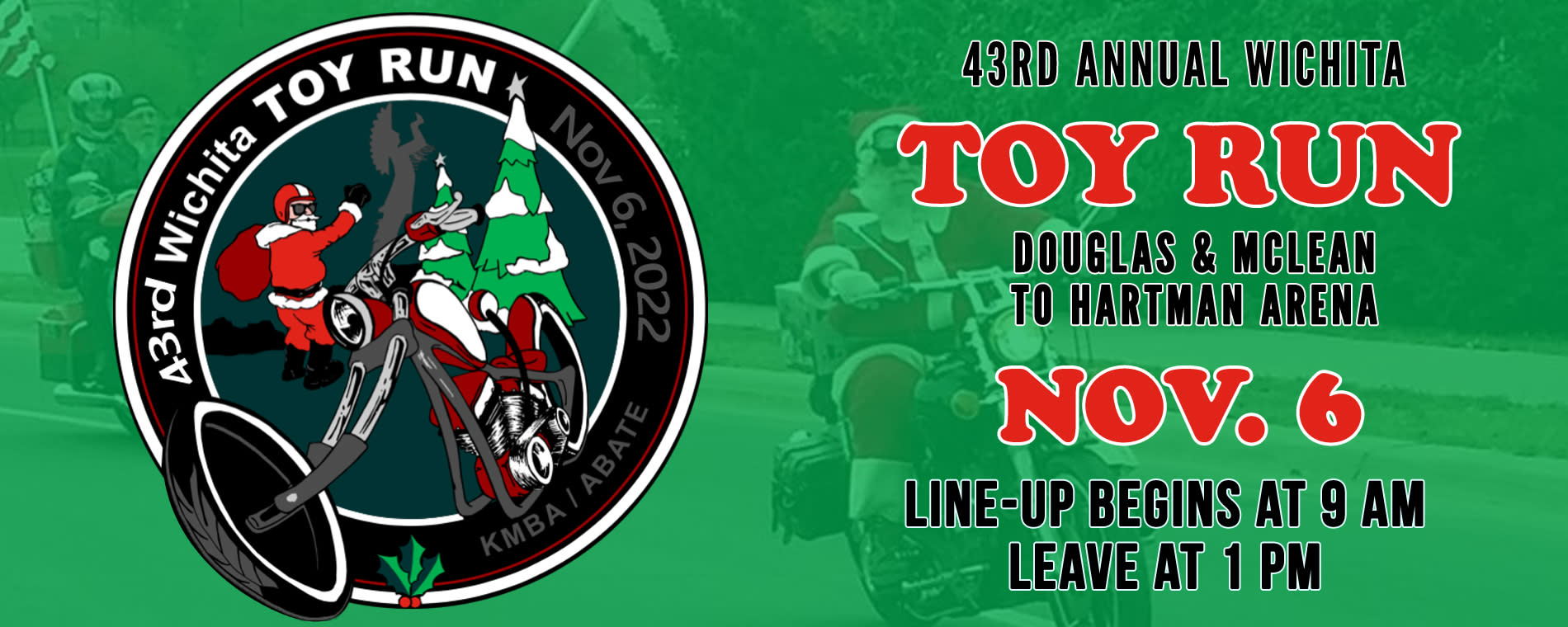 Back to Previous
The 43rd Annual Wichita Toy Run
From: 09:00 AM to 04:00 PM, November 6, 2022 | Hartman Arena
The Wichita Kansas Motorcycle Community has been gathering since 1980 in order to collect toys donations for the children of our community at Christmas.

The Wichita Toy Run Association is asking for donations of a new unwrapped toy or cash for this event. Requests are for a variety of toys. Please keep stuffed animals to a *huggable* size. Remember to include items for ages 10-14.

All proceeds from the Wichita Toy Run benefit the Salvation Army, USMC Toys for Tots, and The Kansas Food Bank.

At Hartman Arena, there will be a $5 Chili Feed, prizes, vendors, and more!
Line up: Ride Douglas & McClean. Ride to Hartman Arena.
Line up starts at 9 a.m. Bikes leave at 1 p.m. 
Admission:

Free; Chili Feed $5; Donations requested

Get Tickets
Days:

November 6, 2022

>

2022-11-06 2022-11-06 16:00:00 The 43rd Annual Wichita Toy Run <p>The Wichita Kansas Motorcycle Community has been gathering since 1980 in order to collect toys donations for the children of our community at Christmas.<br><br>The Wichita Toy Run Association is asking for donations of a new unwrapped toy or cash for this event. Requests are for a variety of toys. Please keep stuffed animals to a *huggable* size. <strong>Remember to include items for ages 10-14.</strong><br><br>All proceeds from the Wichita Toy Run benefit the Salvation Army, USMC Toys for Tots, and The Kansas Food Bank.<br><br>At Hartman Arena, there will be a $5 Chili Feed, prizes, vendors, and more!</p> <p><strong><em>Line up: Ride Douglas &amp; McClean. Ride to Hartman Arena</em></strong><strong><em>.</em></strong></p> <p><strong><em>Line up starts at 9 a.m. Bikes leave at 1 p.m. </em></strong></p> 8151 N. Hartman Arena Drive Park City, KS America/Chicago
Back To Previous