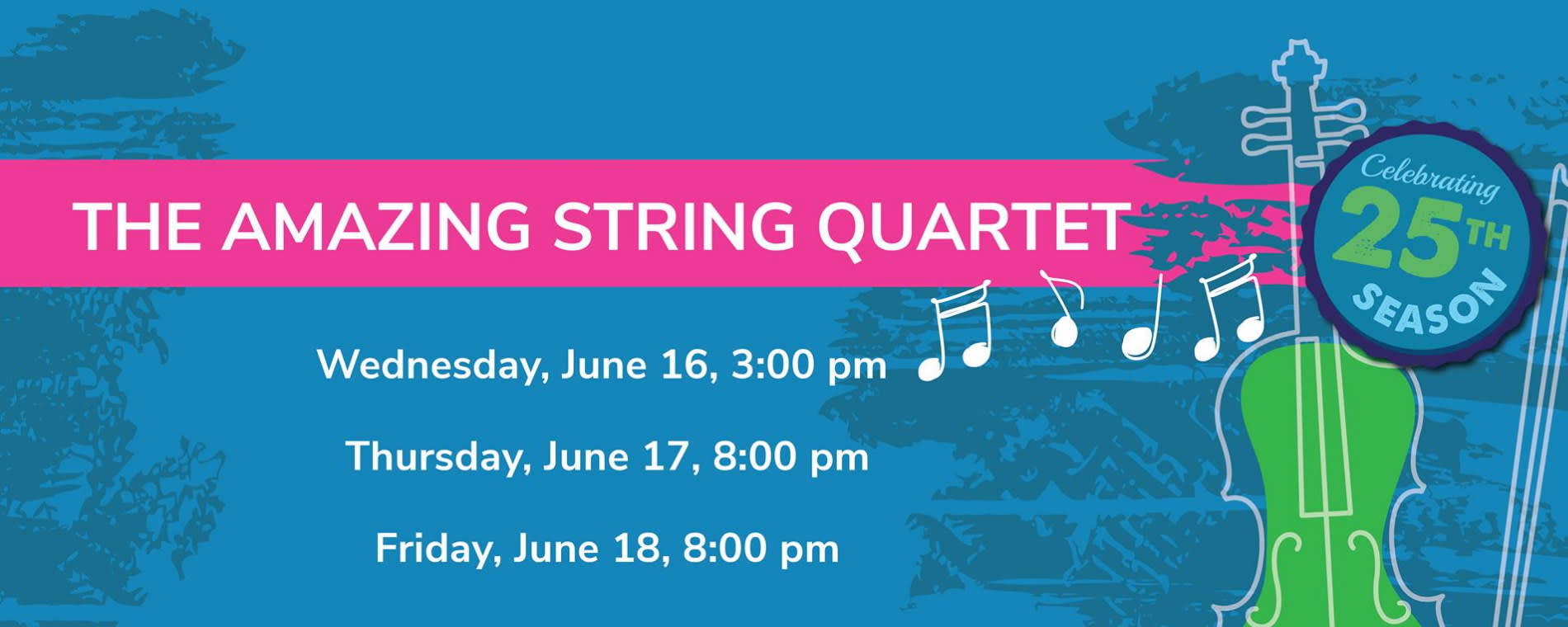 Back to Previous
The Amazing String Quartet - Chamber Music at The Barn
Various Times, June 18, 2021 | Prairie Pines
Join Chamber Music at The Barn for The Amazing String Quartet, part of their Summer Concert Series.
Haydn - String Quartet Op. 74 No. 3 "The Rider"
Diesendruck - From the imaginary one-act micro opera The Pit Band from Outer Space
Beethoven - String Quartet Op. 59 No. 3
| | |
| --- | --- |
| June 16 | 3:00pm |
| June 17 | 8:00pm |
| June 18 | 8:00pm |
Afternoon Delight Concerts
Begin at 3:00pm. All seating is inside The Barn. Non-reserved seating opens at 2:15pm prior to the concert. Afternoon Delights are a one-hour concert format with comments from musicians. No intermission. Tickets are $20.
Evening Concerts
The stunning gardens open at 6:30pm. There are two options for seating: inside air-conditioned seating (Barn tickets - $40) and outside seating (Garden tickets - $20). Bring a picnic basket and dine with friends at tables and chairs throughout the garden. Pre-concert discussion Inside Scoop starts at 7:15pm inside The Barn. Patrons need to be seated by 7:45pm for the performance.
Wine and beer are for sale through intermission. You must be 21 with valid ID. No outside alcohol is allowed. Some Garden seating allows you to view the concert from a 50″ projection screen. The audio is heard from multiple stereo speakers. Many other garden locations can be chosen to hear the music surrounded by nature without visual access to the concert.
Admission:

$20-$40

Get Tickets
Recurrence:

Recurring daily

Days:

June 16, 2021 - June 18, 2021

2021-06-18 2021-06-18 The Amazing String Quartet - Chamber Music at The Barn <p>Join Chamber Music at The Barn for The Amazing String Quartet, part of their Summer Concert Series.</p> <p>Haydn - String Quartet Op. 74 No. 3 "The Rider"<br />Diesendruck - From the imaginary one-act micro opera The Pit Band from Outer Space<br />Beethoven - String Quartet Op. 59 No. 3</p> <table style="width: 275px;" border="0" align="center"> <tbody> <tr> <td>June 16</td> <td>3:00pm</td> </tr> <tr> <td>June 17</td> <td><span>8:00pm</span></td> </tr> <tr> <td>June 18</td> <td><span>8:00pm</span></td> </tr> </tbody> </table> <p><span style="text-decoration: underline;"><strong>Afternoon Delight Concerts</strong></span><br />Begin at 3:00pm. All seating is inside The Barn. Non-reserved seating opens at 2:15pm prior to the concert. Afternoon Delights are a one-hour concert format with comments from musicians. No intermission. Tickets are $20.</p> <p><span style="text-decoration: underline;"><strong>Evening Concerts</strong></span><br />The stunning gardens open at 6:30pm. There are two options for seating: inside air-conditioned seating (Barn tickets - $40) and outside seating (Garden tickets - $20). Bring a picnic basket and dine with friends at tables and chairs throughout the garden. Pre-concert discussion Inside Scoop starts at 7:15pm inside The Barn. Patrons need to be seated by 7:45pm for the performance.</p> <p>Wine and beer are for sale through intermission. You must be 21 with valid ID. No outside alcohol is allowed. Some Garden seating allows you to view the concert from a 50″ projection screen. The audio is heard from multiple stereo speakers. Many other garden locations can be chosen to hear the music surrounded by nature without visual access to the concert.</p> 4055 N Tyler Rd Maize, KS America/Chicago
Back To Previous