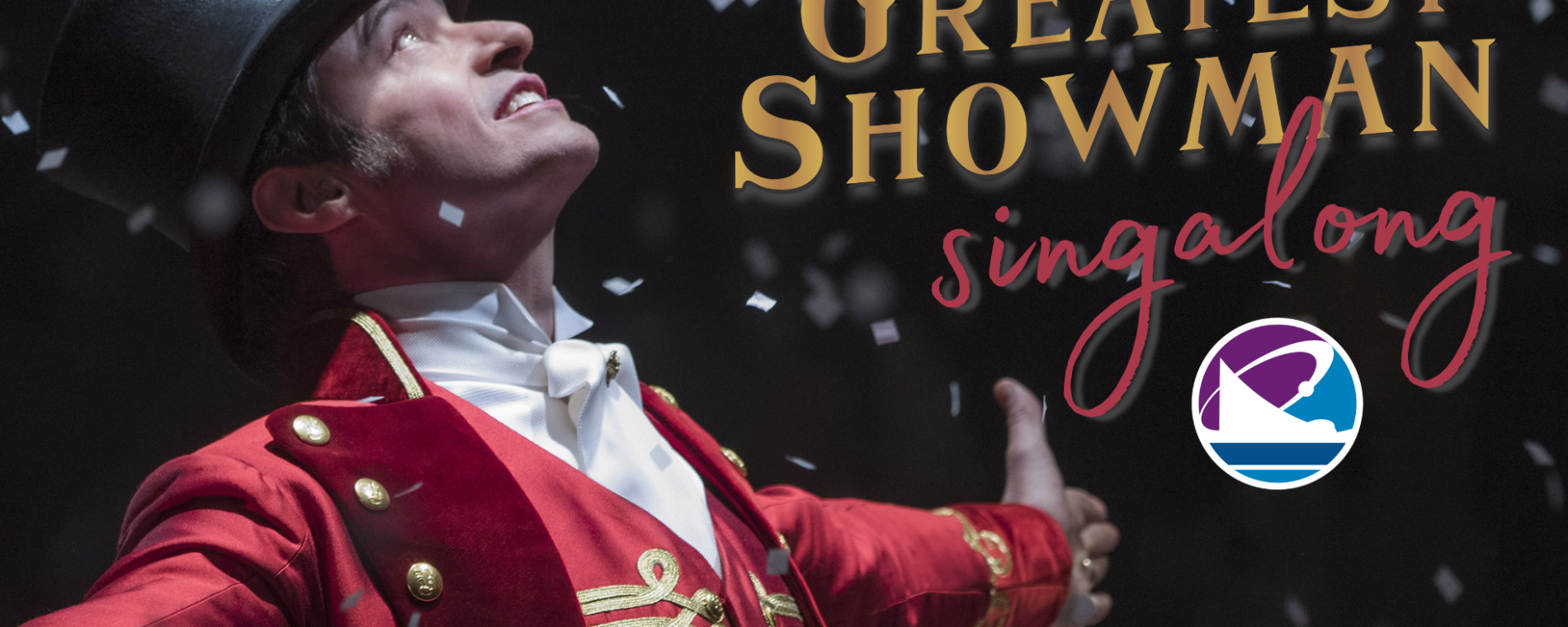 Back to Previous
"The Greatest Showman" Singalong
7:00 pm, June 8, 2023 | Exploration Place
Embark on an unforgettable cinematic adventure with the timeless songs that have captured hearts across the globe. Feel the thrill as you sing every word, dance along with the film's choreography and embrace the excitement of The Greatest Showman alongside fellow enthusiasts.
Kemper Theater will be used to its full potential, with several surprises in store for during the film. Join us as we sing, dance, are awed with a live performance from a local idol and immerse ourselves in the sights and sounds being played out on screen.
This really is the greatest show!
Live Performance by McKayla Stacey: From Andover to Hollywood, and everywhere in between, McKayla Stacey is a star. Many will recognize McKayla from her audition on American Idol season 21, which earned her a golden ticket, but this local music sensation has been belting it out on stage in Wichita for years.
Performing for the Music Theatre Wichita and Andover Central High School productions has left audiences impressed by her vocal chops and ability to tackle big performances.
As part of the interactive singalong event, McKayla will perform a song from the award winning film each week. After her performance, the audience will be immersed in the film's iconic soundtrack as the lights go down, the film roll begins and the singalong commences.
Event Details
This event is appropriate for all age levels.
Each person in attendance will need to have an event ticket, except for those under 2 years old sitting on a ticket holder's lap.
Doors open at 6 pm, show begins at 7 pm. The event will conclude around 9 pm.
Concessions will be available for purchase and are allowed in the theater during the show.
There are no refunds available for special events. The only valid tickets are those purchased through Exploration Place. Please be careful of online bots/scams offering to sell their tickets, usually in the comments of our social posts. These are not authentic offers and should be reported and ignored. If you have an actual emergency, please contact us to discuss if there are any options to move your ticket to another night, etc.
Admission:

$18 per person, $15 for members

Buy Tickets
Days:

6/8/2023, 6/15/2023, 6/22/2023, 6/29/2023

>

2023-06-08 2023-06-29 21:00:00 "The Greatest Showman" Singalong <p>Embark on an unforgettable cinematic adventure with the timeless songs that have captured hearts across the globe. Feel the thrill as you sing every word, dance along with the film's choreography and embrace the excitement of <em>The Greatest Showman</em> alongside fellow enthusiasts.</p> <p>Kemper Theater will be used to its full potential, with several surprises in store for during the film. Join us as we sing, dance, are awed with a live performance from a local idol and immerse ourselves in the sights and sounds being played out on screen.</p> <p>This really <em>is</em> the greatest show!</p> <p>Live Performance by McKayla Stacey: From Andover to Hollywood, and everywhere in between, McKayla Stacey is a star. Many will recognize McKayla from her audition on American Idol season 21, which earned her a golden ticket, but this local music sensation has been belting it out on stage in Wichita for years.</p> <p>Performing for the Music Theatre Wichita and Andover Central High School productions has left audiences impressed by her vocal chops and ability to tackle big performances.</p> <p>As part of the interactive singalong event, McKayla will perform a song from the award winning film<em> </em>each week. After her performance, the audience will be immersed in the film's iconic soundtrack as the lights go down, the film roll begins and the singalong commences.</p> <p>Event Details</p> <ul> <li>This event is appropriate for all age levels.</li> <li>Each person in attendance will need to have an event ticket, except for those under 2 years old sitting on a ticket holder's lap.</li> <li>Doors open at 6 pm, show begins at 7 pm. The event will conclude around 9 pm.</li> <li>Concessions will be available for purchase and are allowed in the theater during the show.</li> <li>There are no refunds available for special events. The only valid tickets are those purchased through Exploration Place. Please be careful of online bots/scams offering to sell their tickets, usually in the comments of our social posts. These are not authentic offers and should be reported and ignored. If you have an actual emergency, please <a href="https://exploration.org/hours-location/#ContactUsOnline" target="_blank" rel="noopener">contact us</a> to discuss if there are any options to move your ticket to another night, etc.</li> </ul> 300 N McLean Blvd Wichita, KS America/Chicago
Back To Previous